Estimated read time: 4-5 minutes
OREM — Two local college basketball teams had their seasons extended Saturday night after the NCAA Tournament selection announcement had wrapped up.
Utah Valley men's basketball will play in the National Invitational Tournament for only the second time in program history, and first time since 2014. The Wolverines (25-8) earned an automatic bid to the 32-team tournament with their third regular-season championship in the Western Athletic Conference since joining the league.
The unseeded Wolverines will play Wednesday at No. 2 New Mexico. Tipoff is scheduled for 8 p.m. MDT on ESPN+. The winner will face the winner of Colorado and Seton Hall.
Sam Houston State, the No. 1 seed in the WAC Tournament, earned a No. 3 seed in the NIT and will open on Wednesday at WCC foe Santa Clara. Oregon, which lost to Utah Valley 77-72 on its home court, drew a No. 1 seed and will open Wednesday against UC Irvine on ESPN2.
Rutgers, Clemson and Oklahoma State also earned a No. 1 seed. Texas A&M won the NIT championship last year.
For the first time in tournament history, the semifinals and championship will be held at Orleans Arena in Las Vegas, with all previous rounds being held on campus.
"We'll take a day or two to cool off, process what happened tonight, and learn from it," said UVU coach Mark Madsen, whose team finished ranked No. 74 in the NET and No. 80 in KenPom, after his team's loss to Southern Utah in the WAC Tournament semifinals. "I'll make adjustments as a head coach that will help put our guys in a better situation to finish off games like this.
"We absolutely are going to play in the NIT, and we want to win a championship. We need some time to decompress, and then we'll be back at it working."
After its darkhorse run to the WCC Tournament semifinals, BYU (19-15) was not selected for the NIT. It marks the first time since 2019, and just that the third time since 2000, that the Cougars have not played in the NCAA or NIT tournaments.
There will be some Cougar representation in the postseason, though. BYU women's basketball earned an invitation to the WNIT as one of 32 at-large selections. The Cougars (16-16) pulled a seed-line upset to get to the semifinals of the West Coast Conference Tournament before a loss to top-seeded Gonzaga. Both the Zags and WCC Tournament champion Portland earned a berth in the NCAA Tournament.
San Diego (17-13) earned the automatic bid from the WCC. The Cougars are making their ninth appearance all-time in the WNIT, and first since 2017.
The Cougars put in a bid to host, coach Amber Whiting told BYUtv on Monday morning, and earned the bid against Rice at 7 p.m. MDT Friday in the first round of the WNIT. The second round is scheduled for March 22-24, running through the championship game Saturday, April 1 at 3:30 p.m. MDT on CBS Sports Network.
The Owls (22-8) finished the regular season on a five-game winning streak before a loss to UTSA in the opening round of the Conference USA tournament. Led by Ashlee Austin (12.5 points per game) and Malia Fisher (12.1 ppg), Rice averages 72.3 points on 44.4% shooting while holding opponents to 66.6 points per game.
"I think any postseason experience you have is good, especially for a team as young as we are," said Whiting, the first-year head coach. "I also believe that our season should have ended on that note (against Gonzaga in the WCC semifinals). A lot of our girls felt that way, and I told them in the locker room that this season can't define us. We had a really good season, but if they know that they can go back out and fight one more time, that's always something that gets you excited."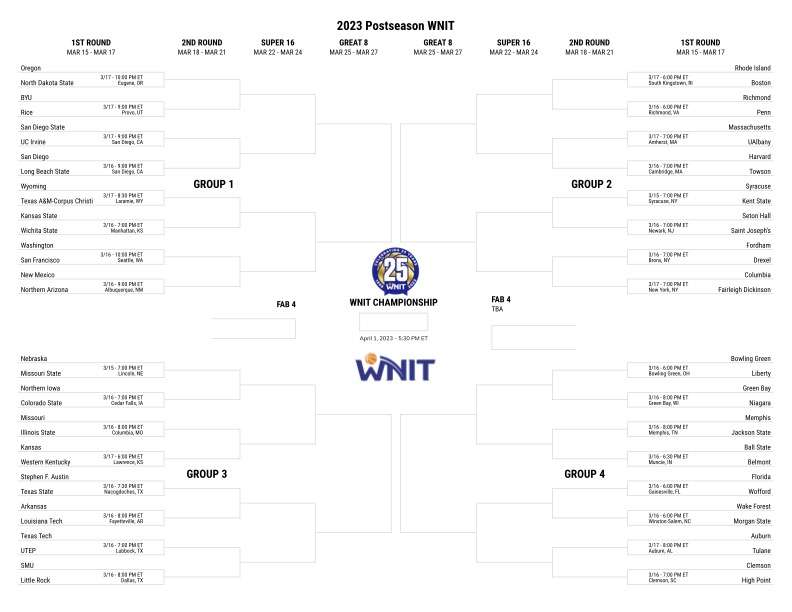 Southern Utah, whose attempt at its first NCAA Tournament appearance in 22 years came up a game short Saturday against Grand Canyon, will open the College Basketball Invitational (CBI) as the No. 4 seed against 13th-seeded North Alabama at 11 a.m. MDT Saturday. All first- and second-round games, which are played in Daytona Beach, Florida, are streamed on FloHoops before the semifinals and final on ESPN2.
It's the first time SUU, which made it to the semifinals of The Basketball Classic last year, has played in the postseason in back-to-back seasons. The Thunderbirds have only been to the postseason one other time, after winning the Mid-Continent Conference (now Summit League) tournament in 2001 and advancing to the NCAA Tournament.
"We are honored to accept a bid to the CBI," SUU coach Todd Simon said. "This team has had a remarkable season and the postseason invite just adds to their list of accomplishments. We are excited to make a run for a post-season championship."
×
Most recent UVU Basketball stories