Estimated read time: 5-6 minutes
LAS VEGAS — Rudi Williams could smell blood in the water.
With Loyola Marymount's leading scorer (and the BYU point guard's defender) hampered by his fourth foul, the senior graduate transfer from Coastal Carolina did what he did best.
Williams totaled 23 points to help fifth-seeded BYU advance to Monday's West Coast Conference Tournament semifinals, ousting fourth-seeded LMU 73-63 on Saturday night at Orleans Arena.
The 6-foot-2 journeyman guard who surpassed 2,000 points in his collegiate career put on a show, dribbling right, dribbling left, and dribbling straight at Shelton (and whoever else decided to guard him). Williams shot 5-of-12 from the field with a pair of 3-pointers and went 11-of-12 from the free-throw line to help BYU overcome a late first-half run by the Lions and never look back.
Shelton poured in a game-high 27 points, five rebounds and six assists for LMU (19-12), but when the fifth-year senior fouled out shortly after the last media timeout, the Cougars never looked back.
The team in the visiting uniform — the one that will face top-seeded Saint Mary's in Monday's WCC semifinals (7 p.m. MST, ESPN) — could smell blood in the water. Williams was the lead shark in a game that featured 44 personal fouls.
"Coach emphasized since yesterday to bring a lot of fight," Williams said after the game. "The first time we played them down in L.A., they kind of punked us. In that second trip when they came up to the mountains of Provo, we brought the fight. So we tried to do that again, this time on a neutral floor."
Spencer Johnson added 14 points and three rebounds, and Jaxson Robinson supplied 13 points and a career-best seven rebounds for the Cougars (19-14), while freshman Dallin Hall added three 3-pointers for 9 points.
But Saturday night's game was about Williams, the transfer from four schools whose final season of college basketball has felt like 10 years to some.
The point guard started the year as the unquestioned starter, then went to the bench after 10 games (and too many turnovers to count) in favor of Hall, before re-emerging as, arguably, the best bench player in the West Coast Conference before returning to the starting lineup on senior night.
Williams didn't win sixth man of the year; Gonzaga's Malachi Smith averaged 8.5 points and 3.7 rebounds to earn that honor from the league's coaches.
But on Saturday night, Pope intimated that Williams should've been seriously considered for the honor, if not more. If nothing else, Williams has been BYU's sixth man of the year after averaging 12.8 points, 2.7 rebounds and 2.8 assists — more scoring than anyone not named Fousseyni Traore on his team — that included 11.8 points on 48% shooting in conference play.
"Rudi Williams is going to be a guy that we talk about for the next 10 years at BYU as being one of the great teammates of all time," Pope said. "He's the definition of making it about the team first, and an unbelievable leader.
"We made a change 10 games into the season to bring him off the bench, and he embraced that role to not only become a great player off the bench — legitimate argument for sixth man of the year in our conference — but an unbelievably gracious mentor to Dallin Hall, a freshman who took on a starting role."
Pope likes to say that "seniors are magic," and on Saturday night, Williams was something of a magician for the Cougars.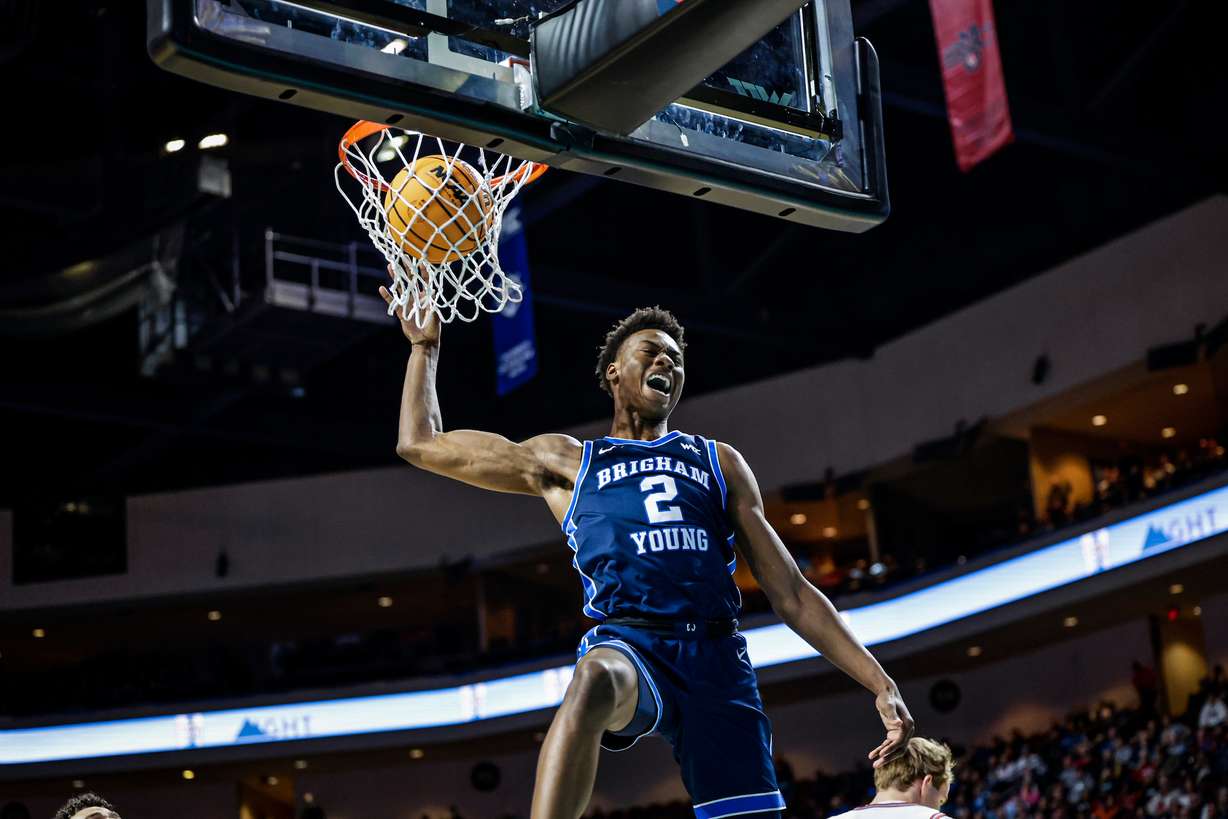 BYU used a 9-0 run to open the game, going up 11-4 on Robinson's bucket just four minutes into the game.
The Cougars also got it done with defense, holding the Lions to just 22% shooting with three turnovers out of the gate, but LMU pulled back. Shelton had 11 points in the first half, and Keli Leaupepe connected on a 3-pointer to tie the game at 26-26 with 3:14 to go.
But Leaupepe went to the bench moments later with his second foul, and Hall capped a 12-1 run with a 3-point buzzer-beater to end the half up 38-27.
Williams had 10 points, Hall 9, and Robinson 8 with two rebounds as BYU shot 68% from the field to LMU's 34% before the break, fighting through nine turnovers and a 15-12 rebounding deficit to hold the 11-point lead.
"In the first game, the way we were able to beat BYU was because we were able to out-physical them. In the second game, they were the more physical team," Shelton said. "This game, we knew we wanted to go out and be the more physical team. … It just kind of got away from us in that three-minute stretch at the end of the first half."
Shelton capped a 9-0 run to pull within 4 just less than four minutes into the half. But in the game of runs, BYU bent — and refused to break.
Richie Saunders' and-one. Atiki Ally Atiki's swat. Williams' dish to a wide-open Johnson on the right wing.
The Cougars stayed in front the rest of the way, aided by Shelton's fourth foul with just under six minutes remaining. Johnson immediately took advantage with a corner 3 to push the Cougars' lead to 62-52, and the Lions never threatened again.
BYU didn't score from the field in the final three minutes while the Cougars were outrebounded 32-28 with 15 turnovers.
Shooting 52% from the field and getting 14 points off the bench will help. So, too, will Williams, the Cougars' unquestioned leader.
"Rudi said before we came in here, this is what veteran guys do; they make smart, decisive, game-winning plays," Johnson said. "Rudi has played college basketball for a couple of years, and he's a vet guy who knows how to lead. It's huge for our team, with so many young guys.
"You've got to have dudes in there who are leaders for your team. Rudi does a great job on the floor, a great job off the floor, and we're fortunate to have him."
×
Photos
Most recent BYU Basketball stories