Estimated read time: 4-5 minutes
LAS VEGAS — The BYU men's basketball team hasn't won a conference tournament title since the 2001 Mountain West championship, a dry spell that spans the Cougars' entire 12-year existence in the West Coast Conference.
And the final opportunity to break that skid starts Friday.
The fifth-seeded Cougars will be the home team against the winner of Portland and San Diego at 7 p.m. MST at Orleans Arena, and that's the first step of a time of year that excites the general sports populace with just three words: This is March.
But for BYU, the pressure to win a tournament title stretches increasingly higher with the Cougars' final crack at the WCC before shifting to the Big 12 — arguably, or statistically at least, the best college basketball conference in America — next season.
So is there even more pressure on the Cougars to finally get it done against co-champions Gonzaga or Saint Mary's, not to mention Santa Clara, Loyola Marymount, or the winner of the Pilots and Toreros? Or is there perhaps less pressure, because BYU isn't expected to contend for a tournament title, given its recent history and its seed that necessitates a Friday start in the tournament's double-bye setup?
BYU coach Mark Pope isn't feeling any more or less pressure than normal, he admits.
"There's nobody that hates losing games more than I do. That's probably the most important thing," said Pope, who hasn't won a conference tournament championship in his career at BYU or Utah Valley. "Hopefully you always go into the postseason feeling opportunity and not pressure. I think that's the goal every single year.
"It's interesting about postseason play: Everybody has the same job. Saint Mary's and Gonzaga tied for the conference championship, and they both have the same job as we do."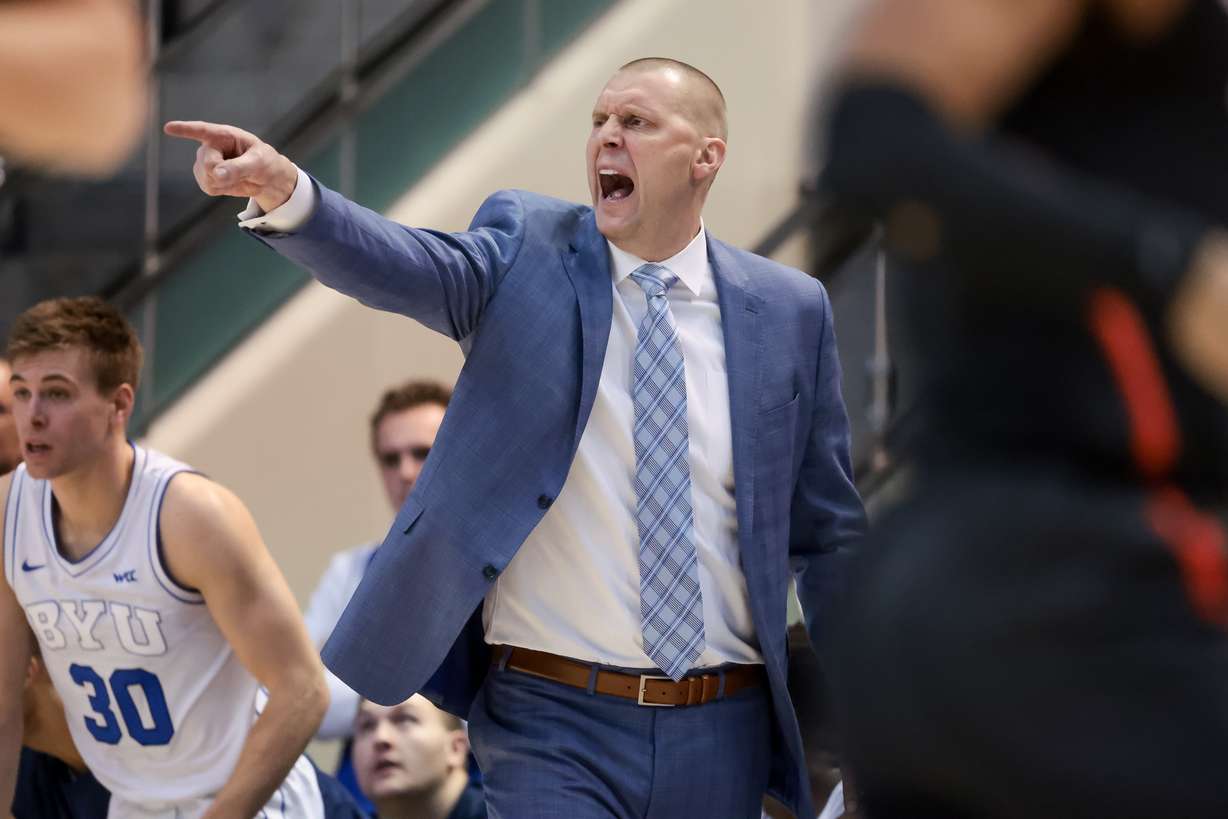 All season, Pope has preached the mantra to "get better every day," and it can be argued that the Cougars (17-14, 7-9 WCC) did that by the end of the year. BYU snapped a four-game losing skid with a cathartic 87-61 win over San Francisco on senior night, a win that locked up the No. 5 seed and dropped the Dons to No. 6.
It also unlocked further potential of Rudi Williams, the senior graduate transfer from Coastal Carolina who had one of his best games of the season with 21 points, seven assists and just one turnover in a game where the 6-foot-2 point guard went to the foul line 16 times.
Williams also passed the 1,000-career point milestone in Division I play in the win, a footnote in his career that "was kind of a surprise to me."
Williams has excelled since he was moved to the bench nine games into his senior season at BYU, averaging 12.7 points, 2.6 rebounds and 2.8 assists on 47% shooting. That ranks second on the team in scoring, trailing only Fousseyni Traore — the team's top All-WCC selection.
But last Saturday's return to the starting lineup to score 21 points on 3-of-8 shooting in 29 minutes that included a 15-of-16 mark from the foul line with seven assists and just one turnover may have been his one of the finest performances, Pope said.
"We've thrust him into a brand new space, a brand new way to play, a brand new position and asked him to do different things," the coach added. "I think he's gaining confidence that he can let loose, be super aggressive, and finish the play. He's certainly got a huge leadership role, and guys are relying on him and counting on him, like Gideon. We've always said here that seniors are magic, and I'm really hopeful that those guys have got some juice. I think they will."
Most importantly for Williams, the win gives a bit of momentum for a team that desperately needed it — and needed to avoid the longest losing streak since the mid-2000s.
"When we get to Vegas, whatever game, whatever night we're playing, it's the only game that matters," Williams said. "We have to fight that 40 minutes, and just gut it out."
That's the mentality of a BYU team that currently ranks 89th nationally in the NET, with a 1-6 mark in Quad 1 opportunities and five losses in the third and fourth quadrants. The Cougars likely need to win at least two games in the conference tournament to work back into favor for NIT at-large consideration.
But that's not for a lack of motivation for the Cougars, who opened practice this week in Provo with moods that players and coaches alike described as "salty" and "chippy."
"This late in the season, it shows we still care," junior wing Spencer Johnson said. "We still feel that we have something left to accomplish, and everyone is competitive. Sometimes it takes you to where you are competing so hard that you start to get chippy and a little salty. That's OK; it's been great. I like it."
How to watch, stream, listen
No. 5 BYU (17-14) vs. No. 8 Portland (13-18) OR No. 9 San Diego (11-19)
Friday, March 3
Orleans Arena, Las Vegas
Tipoff: 7 p.m. MST
TV: BYUtv / Regional Sports Networks
Streaming: WCC Network
Radio: BYU Radio Sirius XM 143, KSL 102.7 FM/1160 AM
×
Most recent BYU Basketball stories