Estimated read time: 4-5 minutes
PROVO — Less than a week ago, BYU went to Spokane and hung 37 first-half points on No. 16 Gonzaga before bowing out 88-81 in the Kennel.
That wasn't the case Thursday night.
Brandin Podziemski totaled 26 points and 12 rebounds, and Keshawn Justice added 19 points, five rebounds and four assists as Santa Clara cruised to a 81-74 wire-to-wire win in front of an announced crowd of 13,321 fans in the Marriott Center.
Fousseyni Traore had 13 points and 10 rebounds, and Rudi Williams added 20 points, four rebounds, two assists and three steals off the bench for BYU (16-13, 6-8 WCC) in the Cougars' first home loss to the Broncos since 1972.
BYU trailed by as much as 20 points in the second half, made a brief comeback bid, but trailed for all but 19 seconds in BYU coach Mark Pope's third-straight loss to the Broncos, who scored 17 points off just nine turnovers and added 13 in transition while shooting 54% in the first half.
"We were a train wreck in transition defense. It was really disappointing," Pope said. "It's been a huge point of emphasis for us the last couple of weeks. Clearly, I'm doing a poor job of translating that (message) into games, especially tonight. They scored 26 points in transition last time we played them, and we protected the ball much better. But we just were not communicating well in the first half, we had no urgency in transition, and they really hurt us rim-rushing in the first half."
Trey Stewart had a career-high 9 points for the Cougars after managing just 6 points in his first 12 games of conference play.
Yes, that's a real highlight on a night when BYU shot 41% from the field. And Pope offered plenty of kudos to Stewart, who shot 4-of-6 from the field that included his first 3-point make since Dec. 7 against Utah Valley.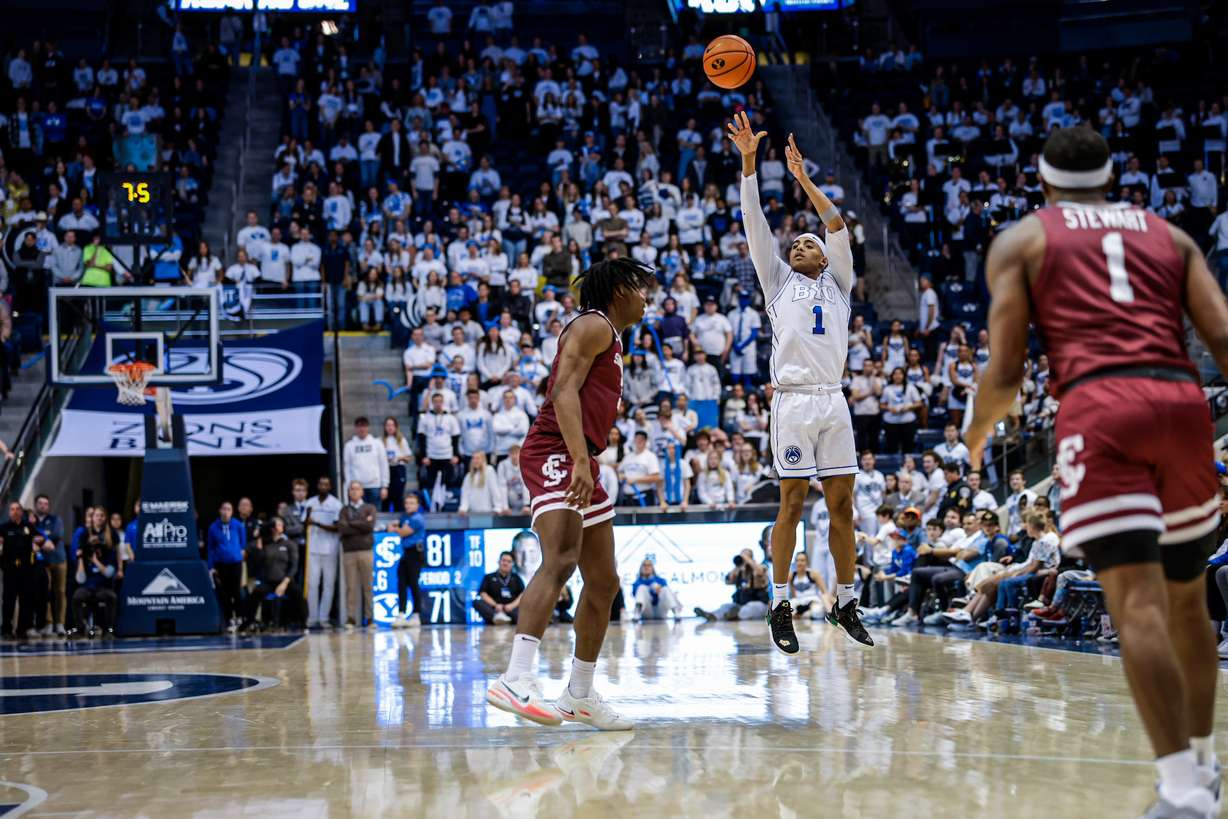 Only Williams (7-of-13) and Traore (6-of-8) connected on more field goals.
"I'm super proud of Trey," Pope said. "I talk about guys who pay their dues and suffer in practice every day and don't get opportunities or get love. He is on that path right now to becoming a really special player. He has been changed, because he didn't get any opportunities last year, got a few this year, and he is actually handling this right and letting him roll into a really special player that will be a part of our future.
"I was really proud of him, especially after missing the whole first half. ... Very few people can sit there, watch the debacle that it was, feel all the weird feelings in that circumstance, then come off the bench and be a really positive energy force. You know how you learn how to do that? You suffer, and Trey has for us."
Santa Clara shot 65% from the field in the first 10 minutes and took a 24-14 advantage on Justice's bucket with 10:58 left in the half. The Broncos missed six of their next seven shots, but BYU couldn't take advantage.
The Cougars were held scoreless for the final 2:27 of the half, shot just 39% from the field, and Santa Clara ended the half on a 9-0 run to take a 47-30 halftime lead. Traore had 6 points and six rebounds, Gideon George added 6 points and four boards, and Williams scored 6 in an otherwise uninspired first-half performance for the hosts in their penultimate regular-season home game as a member of the West Coast Conference.
Santa Clara pushed the lead as high as 62-49 on Podziemski's 3-pointer with 12:27 remaining, and the Broncos never looked back in recording their second-straight 20-win campaign for the first time since 1995-96 with a 20-8 record that included an 8-5 mark in WCC play.
The Cougars made a brief run, when Williams capped a 9-2 run with a 3-pointer pull within 64-54 with 8:54 remaining, then dropped another 3-pointer with 2:35 remaining to cut the deficit inside double digits, 72-63.
By then, half the fans in the lower bowl had made their way to the exit, uninspired by a team that was outrebounded 44-38 and outscored 40-38 in the paint.
"I felt like Rudi found a little bit of veteran fight, and he gave us probably as much as we had in the first half," Pope said. "I thought his decision-making was pretty good. But he's got some physicality, a little burst of speed to him, and he was one of the bright spots tonight."
×
Most recent BYU Basketball stories