Estimated read time: 4-5 minutes
PROVO — BYU basketball's play on Saturday night may have been offensive to some, but not for any offense.
Still, the defensive win over Pacific inched the Cougars back toward the top-four in the West Coast Conference.
Fousseyni Traore had 19 points and 12 rebounds, and Gideon George added 12 points, 10 rebounds, two assists, and two blocked shots as BYU pulled away from Pacific 81-66 in front of an announced crowd of 14,431 fans Saturday night at the Marriott Center.
Jaxson Robinson and Rudi Williams each added 11 points for the Cougars (16-15, 6-5 WCC), and Richie Saunders finished with 9 points, three rebounds and two steals.
George's double-double is just his second of the year and first since the senior from Minna, Nigeria, by way of New Mexico Junior College posted 15 points, 10 rebounds and two blocked shots on Nov. 19 in an 87-73 win over Nicholls.
But the senior wanted to focus more on Traore, who had his sixth double-double of the season and fifth of his career on the Cougars' first night with two double-doubles since Yoeli Childs and Jake Toolson on Feb. 20, 2020 against Santa Clara.
"Fouss, getting a double-double tonight, he was a beast on the offensive glass," George said. "That, and protecting the ball is what we've been talking about all along: protecting the ball and going up and finishing. ... I'm really proud of this group."
In a game that featured 49 fouls and 51 free throws, BYU never trailed by more than 5 and led by anywhere between 19 and 24 points in the second half. The Cougars' offensive rhythm was rarely in question, shooting 46% from the field but converted just 16-of-27 free throws.
And yet, defense carried the day, with an additional spark provided by the debut of Williams' headband inspired by redshirting freshman Braeden Moore. The senior graduate transfer from Coastal Carolina shot 4-of-5 in 15 minutes off the bench to go along with two assists and no turnovers for the third-straight game.
"We can go with headband Rudy for the rest of the year, for sure," Williams joked, before turning serious. "It's still the same me."
Pacific didn't have a double-digit scorer until the final five minutes, shooting just 38% with 18 turnovers. Jordan Ivy-Curry led the Tigers with 11 points and 11 rebounds, and Judson Martindale added 10 points and three boards for Pacific (12-13, 5-5 WCC).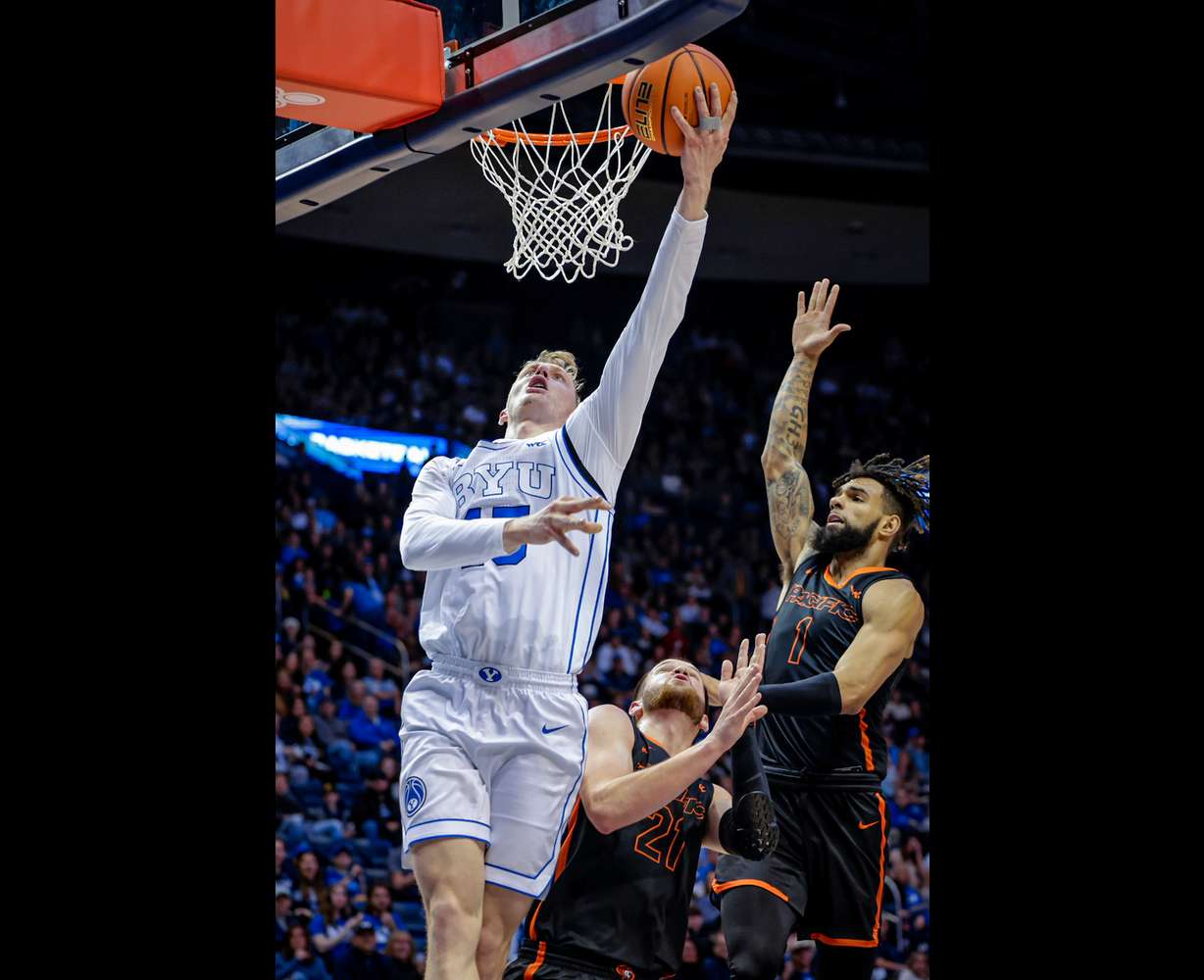 Saunders provided a key spark on defense, holding Luke Avdalovic — a senior who averages 10.4 points per game — to just 5 points on 1-of-6 shooting. He also helped pace a transition offense that scored 27 points off those 18 turnovers and netted 18 on the fast break.
"His whole heart is in this thing, just like all these guys," Pope said. "Their energy is super important. Both him and Trey played probably as good of a defensive game as they've played, maybe with the possible exception of fouling. Both of those guys were leading us on the defensive end."
BYU missed its first four shot attempts from the field before Spencer Johnson's layup nearly three minutes into the game. But the Cougars never trailed by more than 7-2 early, and quickly made up the difference.
Coming off a season-low seven turnovers in Thursday night's 89-61 win over LMU, BYU had just one turnover in the first 10 minutes of the half and forced five, including four steals that led to 8 points.
The Cougars let Pacific hang around by shooting around 40% from the field in the first half. But the hosts forced nine turnovers, five steals and five blocks, then ended the half on a 12-0 run that included the final 4:12 without a field goal allowed to take a 41-30 lead into halftime.
Saunders had 9 points to lead all scorers at halftime, and George added 7 points, seven rebounds, two assists and two blocked shots — including a stuff in the final minute that led to an easy transition bucket for Saunders — for the Cougars.
BYU connected on 7-of-13 shots after the break, though made just 5-of-9 free throws and never let Pacific back within single digits before putting the game away with a 13-0 run in the final six minutes to move back above .500 in conference play and into fourth place with five games to play until the WCC Tournament in Las Vegas.
"I just want us to keep growing and keep getting better, get some momentum heading into Vegas with these last conference games," Williams said. "I feel like when we get to Vegas, no one is going to want to play us in that first game. Teams know we're a dangerous team, and we've definitely gotten better since the last time we saw them."
×
Photos
Most recent BYU Basketball stories