Estimated read time: 4-5 minutes
PROVO — One of the hottest teams in the West Coast Conference went as cold as Thursday night's frigid temperatures on the Wasatch Front.
Fousseyni Traore had 11 points, 13 rebounds and three assists for his fifth double-double of the season, and Spencer Johnson scored 10 of his team-high 14 points in the second half to help BYU snap a three-game losing skid with a 89-61 win over Loyola Marymount in front of an announced crowd of 13,363 fans at the Marriott Center.
Jaxson Robinson added 13 points and Rudi Williams 13 points and four assists for the Cougars, who had lost four of their previous five games that included a pair of one-point home losses to then-No. 8 Gonzaga and No. 22 Saint Mary's.
BYU wing Gideon George chipped in 9 points and seven assists.
Jalin Anderson had a game-high 19 points to lead LMU, which was seeking its longest conference win streak since 1991. The Lions took a four-game streak into Provo, including a 68-67 win at then-No. 6 Gonzaga, with momentum on their side as the No. 3-rated team in the West Coast Conference.
But the visitors shot 35.5% in the second half and trailed by as much as 30 late. A lot of that goes toward Robinson, the Arkansas transfer who is shooting 37% from 3-point range but is better than 40% in each of his past four games — a combined 17-of-35 from beyond the arc against Gonzaga, Pepperdine, Santa Clara and Loyola Marymount.
After missing last week's loss to Saint Mary's for a violation of team rules, Robinson came off the bench with a vengeance, connecting on 5-of-9 shots that included 3-of-4 3-pointers to go along with four rebounds, an assist, a steal and no turnovers.
Not that head coach Mark Pope was surprised; when the fourth-year BYU coach sat down with Robinson after practice this week to inform him he was making a change in the starting lineup, Robinson was animated, to say the least.
"He got super angry with me," Pope recalled. "He said, 'I don't care about starting; I just want to play and I ant to win.' It was the perfect response to a situation that usually goes so different. And then he came and he played this way today."
Robinson was initially a bit more low-key about the encounter.
"My team needed me in whatever way I could come out and produce," he said. "I just came out with a positive mindset, ready to have their back."
In the kind of game where BYU has come out hot and taken its foot off the gas, Thursday was the exact opposite — a consistent effort from a 27-9 lead early through a 5-0 start to the second half that never let the Lions find their footing.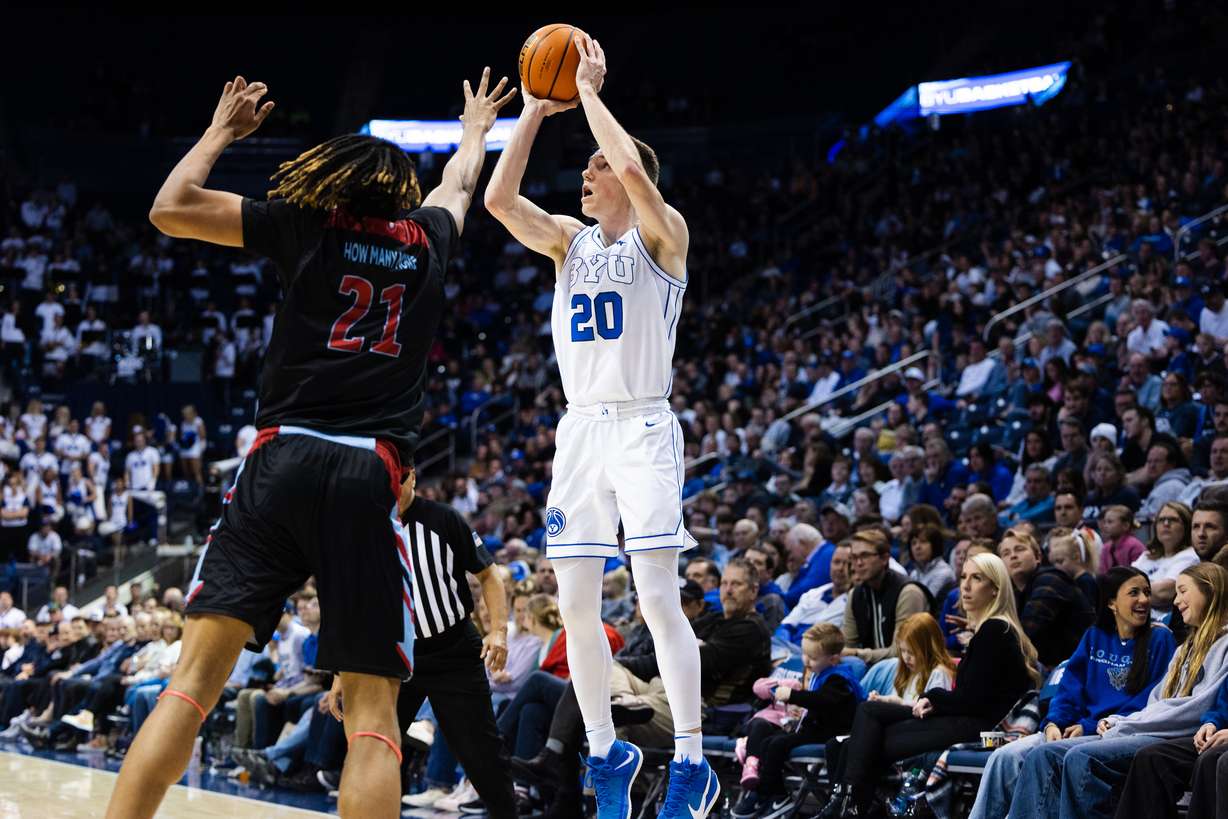 The Cougars shot 53% from the field, limited turnovers to a season-low seven, scored 16 points off 12 LMU giveaways, and assisted on 18-of-35 field goals while shooting 10-of-20 from 3-point range and 9-of-13 from the free-throw line.
"I think the story of our season has been getting better since the beginning of the year until now," said Johnson, who shot 4-for-5 in the second half with a pair of 3s after opening 2-for-5. "Every game, we're trying to get a little bit better, and this was a step we needed to take. We had a lead, and needed to figure out how to increase it and finish the game. We took a really positive step forward as a team."
Utilizing its eighth different starting lineup of the season with Noah Waterman earning just his 12th start of the year, BYU opened the game shooting 63% from the field and held LMU to just 4-of-15 to take a 27-9 lead midway through the first half. The Cougars forced four turnovers, gave away just one, and outrebounded the Lions 12-7 with a 14-6 advantage in the paint behind 6 points and six boards from Traore.
BYU led by as much as 33-13 on a 3-pointer by Dallin Hall as the Cougars shot 58% from the field in the first half, with just 5-of-9 shooting from 3-point range.
Cam Shelton didn't have a shot attempt until hitting a jumper at the 5:30 mark of the first half, and the 19.3-point scorer had just 6 points on 2-of-2 shooting with a pair of free throws before halftime.
Anderson paced a 10-0 run with back-to-back 3s (and fueled by four forced turnovers) to help the Lions pull within 10, 33-23 late in the half. But Traore had 11 points and nine rebounds, and Robinson finished with 10 points at the half to lift the Cougars to a 45-27 lead.
LMU simply couldn't find rhythm offensively. The Lions made just four of their first 15 attempts in the second half, shot 38% from the field, and were sorely outscored in the paint, 38-13, in the Cougars' wire-to-wire home win.
Shelton finished with 15 points and three rebounds on 6-of-13 shooting for the Lions, and Keli Leaupepe added 11 points and six rebounds.
"LMU is a really good team, and really good in our league," Johnson said. "It was a great win for us, and winning just makes you feel good. It kind of rights the ship.
"But I think it highlights the point that we can play with anyone in this league. To get this win was really assuring of that."
×
Photos
Most recent BYU Basketball stories