Estimated read time: 7-8 minutes
SALT LAKE CITY — After almost folding at the start of the pandemic and drastically cutting its operations, the Utah Hispanic Chamber of Commerce is embarking on a new chapter in its story.
The chamber, which was founded in 1991, is in the process of establishing a new board, hiring staff, relaunching programs like its high school student scholarship and tackling advocacy work for the Hispanic business community.
"There is some distrust to be clear, but I think more than anything, it's confusion or lack of clarity about the status of the chamber," said Randal Serr, the chamber's interim board chairman."Our role right now is to rebuild the chamber and bring it back not only where it used to be, but better than it ever has been. And we're being really intentional about that."
Part of that intentionality is partnering with consulting firm Pathway Associates to develop a strategic plan and mission over the next six months. Salt Lake City Councilwoman Victoria Petro-Eschler, who is a consultant for the firm, will oversee the firm's pro-bono work with the chamber.
"The Latino community is one where we get a lot of promises and not a lot of delivery on those promises. When you have a credibility deficit, which is what the Hispanic Chamber is facing, you have to lead out with competency — it's the only way to fix it," Petro-Eschler said. "Their board leadership inspires a lot of confidence from me. They don't have the structure yet, but they are the kind of people who will do what they say they will do. And that's something that we haven't had in a long time."
The chamber's board currently has eight members, including the following:
Serr, community outreach manager with University of Utah Health Plans
Ali Martinez, Midtown Community Health Center CEO
Sandra Carpio of United Way of Salt Lake
Glen Haynie of G&A Partners
Carlos Trujillo, attorney at Trujillo Acosta Law
Robert Rendon, senior vice president at Zions Bank
Claudia Loayza of the Utah Division of Multicultural Affairs
Nelson Altamirano of Leadership Circle
Clearing up confusion
In 2019, the chamber furloughed its staff. By 2021, Juan Pascua, who had been the chamber's membership director, stepped into the role of executive director and attempted to restart the chamber. But that proved difficult to accomplish without the support of staff.
"I was doing the jobs of five people. It was a mess and there was too much on my plate," Pascua said. "When we restarted in the beginning of 2021, too many people didn't believe I am telling the truth — that we are alive, that we are recovering, that we are helping many businesses. In these almost two years, we have helped around 200 businesses. We are growing step by step and we are recovering the confidence of many companies."
While the chamber was dormant in 2020 and struggling to get back to its former capacity with a one-man team in 2021 and 2022, someone else needed to pick up the slack.
"The Suazo Business Center actually took on so much of the roles of the chamber during COVID," Petro-Eschler said. "We need to clearly define the lanes and make sure that all the players on the field know what they're doing and how to serve the community and that we're actually responding to the needs."
Edward Bennett, director of business development for Suazo Business Center, said the chamber asked the Suazo Center to take over its operations at the beginning of 2020 and the center hired a chamber staff member and allotted 20% of her time to work exclusively on chamber issues. By 2022, the Suazo Center planned to open its own Latino chamber of commerce to help address needs in the community; however, Bennett said, the center is not pursuing that option at this point.
"We will hang tight, see what happens and support them in the activities, programs and advocacy work that they do that would actually benefit the greater Hispanic and Latino business communities," Bennett said. "I feel there should be a strong, powerful, active Hispanic Chamber of Commerce. If we can help build that without sacrificing our own mission, then we will — but we won't do it at the expense of our own clients, our own community and our own 20-years of work that we've done within the community."
Bennett added that the Suazo Center's support would extend to the chamber's endeavors to lobby for legislation and candidates that would benefit the community, but would not extend to programs like the chamber's business academy and individual mentoring programs, since the center also offers those same resources.
"We're just looking at it as another start up," he said. "It's a start-up organization that feels as though they have good intentions. When those good intentions come to fruition, then we'll support them unequivocally as long as they're doing the right thing."
Serr said he is optimistic about how the two organizations might work together going forward.
"I can say, unequivocally, that we want to build on the work that they're doing and not duplicate the work that they're doing — which has been a problem in the past," Serr said. "Our intention is to move forward hand in hand, and work together with all Hispanic-serving organizations, including the Suazo Center."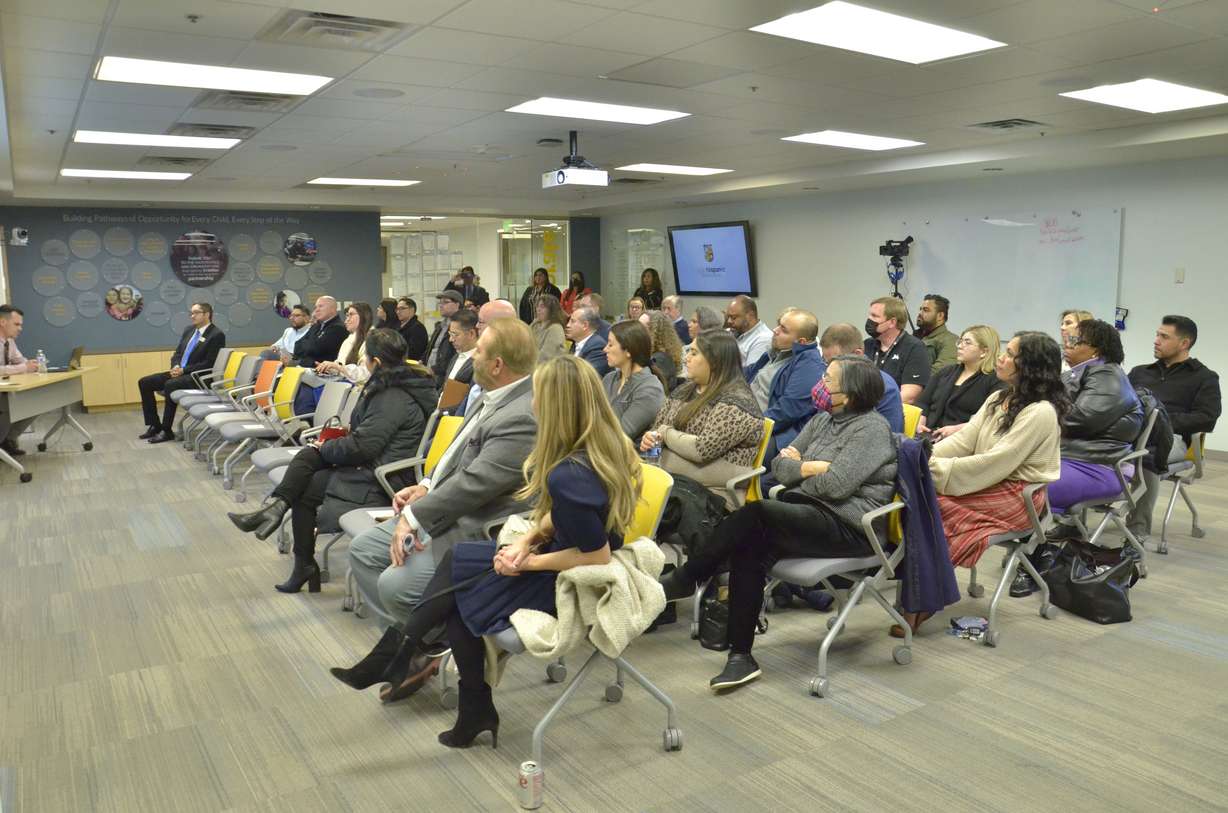 The need for a voice
Members of the Hispanic community say a fully functioning chamber could provide a needed voice to more than 25,000 Hispanic-owned business in Utah. However, communities also say the Utah Hispanic Chamber will need to adapt if it wants to become that voice.
"We are lacking a true advocacy voice. We need the dedicated advocacy that other minoritized groups, and businesses in general through the general chambers, have," Petro-Eschler said. "If the chamber is healthy, it will function as a place of reprieve and regeneration for those business owners to return to the larger demographic, but it'll also serve as a place to amplify and welcome in the larger community to the things that make the Latino community so unique and so powerful."
Jesús Ruiz, owner at fast food chain Señor Pollo, started interacting with the chamber in 2019. As a small business owner, he wanted a way to organically grow his business and decided to contact the chamber. He said the chamber's classes and business connections were helpful as he was growing his business, which now has five locations and is in the process of opening four more.
"We were actually the ones knocking on doors to see who will help us or how to get around people with a lot bigger reach than us," he said. "We never thought about contacting a regular chamber of commerce. Since we're a Hispanic-based business, we decided to go with (the Hispanic Chamber)."
Eli Madrigal, CEO at Rancho Markets, was a member of the Hispanic Chamber years ago but eventually decided to leave the chamber after seeing favoritism and a lack of outreach to businesses, especially smaller ones.
"They didn't approach the businesses to help grow their business; they approached the businesses to get a membership fee and to have your business listed with the chamber of commerce," Madrigal said. "These days, you can get the same advertising, or more precise advertising in the internet, instead of participating in a booklet that says you are in the chamber of commerce."
She said the Hispanic Chamber could be helpful to the community if it focuses on proactively inviting Hispanic businesses to be a part of the chamber, helping them find ways to grow their clientele and advocating for them.
Don Salazar, a Utah business owner and chairman of the U.S. Hispanic Business Council, said relying solely on the event-focused revenue model that worked well for chambers pre-pandemic isn't sustainable. He pointed toward the U.S. Hispanic Business Council's approach to becoming an advocate as an example of a sustainable model.
"Let's get out there and advocate for them and be a value-added component so that when you approach them, they're saying, 'These are guys that help promote our business, our vision, our mission,' rather than, 'Oh, no, here they come. They want to get 500 bucks for this event coming up,'" Salazar said. "I've expressed those concerns to the Utah (Hispanic) Chamber and I'm glad to see they're going in that direction."
×
Most recent Voces de Utah stories