Estimated read time: 5-6 minutes
SALT LAKE CITY — Irma Hofer grew up in Baja California, Mexico, setting her shoes out by her bed or next to the window each year on Jan. 5 before going to sleep.
The tradition was in anticipation of a visit from the three wise men, who leave presents in and around the shoes for children to wake up to on Jan. 6, or Día de los Reyes — a holiday celebrated in many Hispanic countries. The Jan. 6 date honors the wise men's journey, which tradition says would have taken 12 days from the time they saw the Christmas star.
When Hofer moved to the United States 45 years ago, her family adopted American holiday traditions, like a Christmas tree, but they still held onto Día de los Reyes traditions. Today, Hofer is celebrating both holiday traditions with her children and grandchildren.
"We have both, and I like it because have the morning of the 25th, when we have some gifts, and we have Jan. 6, when we have some gifts, too. It's fun and it's great because Día de los Reyes is more religious and the other is more Pagan and related to Santa Claus," Hofer said. "I think that it is important to know your roots so you can contribute to our society and enrich it."
Hofer isn't the only one keeping Día de los Reyes traditions alive in Utah. Centro Civico Mexicano has been hosting Día de los Reyes celebrations on and off for the past 80 years. This year, an estimated 500 individuals attended the center's event at 155 S. 600 West in downtown Salt Lake City.
"In this event, it's a sense of community that we are keeping a tradition alive that is not widespread across this country," said Hofer. "Remembering what we did as kids and passing it on to our own kids, it's a great thing."
Belia Paz — founder of Mujeres Unidas, one of the organizations that helped organize the event — said her favorite part of the holiday is seeing the smiles on the children's faces as they experience the traditions.
"It's a tradition that we need to make sure that our young children live," Paz said of the holiday, "Adapting is living it and still continuing the tradition, but with thousands of people so they know that the tradition has not gone away wherever they go."
Brandy Farmer, Centro Civico Mexicano president, also stressed how important these events are in sharing cultural traditions with the mainstream.
"It's really important for us to continue our culture," Farmer said. "When we celebrate our signature events, then we invite everyone to become a Mexican or Latin American person and join in and celebrate with us so that we can educate them about our culture, our dances and our food."
As a child growing up in Texas, Farmer said she was often teased about her Mexican American culture, such as when other kids saw her eating a tortilla. Despite feeling a lot of pride for her culture and growing up in a family that celebrated its heritage, she eventually stopped speaking Spanish and "forgot" some her culture. She said she's been able to re-immerse herself in her culture now as an adult through her work with Centro Civico Mexicano.
"We don't want anyone to forget our culture," she said. "Now the generations continue it, and that's wonderful."
During the event, families were able to get clothes, shoes and toys, as well as the holiday's signature rosca de reyes, a sweet bread shaped like a crown to represent the wise men. The bread does come with a warning, however. Inside are a handful of small plastic baby Jesus figurines. Whoever ends up with one in their slice of bread is obligated to make food, often tamales, for everyone else.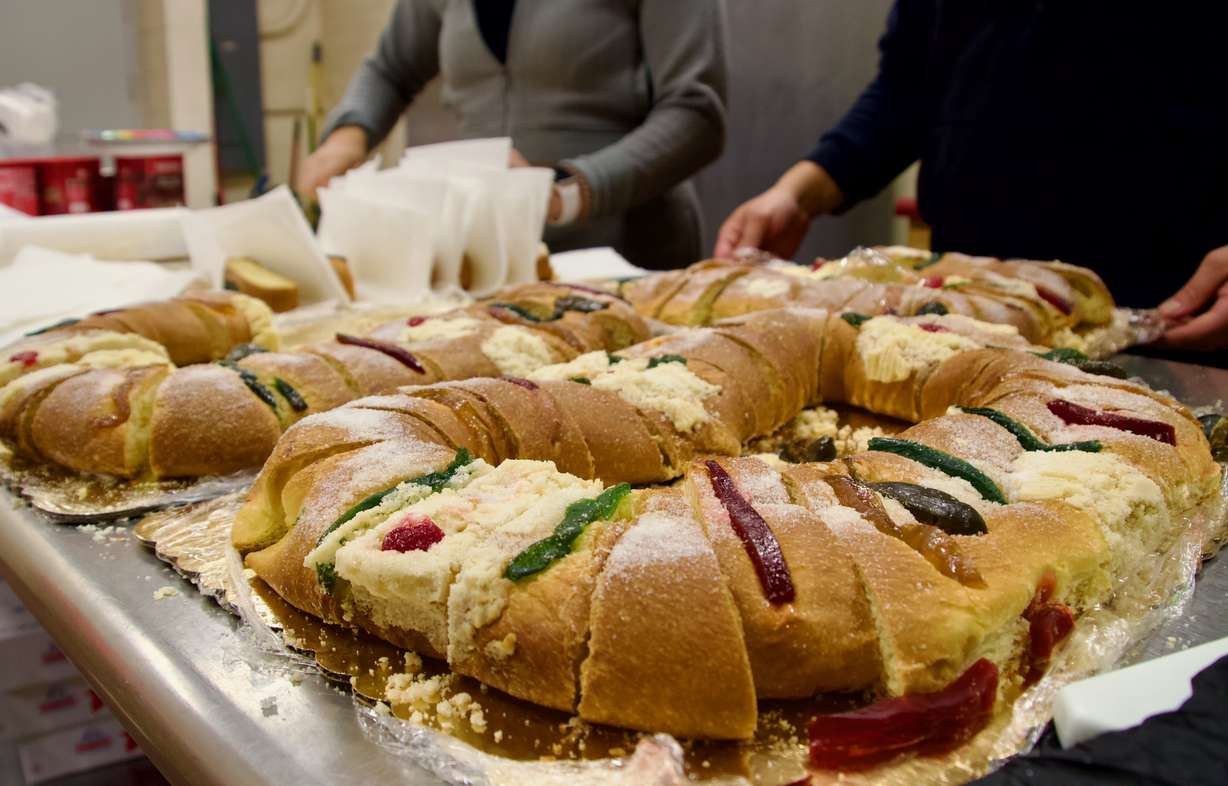 For Paulina Arias, a mom of two, the rosca is her favorite part of the holiday.
"I'm from Mexico and my children were born here, but I want to involve them in my Mexican traditions," Arias said in Spanish. "Because that's what I was taught as a little girl."
Carmenza Rincón celebrated Día de los Reyes in her home country of Columbia, but she says the traditions there are a little different than those in Mexico or what she's seen in Utah.
"We don't have the rosca and it's not as big as it is here. The kids get a small gift and we tell them the story of the three wise men that went to visit the baby Jesus," Rincón said in Spanish, adding that she continued the tradition with her three daughters when they were children. "I think it's important to involve the next generation in our countries' cultures."
Passing on culture to the next generation is sometimes easier said than done, however. Jose Luis Rodriguez brought his children and grandchild to the Día de los Reyes celebration to help keep that tradition alive.
"They don't understand it very well. They came because we brought them," Rodriguez said in Spanish. "They don't know a lot about the meaning of Día de los Reyes. We tell them about it, but it's not their tradition."
He added that events like the one Centro Civico Mexicano hosted are important in helping pass on cultural traditions to younger generations.
"It's part of your childhood, Día de los Reyes, and part of the child you carry inside you as an adult," he said. "It's good to involve them in all this."
×
Photos
Most recent Multicultural Utah stories