Estimated read time: 5-6 minutes
SALT LAKE CITY — Rollie Worster knew his performance over a two-game stretch to closeout nonconference play could have gone better.
In arguably two of the biggest games of the season up to that point — one, a rivalry game against BYU, and the other against a top-25 team in a neutral site game against TCU — Worster didn't have the right feel for either game.
He missed shots badly — oftentimes airballs or front-of-the-rim shots — and several forced turnovers; he didn't seem to have his usual feel for the game to help his teammates out in those important games. As the team's main facilitator, it was a difficult situation for Worster to be in, and his team.
Nobody turned their back on him or placed blame on his shoulders — he was far from the only reason Utah struggled during that two-game stretch — but they continued to encourage their floor general. His teammates and coaching staff had the trust in him to work through it.
"I just think with having great teammates, great coaching staff, coach (Craig) Smith always believes in me, along with everybody in our organization," Worster said. "And I just think that helps a lot that I feel that trust, you know, even when you don't play how you want to or performing how you want to."
Worster has since moved past that lull in his game and has been a key contributor to help Utah reach the program's first-ever 5-0 start in Pac-12 play. He hasn't always filled up the boxscore with points, but his presence on the court has been helpful to a Utah team that has more "resolve" this season, especially when the adversity strikes.
"Our young guys are figuring some things out," Smith said. "We're way more connected — when I say connected, there's more continuity. There's continuity and now there's a rhythm and more role definition to figure that stuff out."
Worster is just one example of the many players on the team who have had to work through down moments and help Utah improve upon a dismal 11-win season last year. There's a renewed confidence with a team that is willing to fight to improve, and that fight has paid off so far in large measure.
Smith is the first to point out that it's "a great start," but that's all it is: a start. Utah has already surpassed its win total from last season and has positioned itself to, at the very least, be invited to the NIT, if not the NCAA Tournament.
ESPN's Joe Lunardi has Utah projected in the tournament as an 10-seed, the NCAA's Evaluation Tool, or NET, has Utah ranked No. 30, and KenPom has the Utes as a top-40 team.
The program is trending in the right direction, but it's just a start.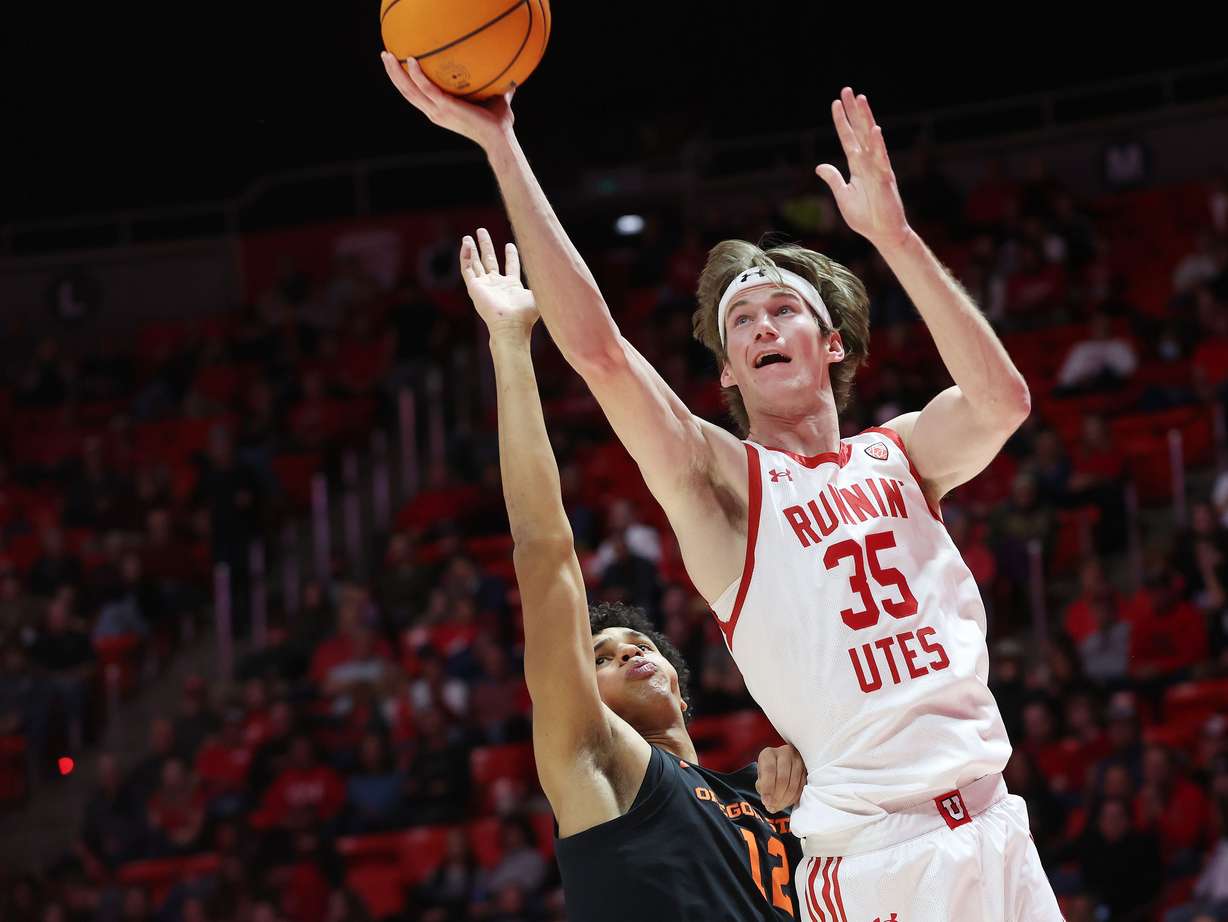 "It's 25% of league play — we play 20 games," Smith said. "Happy for our guys. Our guys put the time in, we have a great group. These guys work at it. And when you see guys coming in the morning at 8-8:30 on Christmas break to get shots up, and you see them doing it together, it's a lot of guys that come in and put the time in. It's not an accident when you get better like that.
"Last year — I mean, we've talked enough about last year — but that's tough, and these guys showed a lot of resolve and said, 'Hey, we're going to do this.' They believe in each other and they believe in this school, and so I'm excited for them. It's early; it's still really, really early, but 5-0 beats every other alternative."
If anything, there's a renewed sense of optimism around a program that believes it can compete with any team on its schedule. Though Utah has dropped some games it feels like it should have won, there's nobody putting their head down or feeling sorry for themselves like at times during the 2021-22 season.
Worster said there's a "confidence in our team" this year and a belief in the collective unit.
"I think talking about records this and that is kind of hard, because you never know, especially with a bunch of new guys how it's going to gel, especially at the start of the year, but I just think we've came out and played our game, and we need to continue to do that," Worster said. "I just think we all believe in this program and we've proven some things, but we've just got to keep working every day and keep getting better."
Utah is certainly not a finished product — depth remains an issue at times, as does consistent shooting and limiting turnovers — but Smith has reminded his team that their job isn't to worry about "being the best, let's just be our best."
"Whatever that means, none of us in this room knows what that means," he added, "so let's just put our best foot forward every day."
That has led Utah to be competitive in every game it's played in this season and given itself a chance to win — even if some of what has made the Runnin' Utes successful this season doesn't always show up in its best form on the court.
"Last year, we had way too many games slip away from us in the last couple minutes," Utes center Branden Carlson said. "And I think it was just not being locked in for the whole game. This team that's been a huge emphasis is all 40 minutes we're locked into our 40 minutes plus — whatever it may be."
It's a team that is turning the corner and bringing competitive basketball back to Salt Lake City. Whether Utah makes the NCAA Tournament or not with a 5-0 start to conference play, Smith said his team is one that fans should "back and support and appreciate and be proud of."
It's why he hopes fans will return to the Huntsman Center and make it a tough environment for the home team moving forward.
"It's an exciting time and fans impact winning — make no mistake," Smith said. "Fans impact winning and hopefully we'll have — tonight was awesome; you could feel them tonight — and hopefully that trend will keep on continuing."
Utah gets a chance to extend its winning streak to six with a home contest against Oregon on Saturday (5 p.m. MST, Pac-12 Networks).
×
Most recent Utah Utes stories