Estimated read time: 6-7 minutes
PROVO — Before he began his now-annual early signing period briefing with the local media, BYU coach Kalani Sitake made sure to lay down a few caveats.
Most importantly was this: Today is not the end of BYU's roster additions for the 2023 season and beyond — far from it. Between the traditional signing period in February and the constant churning of the NCAA transfer portal that is changing how the sport works nationally, it's just the beginning.
The Cougars signed two Division I transfers and added another junior college product as part of the Cougars' 16-player incoming Class of 2023 Wednesday, and Sitake hinted that there will be several more.
The bulk of the class consisted of high school recruits, many of whom will serve two-year missions for The Church of Jesus Christ of Latter-day Saints, like Corner Canyon linebacker Owen Borg, Timpview standout Pokai Haunga and 6-foot-8, 320-pound "gentle giant" of an offensive tackle Ethan Thomason from Colorado, while others will join the Big 12-bound Cougars as early as next month, like Springville quarterback Ryder Burton.
There's no doubt BYU will need to "level up" recruiting, as it will in several operations as it moves into the Power Five for the first time in school history.
The backbone of BYU's recruiting efforts will always be high school talent, head coach Kalani Sitake said, even while plucking talent from the portal like Puka Nacua (Washington), Samson Nacua (Utah), Kaleb Hayes (Oregon State), Kingsley Suamataia (Oregon), Christopher Brooks (Cal) and Gabe Jeudy-Lally (Vanderbilt), to name a few.
More names to add to the list from Wednesday include Aidan Robbins (UNLV/Louisville) and Isaiah Bagnah (Boise State). The Cougars also have a commitment from Boise State kicker Will Ferrin, a 6-foot-3, 170-pound product from Davis High, who averaged 62 yards on nine kickoffs for the Broncos after a prep career that included 13 field goals, 16 extra-points and 33 touchbacks in 40 kickoffs as a senior with the Darts.
"We've had really good success with the portal guys we've brought in," Sitake said. "I think we're going to be able to complement what we have on that team currently, and invite some more competition.
"But they have to be the right fit to the team, and not just on talent alone. The guys we recruited to this class fit, just like Puka, Samson, Kaleb, Kingsley; they all fit on and off the field. The portal is really good for our program, but I don't think it's going to be an overriding thing. Some programs may do that, but we won't do that."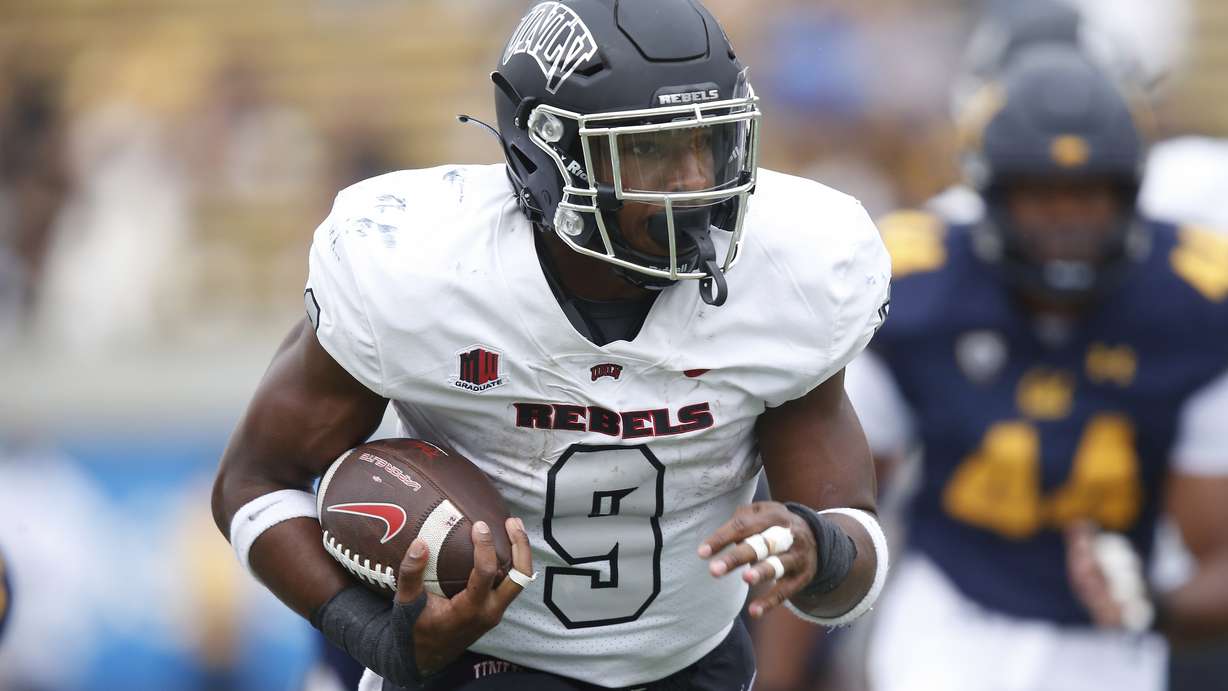 In that regard, Sitake is well aligned with the views of new defensive coordinator Jay Hill, with whom he worked for nine years at Utah, and offensive coordinator Aaron Roderick. The portal needs to be an option for recruiting, but it can't be the only option.
"The caliber of high school recruits we can still get here is very, very high," Hill said. "We've just got to get the right ones here."
Think of it like NFL free agency, Roderick explained. Professional teams don't immediate eschew the draft every April in favor of the free-agent market, though some years may lean more heavily toward one end or the other. There's a balance to strike, and finding that balance in the new age of recruiting is a battle every team faces.
"If there is a good player available that can fill an immediate need, then you look to the portal," Roderick said. "But we're never going to stop recruiting high school players that we project will be good players in this program.
"If you're all portal, all the time, there's a good chance your team will be up and down year to year. We're going to find guys to fill gaps in the portal, but the majority of our recruiting class is going to be high school guys."
Of course, there will be plenty of reps for a player like Bagnah, who followed former Boise State assistant (and BYU graduate) Kelly Poppinga from the Treasure Valley to Provo with two seasons of eligibility remaining.
"He's played a lot of Division I reps at a high level," Hill said. "He's a twitchy pass rusher off the edge, and he's multiple; he can play defensive end, outside linebacker, and he can fit what we need on the edge.
"He reminds me of a lot of guys that BYU has had here in the past, from (Kyle) Van Noy to (Sione) Takitaki to Fred Warner. He's a similar body type to those guys."
Such was the case Wednesday. Even in adding Bagnah — who has two years of eligibility — to a linebacker room as a talented pass rusher who totaled 59 tackles and 10 sacks in four seasons at Boise State, one of the gems of the class is Timpview four-star edge rusher Siale Esera.
The 6-foot-2, 250-pound linebacker was pursued heavily as the No. 4 overall prospect in the state of Utah and No. 46 edge rusher nationally by 247Sports, most notably from UCLA, Utah and Utah State before ultimately finalizing his commitment to the Cougars. After recording 76 tackles, two sacks and an interception in 2022, Esera took a late recruiting visit to Westwood while the Bruins tried to flip his commitment.
Instead, he stayed true; and the Polynesian Bowl All-American has a chance to make an immediate impact as a freshman on a defense that will start to build like Sitake's defense at Utah years ago, when he worked with Hill and new defensive assistant Sione Po'uha.
"Kalani gave us an opportunity to watch the guys committed and make sure they fit the style," said Hill, noting his primary focus was to keep the recruiting class together when he was hired on after leading Weber State's most recent FCS playoff run. "We were together for nine years, and we feel like we had a good eye for finding the recruits that fit us."
On offense, the most game-ready player is Jackson Bowers, the 6-foot-5, 245-pound tight end who had "offers from everyone," tight ends coach Steve Clark said, including Alabama, Utah, Baylor, USC, Auburn, Texas, Oregon, and Cincinnati, to name a few.
After totaling 1,540 yards and 12 touchdowns on offense and adding 30 tackles, 7.5 tackles for loss and 4.5 sacks at defensive end, Bowers will enroll immediately with eyes on earning playing time behind returning tight end Isaac Rex, former Lone Peak standout Masen Wake, Olympus product Anthony Olsen and rising pass catchers Ethan Erickson and Carter Wheat.
"He looks like a Power Five tight end right now," Roderick said. "He's a big, strong, athletic guy, who is all of 6-5 and 250 pounds. I wouldn't be surprised if he was able to play as a freshman."
×
Photos
Most recent BYU Football stories