Estimated read time: 4-5 minutes
PROVO — Just 32 seconds into the game, BYU big Emma Calvert sprinted back to block Utah standout Gianna Kneepkens' breakaway attempt.
BYU's pesky defense made things harder on a lot of players Saturday evening.
Not for the Utes' leading scorer, though.
Kneepkens, a sophomore and watchlist candidate for the Naismith Award that goes to college basketball's top player, had a quiet first half with just 3 points and three rebounds before finishing with 18 points and six boards while playing through early foul concerns. Jenna Johnson and Kennedy McQueen combined to shoot 1-for-11 from the field, too.
But USC transfer Alissa Pili more than made up for it with 28 points and seven rebounds as the No. 15 Utes rolled to an 8-0 start with a 76-59 road victory over their rivals Saturday evening in the Marriott Center.
Isabel Palmer had 8 points to lead a reserve unit that outscored BYU's bench 21-5 and the Utes outpaced the Cougars 42-36 in the paint and shot 55% from the field with eight 3-pointers.
But the day belonged to the former Pac-12 freshman of the year from Anchorage, Alaska, the Utes' leading scorer on a team that averages a nation-high 97 points per game who shot 13-of-18 from the field, with a 3-pointer to go along with two assists, two blocked shots and a steal to snap the Cougars' two-game winning streak.
"Today was Alissa Pili's day. They didn't have an answer for her. When she's going like that, I don't know if anybody in the country does," Utah coach Lynne Roberts said. "She was really good, and they were doing a good job of staying out on our shooters. It opened up the middle, and we just told her to go to work.
"That speaks to our balance. Kennady McQueen is one of our best scorers, and she couldn't get going today, same with Jenna Johnson; they did a good job on those guys. So it's good that we have that balance that still allows us to put points on the board."
Lauren Gustin had 18 points and 15 rebounds for BYU (4-6), her 10th double-double of the season, and Nani Falatea added a team-high 18 points and six assists for the Cougars.
But in a new rivalry game that featured just two players from BYU who had played against the Utes, and only one from Utah, BYU coach Amber Whiting admitted the moment just might have gotten to the Cougars after struggling to just 23-of-58 shooting and 3-of-12 from 3-point range.
"There's a lot of emotion and a lot of energy. That can be both a positive and a negative," the first-year BYU head coach said. "The experience of getting to that moment and being able to take it over the top, hit the shot, or make the play, that will come. Right now, they're really young and really inexperienced, and they're getting that experience.
"We're going to overcome this."
Pili had 9 points and three rebounds, and the Utes held BYU to just 3-of-13 shooting en route to an 18-10 first-quarter lead. The Cougars matched Utah's 1-for-5 shooting from 3-point range, but Utah held BYU's Gustin scoreless from the field until the 3:26 mark of the quarter before finishing with 2 points and four rebounds.
The gap widened in the first half as Utah scored 9 points off eight BYU turnovers, and the Utes outscored the Cougars 17-5 off the bench and 22-14 in the paint with a 19-16 rebounding edge en route to a 39-27 halftime advantage.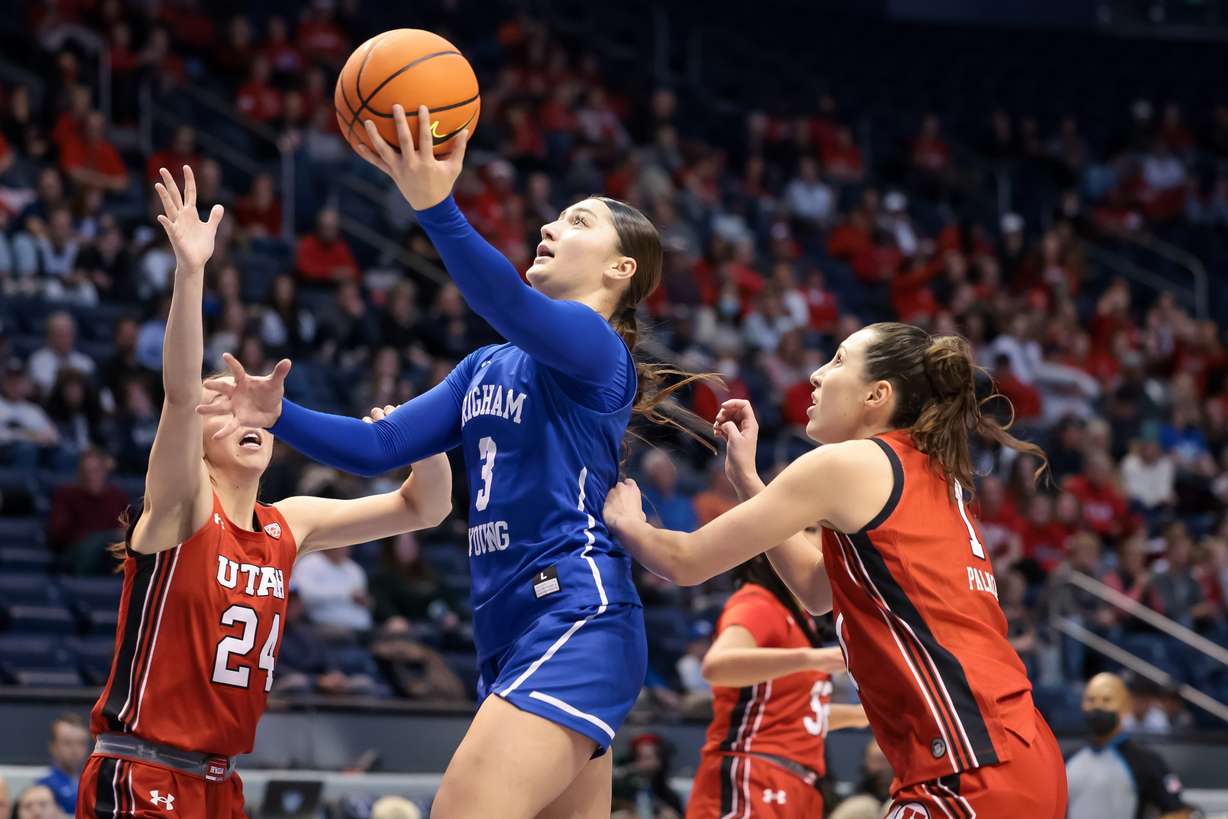 Utah pushed the lead as high as 20 with a 10-2 run to open the third quarter. BYU didn't back down; Falatea scored on three consecutive possessions to cut the deficit as low as 11.
"She was huge tonight," Whiting said of Falatea. "The way she can get to the rims and slice … she made some really nice passes and feeds, too. I was really proud of her tonight."
The Utes shot 56% from the field to lead 59-43 after three quarters. BYU cut the deficit to the verge of single digits twice, but the Cougars couldn't seal the comeback down the stretch thanks to Dasia Young's defense and a few key defensive and rebounding adjustments.
"I told them, you don't even have to score again; we just have to defend and get rebounds," Roberts said. "We also didn't give up another offensive board until the last 30 seconds, either.
"They just are very even-keeled; we won a big game, and they don't get too high or too low. It's really a strength when you are on the road in a hostile environment to stay steady."
Utah takes its 8-0 start into the Utes' Pac-12 opener Wednesday against Colorado. BYU opens West Coast Conference play next Saturday at Gonzaga.
×
Photos
Most recent Utah Basketball stories