Estimated read time: 4-5 minutes
PROVO — Some will make a mountain out of college football's latest spin on the coaching carousel, while others just see a hill.
Weber State head coach Jay Hill reached an agreement to become the next defensive coordinator at BYU, the Cougars announced Wednesday morning. The deal was finalized late Tuesday night and will send the all-time winningest coach in Wildcats football history to his native Utah County after nine years in Ogden.
News of the agreement was first reported Tuesday by ESPN's Pete Thamel, and Hill was introduced to the team Wednesday morning, a team source confirmed to KSL.com.
Hill leaves Weber State with a 68-39 record, six FCS playoff appearances and four Big Sky Conference championships.
"I'm very excited to be joining Kalani and the rest of the BYU staff," said Hill, who will also hold the title of associate head coach. "They have an outstanding program that wins on and off the field. BYU's brand is nationally recognized and respected, and I can't wait to get to coaching, recruiting and winning in the Big 12."
BYU is expected to make a "big-time financial commitment" to Hill, according to KSL.com columnist and 1280 radio host Patrick Kinahan, of perhaps the most lucrative contract for a coordinator in program history. It's believed that could include a salary (with bonuses) close to $1 million, which would dwarf the $366,475 annual salary (with bonuses) he most recently signed with Weber State, according to the Standard-Examiner.
The same contract also includes a $100,000 buyout.
But Hill has been considered to be worth it. When former defensive coordinator Ilaisa Tuiaki stepped down less than 24 hours after the Cougars' regular-season finale at Stanford, it didn't take long for the search to turn toward Ogden to find a coach who could improve on the No. 93 total defense and No. 100 scoring defense in the Football Bowl Subdivision. BYU never named an interim defensive coordinator, though head coach Kalani Sitake has been the defensive play-caller for the final month of the regular season.
"Jay is a leader," Sitake said. "I have worked with Jay for nine years while we were at Utah together, so I know first-hand how like-minded we are defensively, how great of a recruiter he is and how committed he is to developing players. He has done an amazing job everywhere he has been, including building and leading the Weber State program most recently, and I'm excited to now have him here at BYU."
Hill called the defense for most of his time at Weber State, thought defensive line coach Grant Duff and safeties coach Joe Dale held the title of co-defensive coordinators. Most recently, the Wildcats ranked 15th in the Football Championship Subdivision in total defense, allowing 324.1 yards per game, and 15th in scoring defense with 20.38 points per game, and fifth in third-down conversion defense at a staggering .313.
Hill, 47, was born in Lehi and played cornerback at Ricks College and the University of Utah, where he took a job as a graduate assistant two years after wrapping up his career and earning a bachelor's degree in Spanish.
The defensive specialist later earned a master's from the U. in sports psychology and worked his way up, mostly under close friend and mentor Kyle Whittingham, to cornerbacks coach, tight end coach and special teams coordinator.
He spent 13 years at Utah, including nine as a full-time assistant under Whittingham where he overlapped with a rising linebackers coach and defensive coordinator named Kalani Sitake. Shortly after Hill was named the 11th head coach in Wildcats history in Dec. 2013.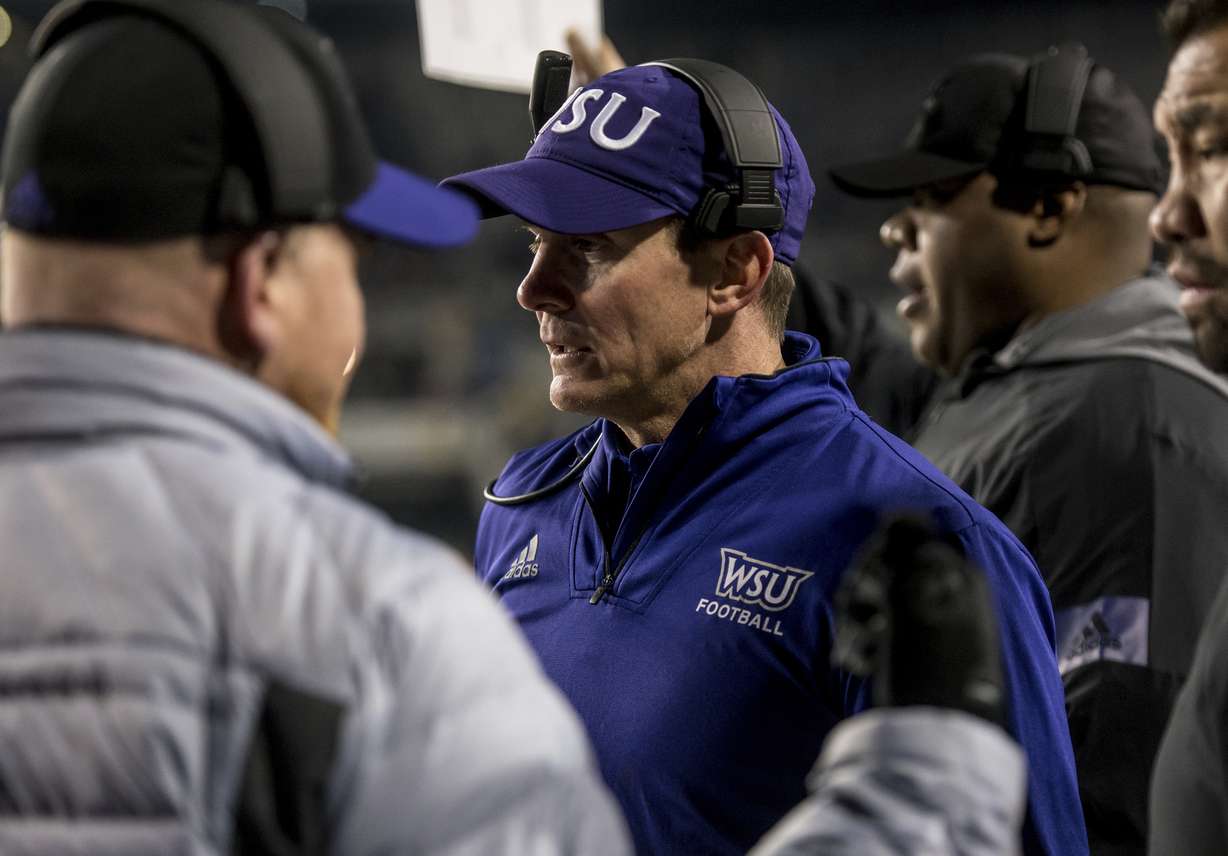 Hill's first season in Ogden yielded just a 2-10 record, but he went on to win at least six games every other season, save for the COVID-19 season of 2020 that was pushed to 2021 and played under a conference-only format. His teams made six-straight playoff appearances from 2016-20, highlighted by a run to the national semifinals in 2019, and added another this past fall before a loss at Montana State in the second round.
Hill was honored as the Big Sky Coach of the Year and AFCA Region 5 Coach of the Year following the spring 2021 season, a regional honor he also shared in 2019.
Under Hill, the Wildcats yielded eight FCS All-Americans in 2017, a program record, and sent Taron Johnson (Buffalo Bills), Sua Opeta (Philadelphia Eagles), Jonah Williams (LA Rams) and Rashid Shaheed (New Orleans Saints) to NFL careers that remain to this day.
He also played a role in sending former Utah standouts Eric Weddle, Louie Sakoda, Shaky Smithson, Reggie Dunn, Sean Smith, Brice McCain, R.J. Stanford and Brandon Burton to the NFL.
"Everyone knows how much coach Hill knows about football," former Weber State defensive end Jonah Williams, now with the LA Rams, told the Standard-Examiner in 2019. "So when he makes a call, it's not like anyone is questioning the call. He knows what the offense is about to do. He's going to put us in the best situation to make plays and capitalize on their play. It's 100% trust in his play calls. As long as he's leading it for us, he'll set us up for success."
×
Most recent BYU Football stories