Estimated read time: 3-4 minutes
SALT LAKE CITY — At a freezing cold cemetery in Salt Lake City tears were shed, hearts were warmed and spirits were lifted.
The annual Christmas Box Angel Ceremony was held Tuesday evening, as more than 90 people gathered to honor children who have died and to bring comfort to one another. After a short program which included a moment of silence for lost loved ones, tearful attendees placed white roses on the angel statue and hugged one another.
"The holiday season can be a hard time for people who are suffering and feeling losses," Utah author Richard Paul Evans said.
Evans has been hosting this event since 1994 to give parents a space to grieve their children. Evans commissioned the angel statue for the Salt Lake City Cemetery after readers of his book, "This Christmas Box," sought an angel monument as a place to mourn — just like the one in his book.
Today, there are 172 Christmas Box Angel statues around the world dedicated to children who have passed away. Vigils are held every year at the angel statues on Dec. 6, the date of the child's death in Evans' book.
"It's really pretty beautiful to think that tonight there are tens of thousands of people gathered at angels and being loved and shown that people care about them," Evans said.
Lisa Mitchell, the mother of 13-year-old Eli Mitchell, who was riding his bike when he was killed by a drunk driver earlier this year, spoke at the vigil. She shared memories of her son and talked about the tree at Festival of Trees that was dedicated to him. Mitchell explained how she sees Eli in her life through crazy ladybug encounters where she can feel he is still with her.
"Experience after experience, I know Eli is still with us," she said. Mitchell said she has found comfort in knowing Eli is with Jesus, in heaven.
Eli loved the "Harry Potter" books, and so Mitchell said, quoting the character Sirius Black, "I know that the ones that love us never really leave us."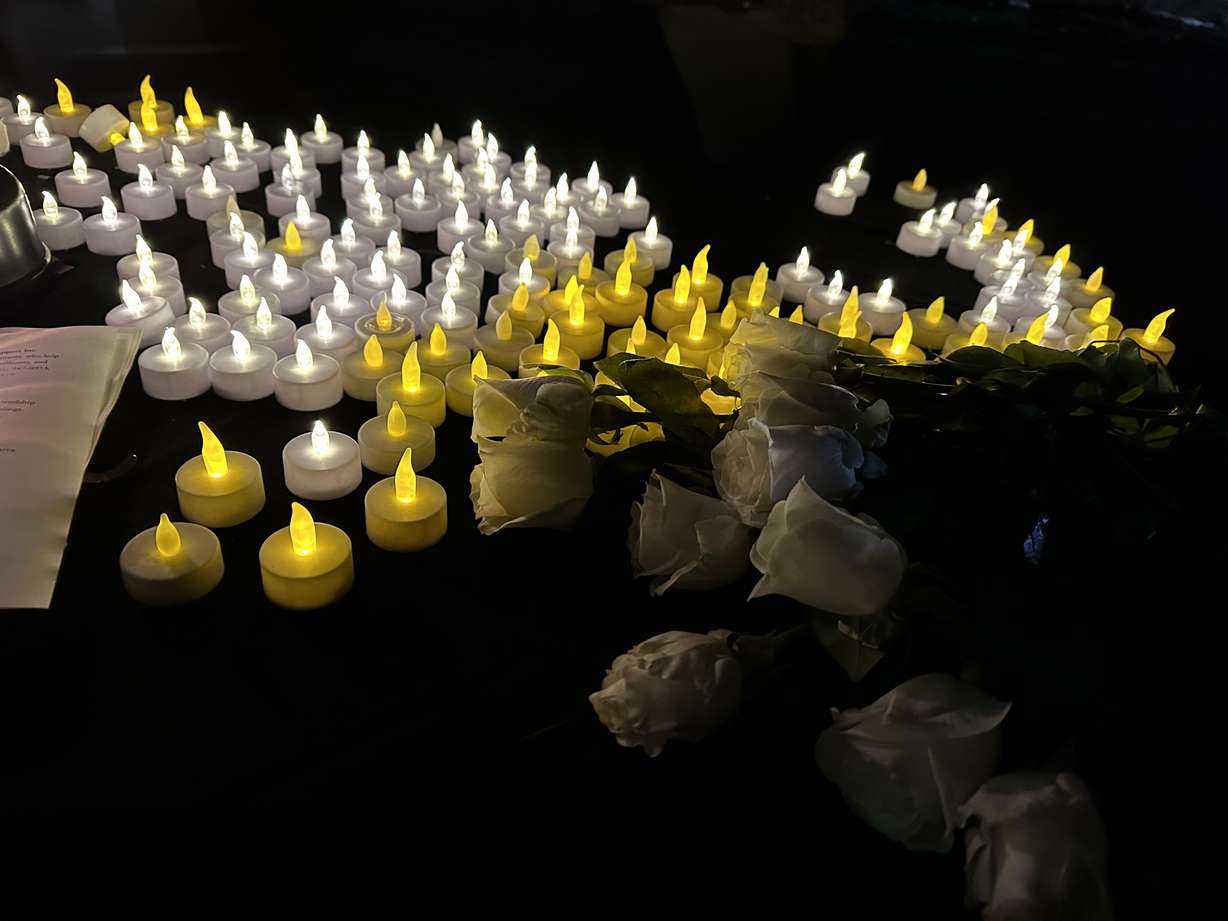 Mason Sawyer lost his wife, brother, nephew, daughter and a son in a car accident caused by a freak sandstorm in Millard County in July 2021.
Sawyer told the audience how hard it has been to grieve so many family members at once and how lonely he feels at times.
"I'm so honored to be here tonight with a group of people where we can feel each other's pain and mourn with each other. That's a powerful thing, so thank you," Sawyer said.
He shared memories of his kids' nighttime routines and said he would often play "Would You Rather" with his son.
"Would you rather have loved and lost, or would you rather have never loved at all," Sawyer asked the audience. "I think it's safe to say that we would all choose loved and lost."
As painful as it has been losing them all, Sawyer said he would always choose the pain of losing them over not knowing them at all because he loved them that much.
---
Grief is the truest evidence of love. We should always be grateful to have something to love, even if it means that we have to lose it.
–Author Richard Paul Evans
---
Lisa Johnson works for Evans as an "angel representative" to help expand the Christmas Box angels program to other cities. She said parents and families call the statue an angel of hope.
"We need to look up for hope and reach out to each other and help each other," Johnson said, referencing how the angel statue is looking up with outreached arms.
Johnson said the vigil brings healing and comfort to those who have suffered loss and many find strength by being around other people that have lost children, too.
Evans concluded his short speech by reading an excerpt from his new book, "A Christmas Memory."
"Grief is the truest evidence of love. We should always be grateful to have something to love, even if it means that we have to lose it," he said.
×
Photos
Most recent Salt Lake County stories