Estimated read time: 5-6 minutes
PROVO — On another day, in another year, BYU's bowl destination will be known (or at least, highly understood) long before the College Football Playoff committee meets for the final Sunday to dole out postseason invitations.
That day might come as soon as next year, when the Cougars will fall under the contractual status of the Big 12 Conference.
But it is not this day.
BYU (7-5) will learn its bowl destination Sunday afternoon, after the playoff and New Year's Six bowls have been decided and invitations to the remaining bowl games are doled out and finalized. But there are hints of where the Cougars may be playing.
Sources close to the program have told KSL.com that the Cougars are expecting an invitation to one of the earlier bowl games of the postseason, as early as Dec. 16-17. One prominent target is the New Mexico Bowl, which would likely pit BYU against a Mountain West opponent.
Traditionally, BYU has preferred not to play in a bowl game over the Christmas holiday, preferring to allow players and coaches to spend the holiday with family rather than host at a bowl site for pregame activities or in practices. That doesn't mean the team has never traveled to a bowl destination during Christmas; the Cougars faced Hawaii in the Hawaii Bowl on Christmas Eve as recently as 2019.
It's just not the preference.
"The destination is not really that important to me, or even the opponent right now," BYU coach Kalani Sitake said after the Cougars' 35-26 win over Stanford in the regular-season finale. "It's just extending bowl prep and extra practices; that's going to be the key for our program, especially for the development of our young guys."
A week removed from the regular-season finale, the Cougars are also expected to be as healthy as they've been in over a month. Starting quarterback Jaren Hall left the game against the Cardinal in the second half with an apparent ankle injury, but both he and Sitake expect the redshirt junior to suit up during the bowl game in what might be the final game of collegiate career.
Running back Lopini Katoa is also expected to return after not playing against Stanford. The senior missed most of practice with an undisclosed illness, Sitake said, and was unable to practice in the week leading up to the road game. That won't be the case for the postseason.
Some bowls are already set; San Diego State and Middle Tennessee have both accepted an invitation to the Hawaii Bowl on Dec. 24, while Miami (Ohio) and UAB are in the process of heading to the Bahamas Bowl for a Dec. 16 kickoff.
There are 81 teams eligible for 82 bowl spots, after Buffalo improved to 6-6 with Friday's win over Akron to make up for a postponed game. New Mexico State (5-6) received a waiver from the NCAA's Football Oversight Committee for bowl eligibility after the Aggies had a game canceled following the tragic death of a San Jose State player on campus.
That leaves only one spot for a 5-7 team to fill, with the leading candidates based on the NCAA's academic progress rate being Rice and UNLV. With so few teams to accomodate, ESPN is also unlikely to stage the Frisco Football Classic, as first reported by the Action Network's Brett McMurphy.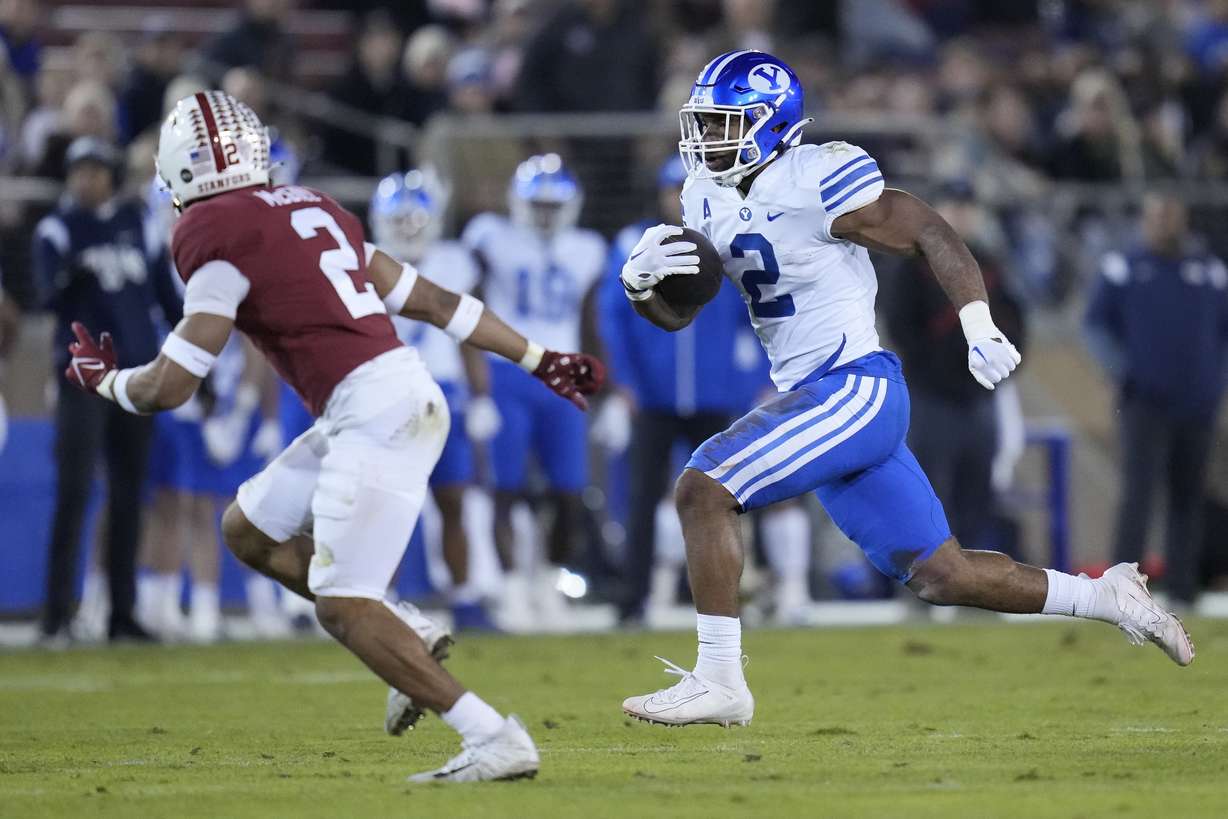 BYU is considered a free agent for bowl purposes, contracted to appear in one of the 16 games owned and operated by ESPN Events. Most of those games are contracted with Group of Five conferences, and ESPN does have the right of way to move around bowl tie-ins to present the best matchups — so long as conference tie-ins can still be fulfilled.
That means BYU could go anywhere from Texas' Frisco Bowl (Dec. 17) to the New Mexico Bowl (Dec. 17), as projected by Action Sports Network. The former could leave the Cougars open to facing a Big 12 team from their future conference, with 6-6 Kansas being a trendy pick.
They could also go as far as the LendingTree Bowl in Mobile, Alabama or Cure Bowl in Orlando, per projections from ESPN and The Athletic, respectively.
One other option remains that is not owned by ESPN Events, and that's the Quick Lane Bowl in Detroit. Backed by the NFL's Detroit Lions and played at Ford Field, the Dec. 26 bowl game is contracted between the Big Ten and Mid-American Conferences.
The Big Ten has nine bowl-eligible teams to fill their slots. But as many as three teams (likely Michigan, Ohio State and Penn State) could be bound for the College Football Playoff and other New Year's Six bowl games, which would leave an opening at Ford Field.
The likelihood of two College Football Playoff teams became increasingly prevalent after Utah extinguished USC's playoff hopes Friday night in the Pac-12 championship game.
ESPN's Kyle Bonagura and Mark Schlabach briefly predicted the Cougars to take the Big Ten's spot in Detroit. But both have since moved on to other projections, with Schlabach projecting BYU to the LendingTree Bowl against Troy and Bonagura picking the Cougars in the Frisco Bowl against Middle Tennessee.
"What I've seen from the beginning to the end, there's been a lot of progress in our program," Sitake said. "A lot of things we know, a lot that we're better, and I think we're well-equipped going into this bowl game to springboard our team going into 2023."
×
Most recent BYU Football stories