Estimated read time: 5-6 minutes
SALT LAKE CITY — Utah's defense was tired of answering the same question throughout the first half of the season: Why is the defense struggling?
For the defensive players, admittedly, it was an uncommon question given the sheer dominance on that side of the ball over Kyle Whittingham's tenure as head coach. It's a side of football that traditionally reloads and delivers as it brings the physicality each week; teams feel it — during and after the game has been played.
But for much of the first six games against FBS teams on the schedule, the defense looked out of sorts — lost, out of place, missed assignments, poor tackling, etc. — and struggled to contain mobile quarterbacks or get much of a stop in the run game.
It was not the traditional Utah defense.
Whittingham called the defense "soft" and was frustrated with the lack of execution from his players, while also recognizing that he had a lot of inexperience in the front seven.
That same script played out in the first half against USC in October when the defense gave up 364 total yards, including 249 yards through the air and 115 yards on the ground, in what was a mostly one-sided affair for the visiting team.
Something had to change or Utah's season was largely in peril, especially considering the preseason expectation and a loss the week prior to UCLA.
Defensive coordinator Morgan Scalley simplified the scheme and changed up some of the team's calls to help showcase his players' talent in a better way. It all lead to a defensive performance that held USC to 192 total yards in the second half — just under half its production from the first half — and gave the offense a chance to make a eventual comeback in a 43-42 win.
"Really, that was the onset of the defense kind of pivoting and making a reversal and playing well the second half of that game; we played extremely well in the second half of that USC game," Whittingham said. "From that point on, we've played pretty good defense.
"Our guys have grown up, I guess you could say, this year, and great job by coach Scalley and his staff getting them ready every week. Great job by the players taking the preparation process dead serious and making sure that we don't have any wasted time on the field or in the meeting room. It's a very businesslike approach with our defense, and they've really played some good football, like I said, as of late."
In the first six FBS games, Utah averaged 158.5 rushing yards and 235.8 receiving yards per game, and a combined 19 touchdowns. But in the remaining five games, the defense tightened up and allowed only 68.2 rushing yards and 203.6 receiving yards per game, and a combined 10 touchdowns.
Some of that improved production is a result of the teams Utah played down the stretch of the season, according to Whittingham; but even in games against the top teams in the Pac-12, Utah's defense has shown signs of progress and now ranks 17th in the country and first in the Pac-12 in total defense.
In fact, Utah ended the regular season leading the Pac-12 in total defense (317.5 yds/gm), rushing defense (111.25 yds/gm), passing defense (206.3 yds/gm), and scoring defense (20.1 pts/gm). Utah also ranks ninth in defensive efficiency in the country, according to ESPN, which ranks first in the Pac-12.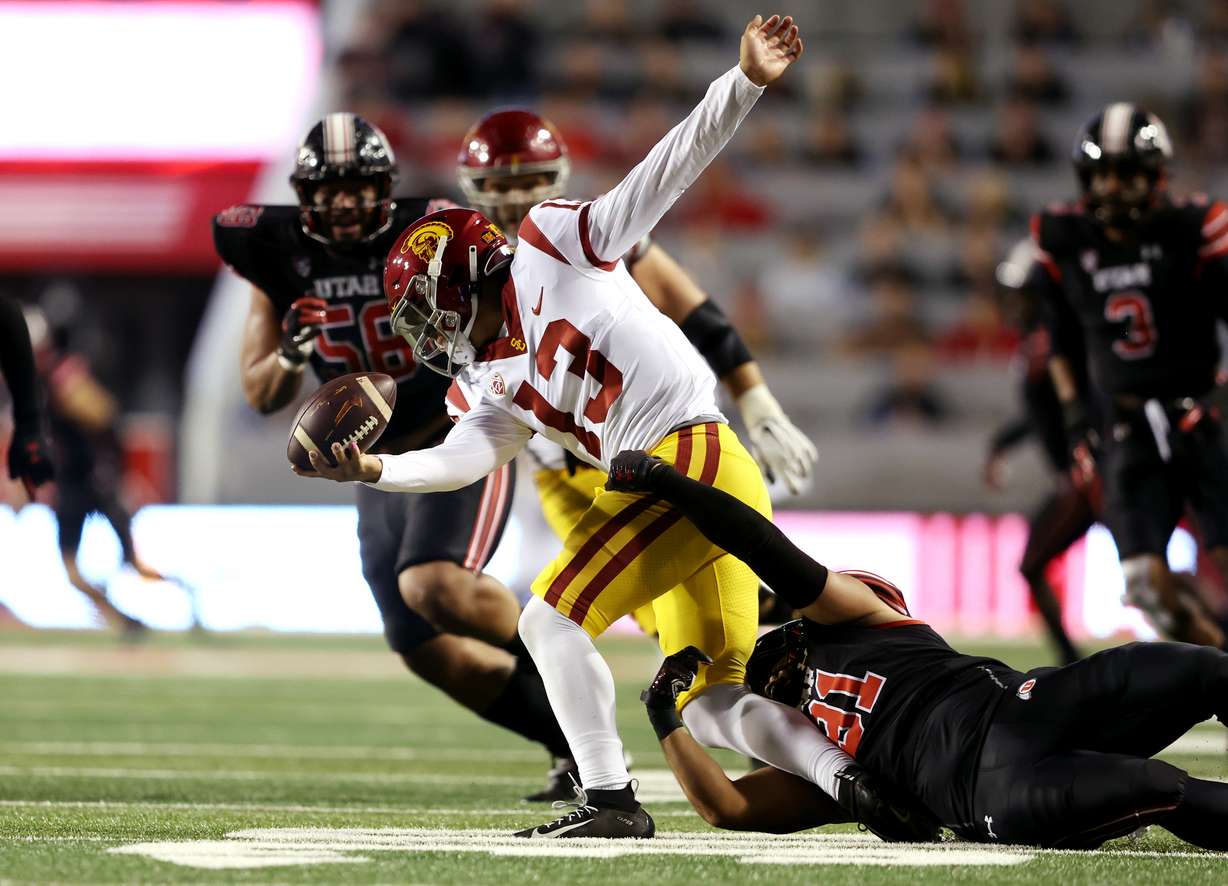 It's a defense that is at least closer to what Utah expects every season now.
"It's just a matter of the defense, maturing — guys gaining experience," Whittingham said.
"We've grown up in a lot of areas, a lot of position groups didn't have a ton of experience. Early on, we weren't playing very fundamentally sound, we were leaving gaps, we were technique wise not real good, we weren't tackling real well during the season. And we just continued to get better and better as the season wore on."
Linebacker Karene Reid said it was the team coming together and realizing that they all had to work together to produce better on the field. And in those weeks that followed the USC game, players like Simote Pepa emerged and became a bigger threat on the defensive front seven.
Reid was quick to point out that it wasn't just a one-man show on the defensive side of the ball; it took all 11 guys on the field buying into what the coaches wanted them to do before Utah could be where it needed to be.
"I think it really needs to be a team effort," Reid said ahead of the Pac-12 championship game. "We can't have the Clark Phillips show or the Cole Bishop show. Like, as much as I want them to do well, everybody's gotta have a good game; that's what it's going to take.
"It's got to be a team effort. As well as the DBs cover, there's got to be pressure on the quarterback, as well. That quarterback's too good to get an interception purely off of good coverage; it's got to be a couple moving pieces."
Utah's defense will be tasked with stopping the perceived front-runner for the Heisman Trophy in sophomore quarterback Caleb Williams on Friday night. How it performs against an elusive quarterback will go a long way in determining Utah's fate that night in the championship game — and a report on how far Utah's defense has come this season.
"I think not only is he shifty and mobile but he's a strong kid," Reid said of Williams. "So arm tackles is not going to do it. You've really got to have great body position to take him down."
"He's a playmaker," Gabe Reid added. "He's a big time talent, but we're looking to contain him and looking to spoil their fun."
×
Most recent Utah Utes stories