Estimated read time: 7-8 minutes
SALT LAKE CITY — Winter storms are bringing precipitation and travel headaches back to Utah, following a primarily quiet stretch of weather activity over the past few weeks.
Along with bumper-to-bumper traffic, Utah saw 114 weather-related car crashes by 7 p.m. Monday, Utah Highway Patrol Sgt. Cameron Roden said.
The National Weather Service issued a series of winter storm warnings and winter weather advisories for the first of a few storms expected over the next seven days. Both alerts remain in effect into Tuesday afternoon, covering many high-elevation areas and valleys in the state.
The warning, issued Monday afternoon, includes the valley and mountains within Salt Lake County. It states 2 to 5 inches of snow is projected within the western portion of the Salt Lake Valley, while 4 to 8 inches are expected in the eastern portion. It's possible that some areas will experience higher amounts, especially on the benches.
It adds that 10 to 20 inches of snow or more are possible in the Wasatch Mountains south of I-80, including the Cottonwood Canyons.
Many other mountain areas and valleys across the state remain in a weather advisory. The remaining mountains in the state are forecast to receive 6 to 12 inches — with totals possibly higher in some areas across northern, central, eastern and southern Utah.
Snow is also expected in Cache, Tooele, Rush and Utah valleys in addition to the northern portion of the Wasatch Front. These valley areas may receive 1 to 5 inches, according to the weather service. KSL meteorologist Brett Benson says it's possible that more snow will land on the benches south and east of the Great Salt Lake.
Wasatch Backcountry communities like Park City, Heber City and Oakley may receive 2 to 8 inches of snow by the end of Tuesday.
The SLC valley and the Wasatch Mountains south of I-80 have been upgraded to a Winter Storm Warning. Heavy snow is expected with a cold front this evening and with a lake effect band tonight into Tuesday morning. Both of these periods will coincide with work commutes. #utwxpic.twitter.com/aaXAxHjmPh

— NWS Salt Lake City (@NWSSaltLakeCity) November 28, 2022
Utah Department of Public Safety posted on Instagram Monday asking drivers to be safe during winter weather conditions when going through canyons.
"Chain laws will take place for all commercial vehicles. We suggest you chain up before going up or at the chain-up area at the mouth of the canyon. All other vehicles will need all or four wheel drive and tires with good traction," the department said in an Instagram post.
Park City fire officials said on Facebook they had been busy with accidents on the road all day due to "extremely hazardous" road conditions.
Around 2:15 p.m. Park City firefighters said they extricated an individual from a car crash on Paddington Drive; that person is now in stable condition at the hospital. Fire officials are encouraging drivers to slow down and avoid unnecessary travel.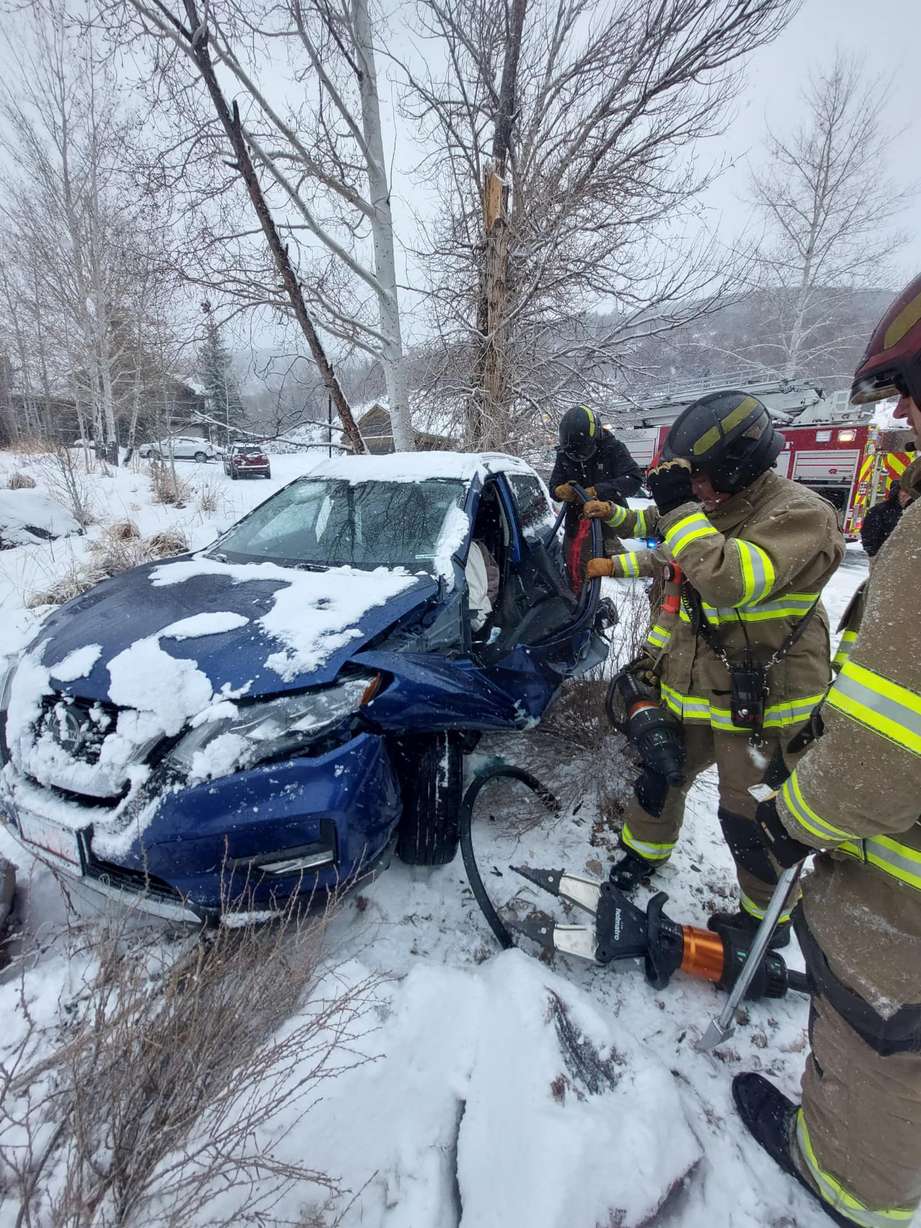 Brighton Ski Resort posted a video of the snow accumulation happening on the mountain with a caption of how "hyped" they are for the snow. The ski resort said it is "dumping up here" and that Tuesday will be "an amazing powder day" for all the snow sport lovers out there.
When to expect snow
Precipitation began in parts of northern Utah and the Wasatch Mountains Monday morning, as part of a storm pattern from the Pacific Northwest. It arrived within the Wasatch Front in the middle of the day, providing a mixture of rain and snow.
KSL meteorologist Kristin Van Dyke predicted that the precipitation would switch over to only snow as a cold front passes through in the mid-to-late afternoon, and it provided heavier snow than earlier in the day.
"This is when we can get these heavy snow showers coming down — a band of it coming through," she said. "(That) reduces visibility."
The weather service advisory states that it's possible for 1 or 2 inches to fall in an hour in some valley areas.
Conditions are ❄️SNOWY❄️. Please drive carefully!

📍Parley's Canyon, 5:27 p.m. pic.twitter.com/nC1w7nxjoa

— Utah DOT (@UtahDOT) November 29, 2022
"We are expecting widespread impacts to the commute," Van Dyke added, of the Monday afternoon and evening commutes.
Meanwhile, snow is also expected to reach parts of southern and central Utah on Monday night, though the weather service says valley areas near I-15 are not expected to receive much accumulation. Areas east of the freeway, including Richfield and Ephraim, may receive 1 to 3 inches of snow.
Lake-effect snow is also possible in areas east of the Great Salt Lake on Tuesday morning. All of the advisories expire by early Tuesday evening.
The storm will bring below-normal temperatures back to Utah along with the precipitation, Van Dyke adds. Overnight temperatures Tuesday into Wednesday are forecast to fall as low as the teens or even single digits for most of the state.
Travel impact
Traction laws went into effect Monday afternoon within Big and Little Cottonwood Canyons, as well as state Route 224 in Summit County. That means vehicles with "approved" traction devices, such as chains or all-wheel drive, will be allowed to travel through the roads.
However, the wintry storm figures to be the largest snow producer in the Wasatch Front valleys so far this season, which is why the Utah Department of Transportation is warning drivers that it will impact many Utah roads.
"Heavy mountain snowfall is ongoing for routes through the northern and central Wasatch, and will continue through the evening and into the earlier parts of Tuesday morning," the agency wrote Monday afternoon. "The heaviest mountain snow will fall Monday afternoon for the Northern Wasatch, through the evening for the Central Wasatch, and will move into the southern portions of the state late Monday night and into early Tuesday morning."
They add that "particularly impactful valley snow" is forecast for eastern Salt Lake Valley Tuesday morning because of lake-effect snow. "Heavy low-elevation" snow is also projected to fall near Cove Fort late Monday night into Tuesday morning.
While most of the snow is expected to clear up Tuesday morning, some lingering showers may impact summits and high-elevation passes through midday Tuesday.
According to UDOT, these are the highways and freeways most likely to be impacted at times Monday and Tuesday:
I-15: From the Utah-Idaho border to Parowan
I-70: Cove Fort to Salina Summit
I-80: Grantsville to the Utah-Wyoming border
I-84: Entire route in Utah
I-215: Entire route
U.S. 6: Spanish Fork Canyon to Price Canyon
U.S. 40: Heber to Starvation Reservoir, and Vernal to the Utah-Colorado border
U.S. 50: Scipio to Salina
U.S. 89: Utah-Idaho border to the state Route 20 junction
U.S. 91: Entire route
U.S. 189: Entire route
U.S. 191: All parts in Daggett County, as well as La Sal Junction to Monticello
State Route 31: Skyline
State Route 143: Brian Head
State Route 190: Big Cottonwood Canyon
State Route 210: Little Cottonwood Canyon
State Route 224: Entire route
But wait, there's more
Utah's mountain snowpack has slowly dropped back to near normal for the end of November.
The state's snowpack is currently listed at 149% of normal for this point in the year, down from more than 300% after the first 10 days in November, according to the Natural Resources Conservation Service. That's because Utah's snowpack has, on average, only gained 0.1 inches of water since Nov. 10.
But Van Dyke notes that two more storms are currently expected to bring more rain and snow across the state in the next seven days. The first is forecast to arrive by the end of the work week, while the second is forecast to arrive during the weekend.
While there aren't any accumulation projections yet, the weather service tweeted that the next systems have the potential to be at least as "significant" as the snow forecast for Monday and Tuesday.
Full seven-day forecasts for areas across Utah can be found online, at the KSL Weather Center.
Contributing: Emily Ashcraft, Cassidy Wixom
×
Related stories
Most recent Utah weather stories