Estimated read time: 5-6 minutes
SALT LAKE CITY — Zemaiah Vaughn was about six minutes away from escaping injury.
As Oregon attempted to score its only touchdown of the 2021 Pac-12 championship game, Vaughn suffered a season-ending injury. The injury itself was secondary — in terms of attention given — to an unsportsmanlike conduct penalty called against Oregon receiver Devon Williams after Utah's Vonte Davis tackled him on the play.
Few even saw Vaughn injured on the sideline when it happened, but it was a play that knocked out the freshman defensive back who started to see more time on the field due to an injury-depleted cornerbacks room that season.
While part of the game, the injury kept Vaughn from being able to participate in the Rose Bowl with his teammates — something he hasn't forgotten. And for that reason alone, he wants another crack at the Ducks.
"This is the game I've had circled on my calendar, because they took me out in the championship last year so I didn't even get to play the Rose Bowl," Vaughn said. "So yeah, this is the game I was looking forward to."
Vaughn and his fellow teammates don't need another reason to be ready for a hostile road matchup against No. 12 Oregon at Autzen Stadium on Saturday (8:30 p.m. MST, ESPN), but he now gets his opportunity to be back on the field against Oregon as No. 10 Utah attempts a return to the Pac-12 championship game — the team's fourth in five seasons.
He'll do it with another season of experience under his belt on a defense that has improved over the year and now ranks No. 22 in the country and No. 1 in the Pac-12 in total defense. Vaughn, specifically, has grown within the defense and played "his best game as a Ute" against Arizona, according to Utah head coach Kyle Whittingham.
"He was making play after play, and he's a very talented kid," Whittingham said at the time. "He's got great speed — he's a 4.4, 4.35 guy, 6-foot-2, a little on the lean side, we keep trying to put weight on him. ... But for a former quarterback who's only been playing corner for a couple of years now, he's really doing a nice job."
This season, Vaughn has eight pass breakups and has become a regular fixture at cornerback based on his length and speed. His game continues to improve, as has the young Utah defense as they grow together and develop chemistry.
It's a defense that Whittingham said has improved over the last few week — more specifically starting in the second half against USC. While a factor, it's not just because the opponents Utah has played have been some of the lower-end teams in the conference. He said there is a noticeable difference with the defense.
"The way we're tackling, the amount of unforced errors, I guess you could say, mental mistakes are way down, fundamentals and techniques are getting better," he said. "And so just the overall, the way that we're functioning as a defense. We've played some really good offenses since — Washington State's a really good offense.
"Absolutely, does the level of offense that you're playing play into it — no question; I mean, that's ridiculous to think otherwise. But we had a lot of inexperienced players on defense that haven't played a lot of football for us that have gotten better through the course of the season."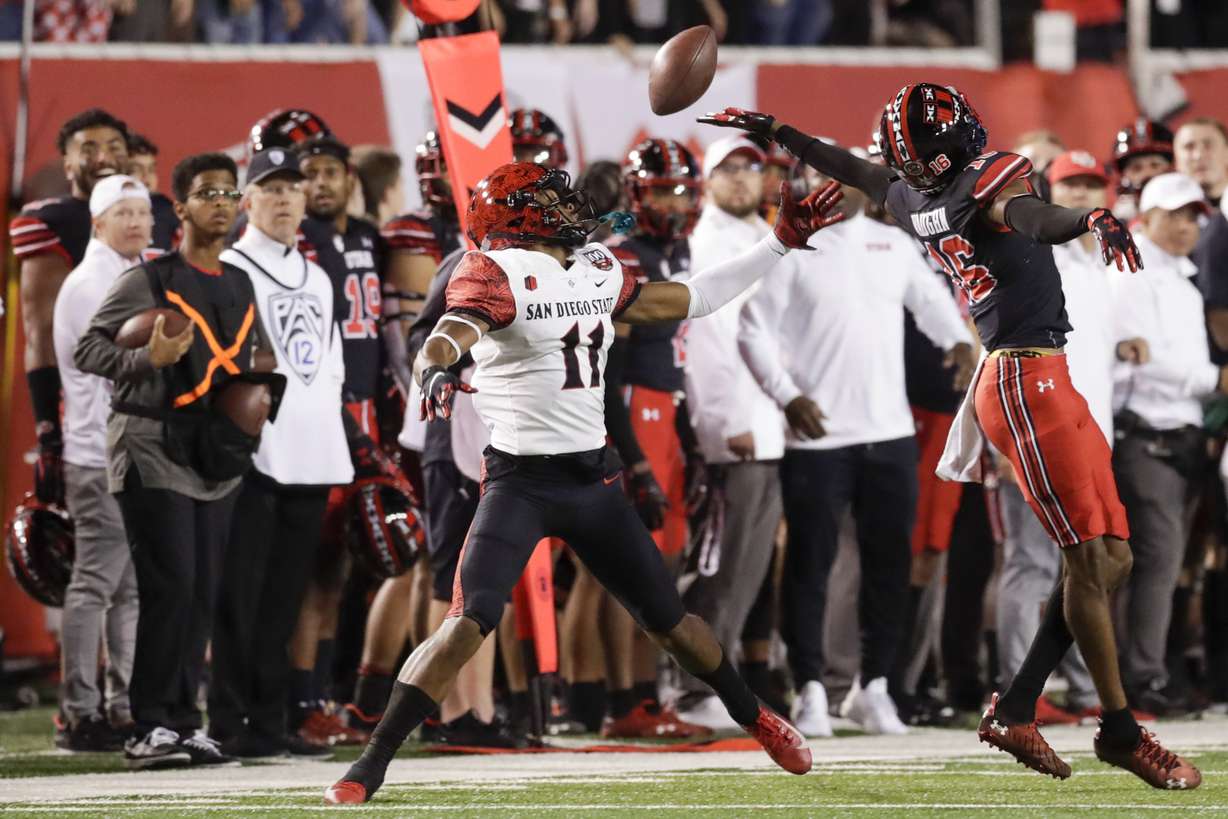 Weeks ago, Whittingham called the defense "soft" and was frustrated by the missed assignments and poor tackling, especially against mobile quarterbacks that can extend plays with their legs. It forced defensive coordinator Morgan Scalley to simplify his approach with the defense and help the team play to their strengths, while emphasizes each player's assignment within the defense.
But none of that matters if Utah's defense returns to early-season form and allows Oregon to run wild.
The Ducks feature one of the best offensive lines in the country — thanks to former coach Mario Cristobal's emphasis on being stout in the trenches — and have allowed only two sacks all season. That line leads all Power Five teams with an 85.7 pass blocking grade and is the second-best Power Five team with a 94.3 rushing grade from Pro Football Focus.
That's all led to an Oregon team that averages 239.4 yards on the ground per game and has given quarterback Bo Nix all the time needed to work in the pocket in tune to 2,774 yards and 24 touchdowns, and an Oregon offense that leads the Pac-12 with an average of 527.7 yards per game.
"We have our work cut out for us and our hands full on defense to try to slow that down," Whittingham said. "So we'll work hard this week."
It's an opportunity for Utah to take a commanding lead in the Pac-12 title race and a near guaranteed spot in the conference championship game with a win. Utah's offense has shown it can consistently put up the points — it averages 39.3 points per game — but it's time for the defense to show what it can do against a high-powered offense in one of the most hostile environments in the Pac-12.
"We've had our backs to the wall ever since UCLA, and every single game has been a pressure game," Whittingham said. "That's what you want to play in. I mean, if you're not playing the pressure games, it means you're irrelevant and you don't want to be irrelevant, you want your backs to be against the wall or each game mattering and critical, which is the situation we're in and we welcome that."
"I feel like it's the same mindset we had last year: We've got to beat these guys to get to the 'ship," Vaughn said. "That's what we plan on doing."
×
Most recent Utah Utes stories