Estimated read time: 6-7 minutes
SALT LAKE CITY — Crews began to demolish an apartment building under construction in Sugar House overnight after it was set ablaze, prompting the evacuation of hundreds of nearby residents and creating a tricky situation for firefighters due to a high risk of the building collapsing.
The building's demolition began Wednesday evening, and the work continued through the morning as hotspots continued to burn, Salt Lake fire officials said.
Salt Lake fire officials said affected residents and businesses will remain evacuated overnight Thursday, and said Highland Drive from 2100 South to Sugarmont Drive will remain closed due to demolition and fire suppression efforts.
On Thursday, the Salt Lake City Department of Economic Development offered to assist affected business with filling out insurance claims and relocation. They said that businesses within the collapse zone have been asked to remain closed for the time being, but said they expect those businesses will be allowed to reopen soon.
To request help from the Economic Development department, business owners can call 801-535-7200.
The fire, burning at the six-story apartment building in the area of 1040 E. 2220 South, started late Tuesday night, and firefighters were unable to quickly contain it because parts of the building continued to collapse, said Salt Lake Fire Capt. Tony Stowe.
Crews fought the blaze through the day Wednesday. Most of the estimated 1,000 residents forced to evacuate from nearby apartment buildings were able to return home Thursday, but a few residents who lived in apartments immediately facing the fire remain out of their homes.
The cause of the fire remained unknown Thursday. Fire officials said agents from the Bureau of Alcohol, Tobacco and Firearms would join the investigation.
No major injuries were reported, but Salt Lake Fire Chief Karl Lieb said a resident sustained a "minor injury."
The Sugar House Chamber and Community Alliance noted on social media that businesses in the surrounding area were also closed for the day. The chamber asked people to shop at impacted businesses after the roads clear "to help them recover from this shutdown."
A 'very dangerous' fire fight
The blaze ignited around 11 p.m. Tuesday, bringing a response from about 70 firefighters and more than a dozen fire trucks and engines from multiple agencies, Stowe said.
After several hours of fighting the fire — and as they were ending their 48-hour shift — the overnight crew members were replaced by another platoon, according to the Stowe.
Crews were battling the flames from outside the building and set up a 150-foot "collapse zone" around it due to the risk of a potential collapse.
1040 East 2220 south 4th alarm fire.
Steered clear of the area. Heavy smoke and high danger surrounding fire. PIO on scene. Media staging in front of Whole Foods market parking lot 1131 E Wilmington pic.twitter.com/vIQVBq3I74

— Salt Lake City Fire Department (@slcfire) October 26, 2022
"It's very dangerous. ... That's one of the reasons that we've gone defensive on this. We're not able to commit anyone, we're not willing to commit anyone inside a structure like this where there isn't really any life safety. ... Most everything has been falling inwards," Stowe said.
Stowe said Wednesday it was "way too early" to know whether the fire is suspicious.
"What does become concerning is that the scaffolding and mesh is on the outside of the structure to protect workers from the different weather events we've been having lately," Stowe said. "But along with that, come propane cylinders and heaters, as well."
Neighborhood evacuations
Sugarmont Apartments, located immediately north of the building, was evacuated. At one point, the building had smoke coming from its exterior and some windows were lost.
"I'm certain there's going to be some water damage, and probably some heat-exposure damage," Stowe said.
A resident of the apartments watched as flames appeared to reach them.
"Just hope everyone got out of the building and no one's hurt. All this can be replaced," he said. "We're gonna be fine. ... I'm just glad I'm not in the building."
Quite the difference over several hours but still an active scene for firefighters who have been attacking this now for nearly 7 hours. Hundreds are still being kept from their homes. Flames continue but have died down. Early on there were explosions & floors collapsing.@KSL5TVpic.twitter.com/kfHBiZyqzt

— Matt Rascon (@MattRasconNews) October 26, 2022
The man said he was getting ready to go to bed and "heard someone pounding on the door. And it was the police, and they said the building was on fire next door and you've got to leave immediately."
He ran downstairs, got in his car and drove away. He later gathered with others and watched the fire burn from a nearby street.
"I woke up to the fire alarm completely delirious. Honestly, I thought the sun was rising, people were knocking at my door. I don't really know what's going on. Then I looked out my window and I saw the entire building is on fire," resident Drew Noble said.
"I kind of ran out and didn't grab a jacket. EMTs gave me a blanket, and now I'm here," he said, taking refuge at an evacuation shelter in the neighborhood.
---
I kind of ran out and didn't grab a jacket. EMTs gave me a blanket, and now I'm here.
–Drew Noble
---
Other nearby residents reported hearing the sounds of "crashing" and glass breaking after the fire ignited.
"We have had several explosions and stuff like that, maybe compressors, maybe fuel canisters," Stowe said. He described the fire as "free-burning" as the building has "a lot of exposed timbers."
A shelter for evacuated residents was initially established at Forest Dale Golf Course. The Red Cross later moved the shelter to a meetinghouse of The Church of Jesus Christ of Latter-day Saints at 2005 S. 900 East. Utah Transit Authority buses were also available to evacuees at Fiddlers Elbow, 1063 E. 2100 South and 1100 E. Wilmington Avenue.
The Red Cross said it has helped more than 200 of the people who were evacuated from their homes.
Most of the residents chose to evacuate elsewhere, Stowe said.
Safety and closures
Lieb said the department was working on a demolition plan for the building to make the area safe for residents to return.
A statement from the Salt Lake City Fire Department urged residents to use caution when handling debris from the blaze that has landed on their property. Residents should use respiratory masks — N95 or better — and gloves when handling objects and soak debris or ash with a garden hose to ensure that it poses no further fire risk.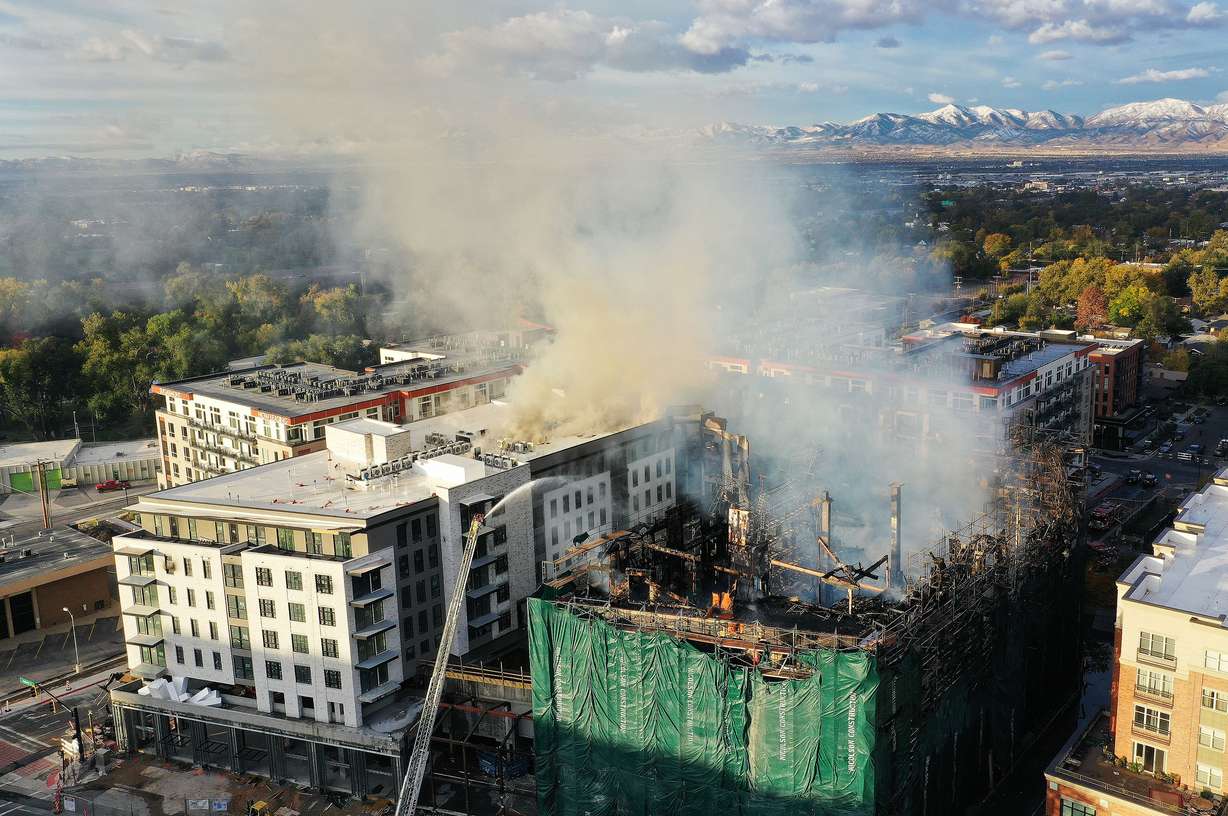 "The fire scene will continue to generate smoke," the statement says. "Residents who have respiratory concerns or others who are at high risk of smoke contamination should consider relocating. Those high-risk individuals who are unable or uninterested in relocating should don respiratory protection (N95 or better masks). All residents should ensure windows and doors are closed until the smoke subsides."
Crews closed 900 East and 2100 South to 2200 South on Wednesday. "We've got a lot of hoses out. So if you don't need to be in the area, we ask people to avoid the area," Stowe said.
He asked people to view the fire and demolition from a "safe distance," noting that after the fire broke out crowds of people took to the streets to view it.
"People are attracted to it, it's something you don't see too often, and it makes operation with these large apparatus very difficult," he said.
Contributing: Linda Williams, Karah Brackin, Deanie Wimmer, Matt Rascon, Lori Pritchard, Tamara Vaifanua, Debbie Worthen, Bridger Beal-Cvetko
×
Photos
Most recent Salt Lake County stories