Estimated read time: 7-8 minutes
PROVO — It took a long time for John Griffin to heal after the University of Wyoming kicked the leading receiver and flanker off the team, along with 13 of his teammates in 1969.
After a year in Canada, the standout slotback walked away from the game entirely, too hurt by the pain caused by a coach who didn't want his Black players to protest racial injustices of the day. For 10 years, he estimated, he remained angry at Wyoming, at BYU and at the game of football itself.
More than 50 years later, healing for a university, a game and an institution finally came. And when Griffin and his teammate Mel Hamilton are received as honored guests Saturday night at LaVell Edwards Stadium in Provo, his journey will come full circle.
Griffin and Hamilton were the featured guests of a weeklong series of events honoring the "Black 14," the 14 Wyoming players who lost their scholarships and their careers as the result of wanting to protest against Brigham Young University during a game in 1969.
But after a series of lectures involving the BYU football team, students from across campus, and the debut of a student-made documentary, "The Black 14: Healing Hearts and Feeding Souls" (made this past spring and summer terms, which is now available on YouTube), the healing continues.
And for Griffin, the healing came full circle as he sat in front of a sold-out theater on campus to explain the mission of Black 14 Philanthropy and a partnership to eradicate food insecurity in underprivileged areas with The Church of Jesus Christ of Latter-day Saints.
"I think a lot of healing has been done prior to this," said Griffin, who accepted an apology from Wyoming with his peers in 2019 and received a standing ovation from BYU students, faculty and administrators Friday night. "That was a wonderful affair. They did what they had to do to mend some open wounds. But I can draw parallels between that and what I've experienced this week; it's a healing process, and this has been a week of fellowship.
"Bringing two entities, even three entities together: Wyoming, BYU and the representatives from the Mormon Church who are now brothers — not adversaries, but brothers and sisters. Think 10, 15 years ago, would that have happened? Maybe two years ago."
Hamilton and Griffin will be honored on behalf of the Black 14 before Saturday night's kickoff between BYU and Wyoming (8:15 p.m. MDT, ESPN2). The duo will then ceremoniously light the Y. in anticipation of kickoff, bringing their story — one that has been intimately tied to the university, its sponsoring faith, and their own school for which they were eventually allowed to re-join — full circle after a 50-year journey.
Hamilton and Griffin will accept the honor on behalf of themselves, their families and a dozen other former teammates at Wyoming in Jay Berry, Tony Gibson, Lionel Grimes, Ron Hill, Willie Hysaw, James Isaac, Earl Lee, Tony McGee, Don Meadows, Ivie Moore, Joe Williams and Ted Williams.
But the work is just beginning.
"It's been one heck of a journey," Griffin said. "It's been a journey of fellowship, it's been a journey of recognition, and it's been a journey of something that is going to grow and be even more special that we thought it would be before."
In 1969, a group of 14 Black players were kicked off the Wyoming football team for wanting to wear black armbands during a game against BYU. The year prior, BYU turned the sprinklers on at then-Cougar Stadium immediately following the Cowboys' game in Provo, with anecdotes that it was "washing the field down" after Black players played on it, Hamilton recalled.
The Cowboys were 5-0 and ranked No. 16 nationally before their game against BYU when the group of players approached head coach Lloyd Eaton about wearing the armbands to protest BYU's racial policies, particularly a ban on holding the priesthood by BYU's sponsoring institution.
Nearly a decade later in June 1978, then-church president Spencer W. Kimball ended the priesthood ban that had stood since the early days of the church, announcing that "all worthy male members of the church may be ordained to the priesthood, without regard for race or color." But on this day in 1969, on a campus in Laramie, Wyoming, that was mostly white, Eaton didn't let the protest get off the ground.
Players said they wanted permission to wear the armbands. Eaton told the 14 that they were no longer welcome on the team, instead.
"We needed to talk to coach about it," Griffin told ESPN in describing the events in 2020. "And the rest, at that point, is history."
Eaton informed the group that they were no longer members of the Wyoming football team.
The Cowboys went on to beat BYU 40-7 later that week. But it was the last time Wyoming won a conference game, ending the season on a four-game losing skid that included a 34-10 loss to the University of Utah and a 129-50 overall deficit en route to a 6-4 final record.
A year later, Wyoming went 1-9 and fired Eaton. The Cowboys didn't get back to a winning season or a bowl game for six more seasons.
Each of Wyoming's final five games were played amid a climate of protest, with supporters for both Eaton and what came to be known as the Black 14 at every game. Some of those protests spilled onto the field, such as when San Jose State wore black armbands during a 16-7 nonconference loss.
"It was a stigma that stuck with us for a long time," Griffin said. "We were blackballed. We were radioactive. Nobody wanted us at all."
It was a stigma that tied the 14 to BYU, to Wyoming and to The Church of Jesus Christ of Latter-day Saints for decades. Those ties weren't always friendly; but in time, the rifts were mended.
Eventually — and some players took longer than others, Griffin admits — the 14 dismissed players determined not to let one unfortunate incident of prejudice and racism define them for the rest of their lives.
Nearly 20 years after his dismissal from the university, Hamilton finally attended another football game. The quarterback in that game? One BYU and Roy High product by the name of Jim McMahon.
It was the first steps toward healing a rift caused by a coach, a university and a system of oppression on racial grounds that continues to this day. Hamilton's son Malik also joined The Church of Jesus Christ of Latter-day Saints while studying at Utah State and worked as a chef at BYU, which brought the former Wyoming football player into contact with the church to further the healing process.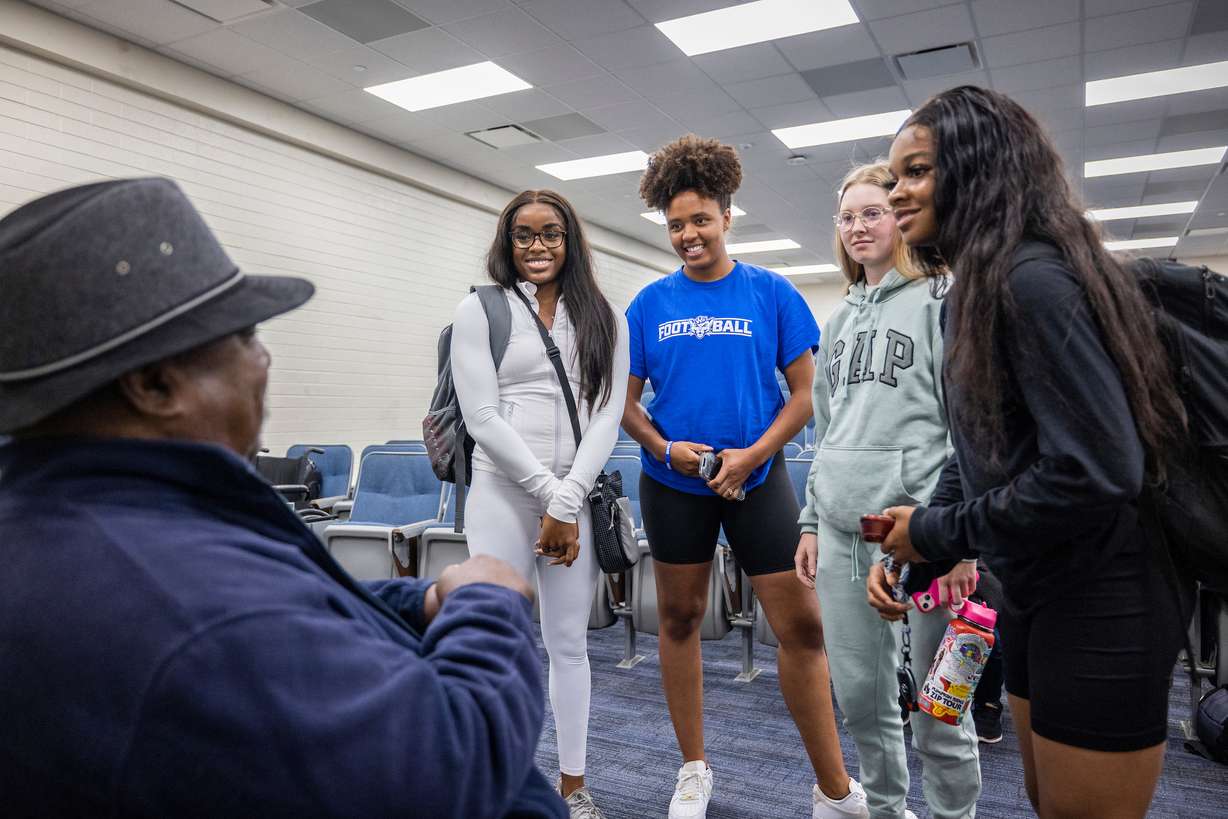 "That broke the pain a little bit," said Hamilton, who spent his life working with underprivileged youth in public education in the Casper, Wyoming, area. "It was a wonderful game, and I finally broke that barrier of hate. But the hate kept coming back."
Time heals all wounds, and so does service, which is how the surviving players joined with the church's Latter-day Saint Charities for an annual food drive to help address food insecurity.
Since the church and Black 14 Philanthropy began the drive, more than 180 tons of food have been delivered to eight states near the homes of members of the Black 14. The drive capped a 15-year effort by Hamilton of engaging with the church and "gaining respect from the elders," said Elder Gifford Nielsen, a General Authority Seventy who played quarterback at BYU from 1973-77 before a six-year NFL career.
"This is all about healing and really the Savior's grace," Elder Nielsen told the Church News. "The fact that they respected us and we've gained that respect for them made them interested in grabbing that olive branch with us and doing something for the greater good for us and for the greater good of The Church of Jesus Christ of Latter-day Saints. That's where we are today. That helps with the healing process overall because it brought everything full circle."
There's "no question about" the fact that coming together in service helped mend fences and heal hearts, while trying to make the most of a difficult situation, Griffin said.
"We all healed," he added, "and it had to come out that way. Because we are all connected, and the healing process reached through all three of us. It was emblematic tonight, when we saw the crowd that was sitting, and how they reacted to the film.
"I saw the film Wednesday night, and I was deeply moved by it. My biggest question was how will the administration of BYU react to this? It was a resounding yes, and I think we needed it."
×
Photos
Most recent BYU Football stories