Estimated read time: 4-5 minutes
PROVO — Candidly, Craig Bohl admits he didn't know the history between the University of Wyoming and Brigham Young University before he took his first FBS head coaching job with the Cowboys in 2014.
But two years later, when he was helping his team warm up before facing BYU in the Poinsettia Bowl in San Diego, the three-time national champion coach at North Dakota State who led Josh Allen, Brian Hill and other future NFL players at the time (the Cougars also had a few, like Jamaal Williams, Kai Nacua and others) caught a look at the crowd.
He saw how some fans responded to each other, and how some longtime players and staff members viewed the Cougars.
So the former Nebraska defensive back walked over to then-first year head coach Kalani Sitake and the two had a conversation about history, which likely included facts about Wyoming being the Cougars' third-oldest series in program history and passionate feelings on both sides of the rivalry — including from Sitake's old coach, LaVell Edwards.
"I knew (then) it was a big deal," Bohl told local reporters earlier this week before the Pokes head to Provo to face No. 19 BYU (8:15 p.m. MDT, ESPN2). "So it's on; I know our fans embrace it.
"I think it would be counterproductive to dwell on all that. It's going to be a big game, a nationally televised game with a big audience."
Some BYU fans haven't always reciprocated the rivalry series — it's certainly never reached the competitive levels of Utah or Utah State, or even Boise State much more recently. But college football fans in Laramie have regularly held a special place in their hearts for this series, if nothing else.
BYU (2-1) and Wyoming (3-1) have faced off 78 times since 1922, the year the Cougars recognize as their first season of Division I football. The Cowboys in Laramie had a 31-year head start on big-time football, but BYU leads the all-time series 45-30-3, including a 26-13-1 advantage in Provo as the pair followed each other through the Rocky Mountain Faculty Athletic, Skyline, Western Athletic and Mountain West conferences.
It's the second-most played series in BYU history, behind only Utah (95) and Utah State (90).
The two schools haven't played as much since BYU left the Mountain West for independence in 2011, and only have one other game contracted in 2024 as the Cougars prepare to transition to the Big 12 in July.
But in terms of the present, Bohl sees a team that is every bit as strong as their national ranking.
"BYU is currently rated 23rd in the Coaches Poll; I never check the AP poll. We just look at the Coaches Poll," Bohl said with a smirk. "But I think they deserve to be in the Top 25. Kalani's a great head coach for them; he understands the culture, and it's apparent when I watch the tape with how they play. He's a great fit for BYU, and I would consider him a friend."
The Cougars' success starts up front with a big offensive line, Bohl said, and with a defense that is deep and "countless" with experience, he added. He's also impressed by Cal transfer running back Chris Brooks, who he calls a "big back" at 230 pounds.
And then there's the jewel of the squad: quarterback Jaren Hall.
"Hall is a great quarterback," Bohl said. "He's very accurate, he can make all the throws, throw on the run, throw a field hideout, a vertical pass. He makes really good decisions, and there is a great presence about him. Any time you are facing a big quarterback like that, it poses a big challenge."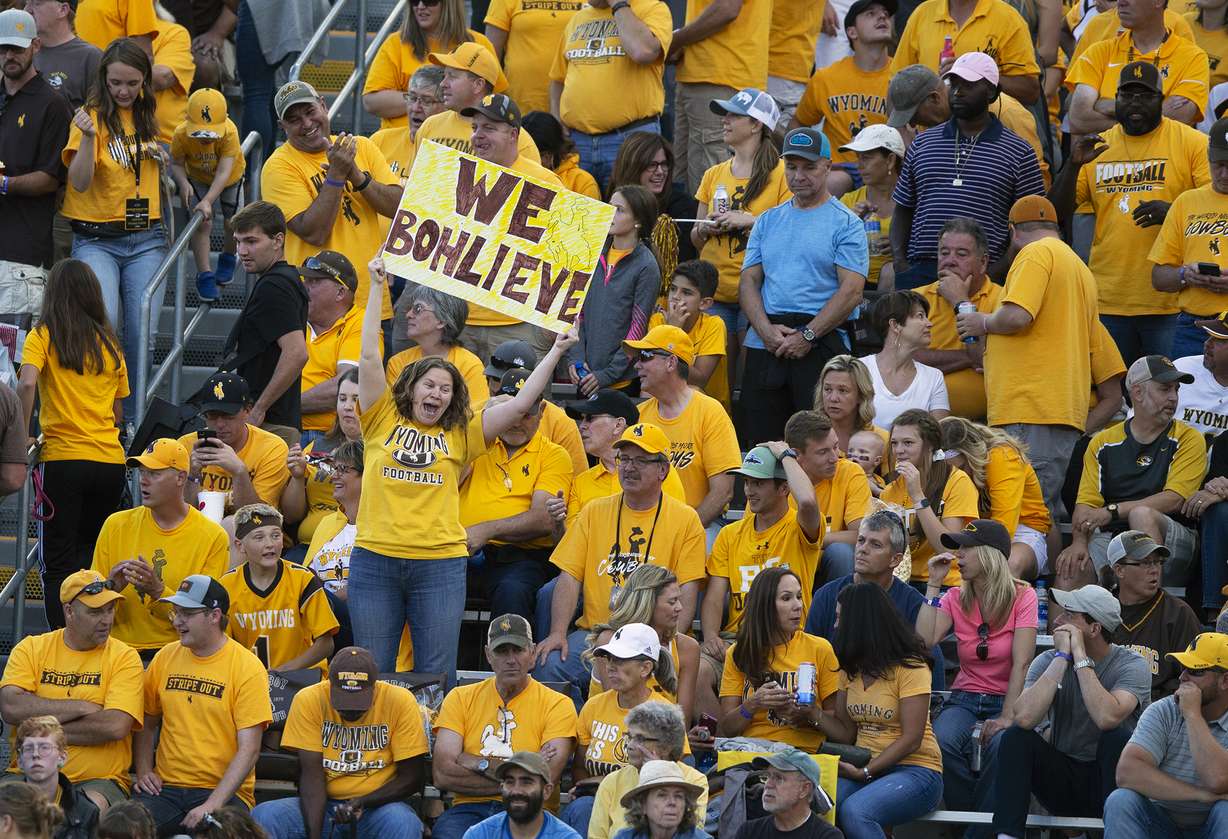 In addition to the old, old rivalry — one that most players on this year's BYU team haven't seen since grade school, if that — Wyoming also has two players from Utah on the roster. Former Skyridge quarterback Jayden Clemens transferred to Laramie last year after spending a year at the University of Utah, but has not played at either stop.
Former Logan wide receiver Jaylen Sargent was a 4A first-team all-state wide out who eschewed offers from Air Force, Dartmouth and hometown Utah State to sign with the other side of the Bridgers' Battle rivalry, but used a redshirt on his first year in the program in 2021.
The former Utah high school football duo may have to show their coach around Provo, even if he knows the history a little better now.
"I've not been to Provo before, but I understand it will be a pretty electric atmosphere," Bohl said of LaVell Edwards Stadium at night. "As a coaching staff and players, we're excited to play there.
"Their players play hard, they play smart, they play physical, they make plays and they are aggressive," he added. "That's what you think of when you think of a great BYU football team."
BYU on the air
Wyoming (3-1) at No. 19 BYU (2-1)
Saturday, Sept. 24
LaVell Edwards Stadium, Provo
Kickoff: 8:15 p.m. MDT
TV: ESPN2 (Brian Custer, Dustin Fox, Lauren Sisler)
Streaming: WatchESPN
Radio: BYU Radio SiriusXM 143, KSL 1160 AM/102.7 FM (Greg Wrubell, Riley Nelson, Mitchell Juergens)
Series: BYU leads, 45-30-3
Last meeting: BYU won, 24-21 in the 2016 Poinsettia Bowl in San Diego
×
Most recent BYU Football stories