Estimated read time: 6-7 minutes
SALT LAKE CITY — Utah's capital city began its 2023 fiscal year back in July, but Salt Lake City departments are already thinking about the types of laws and spending that they would like to see in the near future.
Members of the Salt Lake City Council were briefed last week on new and ongoing legislative intents, which are formal plans to set up new goals to be explored. These intents don't change the city's code or funding but are considered the first step in that direction.
Some of these requests are ideas from previous fiscal years that just haven't happened yet, such as an ordinance "that establishes reporting requirements for internal information collected by and related to the police department" that was added during the 2021 fiscal year.
Last week's briefing was the first of three similar briefings aimed at adopting formal goals to go along with the city's annual budget. Here is a look at some of the new goals that have joined the list this fiscal year.
More free fare transit
Salt Lake City Mayor Erin Mendenhall pushed for "Free Fare February" earlier this year, a program supported by dozens of government agencies and local businesses that helped cover the cost of Utah Transit Authority fares in February. UTA executives viewed it as a triumph, resulting in a 16% bump in ridership from the previous month.
Salt Lake City leaders also viewed it as a success and now want to expand the program to cover two additional months. Under this proposal from the city's Communities and Neighborhoods division, the city would seek to cover the cost of fares within its boundaries during the winter months.
Salt Lake City Council Chairman Dan Dugan said the city has had discussions with UTA "and others" over this idea, which may cover multiple months or different months than February.
"I think we need to continue to pursue this," he said. "Of course, winter is coming up, so if we can get a jump start on this, that would be great."
More traffic calming
Speaking of transportation, the Communities and Neighborhoods Division also recommends that the city expedite more traffic-calming projects. These are ideas that aim to slow vehicles down on roads and alter driver behavior while also improving roads for nonmotorized users, according to the U.S. Department of Transportation.
It appears there is a lot of community interest in this idea. Dugan said that members of the City Council has received a growing number of emails from residents either requesting these types of projects in their neighborhood or asking what the process is like to request them.
One of these projects has already been tacked onto the 2023 fiscal year budget. The council approved an amendment of the budget hours after the informational meeting, which included a $2.4 million project for improvements to 600/700 North in the city.
What about the drought?
Utah's ongoing drought and the West's two-decade-long megadrought have resulted in long-term questions about the state's water availability and usage. The Salt Lake City Public Utilities Department listed a new intent that would evaluate the city's water usage and "make recommendations for water conservation" at citywide facilities.
Laura Briefer, the department's director, said that Public Utilities does track usage information for all users if the council wants a broader review. She added that the department is also embarking on a new rate study that was approved in the city's new budget, which could change how water is priced in the city.
"We are most certainly going to be looking at drought response pricing as a part of that rate structure analysis," she said.
Evaluating efficiencies of 'diversified response models'
Salt Lake City has launched several new response programs recently, including this summer with the city fire department's Community Health Access Team and the city's Park Ranger Program. There's also the police department's new Civilian Response Team and the expanded Downtown Street Ambassadors on top of all the more traditional response programs.
These are a few of the programs under the umbrella of the city's "diversified response model," created to meet the new challenges of the growing city in a different way than traditional emergency response. Now that there are more of these first-of-their-kind programs off the ground, the Salt Lake City Mayor's Office wants to closely evaluate these programs to see what is and isn't working.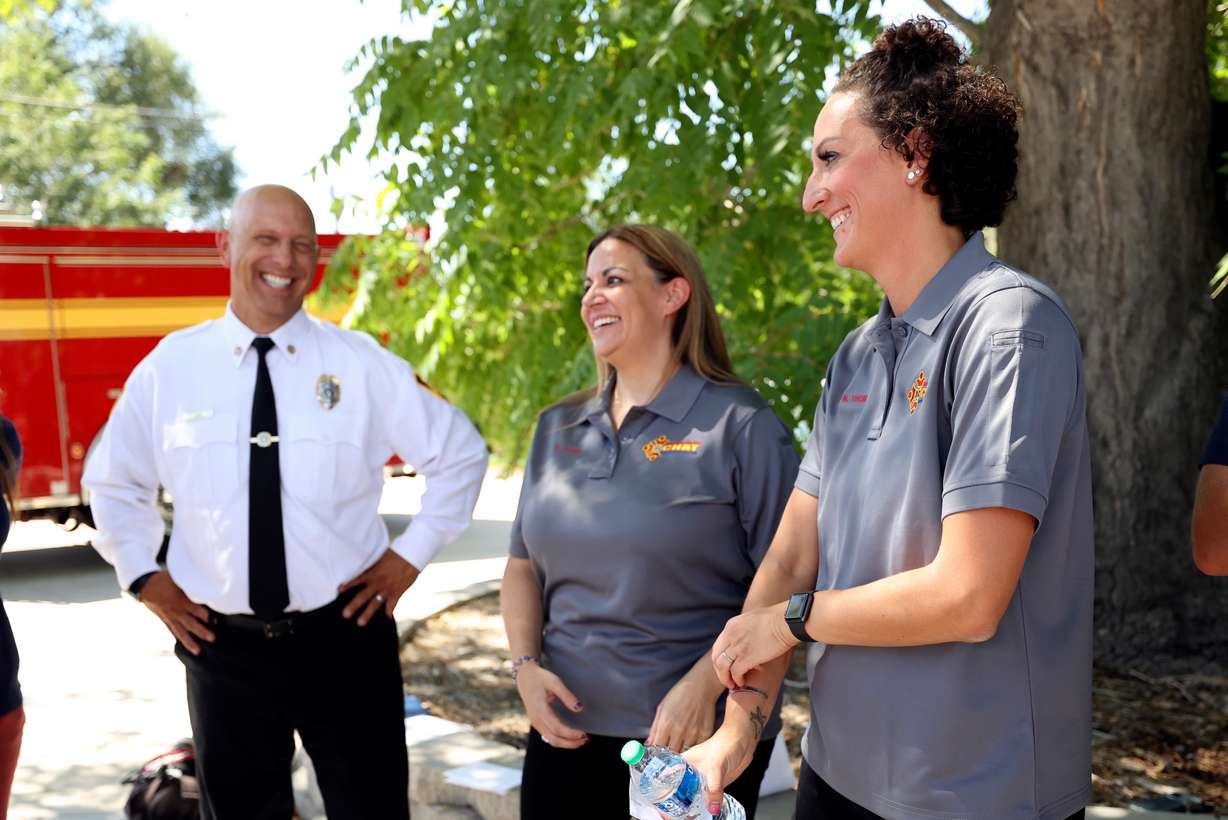 The request calls for evaluations in six months and then in a year, which would look to see what every creative response team brings to the table and what can be done to improve a team's role. Salt Lake City Councilwoman Victoria Petro-Eschler said she hopes every program is given a different grading rubric because all of the programs have different goals and objectives.
"I just want to make sure when it comes time for evaluating ... that I'm using the right yardstick to measure the right outcomes," she said. "Like asking the park rangers to do what (the Mobile Crisis Outreach Team) does."
Fire department: Recouping rising U. costs and going electric
Meanwhile, the Salt Lake City Fire Department has a few intents in mind for the 2023 session, including seeking ways to recoup the growing costs of responding to calls at the University of Utah and evaluating options for electric-powered fire vehicles.
Salt Lake City Fire Chief Karl Lieb said that fire and medical crews responded to numerous calls at the University of Utah last year, which resulted in a cost of about $1.2 million. Since the university is a state entity, he wasn't sure how to recover that money.
Members of the council agreed that it was worth recouping, though they expected it probably would require some negotiation with the Utah Legislature.
---
I'd love (for us) to be the first fire department in the Mountain West region to have an electric fire apparatus. I think it makes the sense in the world and makes all the sense in the world for Salt Lake City.
–Chief Karl Lieb, Salt Lake City Fire Department
---
Lieb also expressed his interest in the department acquiring new electric fire vehicles, noting that there are a few engines currently in service in California but not many in service overall. The intent comes after Salt Lake City leaders approved a resolution in late 2020 to phase out the city's gas-powered fleet vehicles by 2027.
"We are watching to see how these apparatuses perform. There are really a couple of manufacturers that are developing these at this point," Lieb said of electric fire engines. "As they perform adequately, we're certainly interested in (them). ... I'd love (for us) to be the first fire department in the Mountain West region to have an electric fire apparatus. I think it makes the sense in the world and makes all the sense in the world for Salt Lake City."
Sustainable weed control
The Salt Lake City Parks and Public Lands department listed its intent for "environmentally sustainable weed control" in the future. This would move the city to use "environmentally sustainable treatments" to remove weeds and pests from now on. The request states it may only require changes to the budget.
×
Related stories
Most recent Salt Lake County stories