Estimated read time: 6-7 minutes
PROVO — Erin Livingston rose up late in the third set of BYU's volleyball match against Washington State and laid down a thunderous kill, coming down to an emotional groundswell from the 3,678 fans in attendance at the Smith Fieldhouse.
It's the kind of energy the 6-foot-2 junior has come to expect from the rabid volleyball fan base ever since she moved to Provo from her hometown of Corona, California.
Livingston put down 17 kills with just two errors as No. 10 BYU swept Washington State 25-18, 25-21, 25-15 Saturday night, leading the Cougars to a third-straight win to open the 2022 season in Provo.
Of course, that same fan base had been thrown in the crosshairs hours earlier with reports of an alleged racial slur from a BYU fan (since banned from all athletic venues by the university) directed at a Duke volleyball play during BYU's 3-1 win over the Blue Devils late Friday night in front of a record-setting crowd in the fieldhouse.
A fan has been banned, but no charges have been filed as BYU athletic director Tom Holmoe and other officials met with Blue Devil players and coaches in the hours since reports of Friday's ugly incident.
"After we heard that news, we were devastated," Livingston said. "That's terrible that it happened. I think our athletic administration and coaches have done a great job of going through this and figuring out how to stop it, to not let it happen again.
"It was really tough on us, but we're thankful for these teams, that they came to play us and were still awesome. We're just really sad that happened."
Eden Bower added 10 error-free kills for the Cougars, and older sister Whitney Bower dished out 35 assists with eight digs.
Livingston and Heather Gneiting were named to the all-tournament team of the four-team round-robin tournament, with Whitney Bower earning all-tournament MVP.
"I think we learned that we have so much fight and grit for us. These teams we brought here were amazing, and they brought the fight," Livingston said. "It just showed us that no matter if we were up or down, we were going to bring it. We have that next-point mentality."
BYU's start was a dream, from rallying for the 25-18 win in the first set to not committing a single hitting error until the middle of the second, a blissful 23 kills on the team's collective 58 swings.
But before the match, something much more important was happening.
That's when Holmoe took the mic for a rare talk with the fans prior to Saturday night's match. The former BYU defensive back going on 18 years as athletic director in Provo stood directly in front of the student section, which had been moved to the upper deck of the Smith Fieldhouse and stood without its usual reserve space on the floor behind a team's server.
While Holmoe spoke, Livingston and the BYU volleyball team linked arms and stood along the baseline, paying attention to their athletic director's words and motion as if to tell the crowd in attendance to listen up — and shape up.
Holmoe was serious, his usual smile and ebullience replaced with a stern look as he addressed the ugly incident of the previous night — one called "unacceptable" hours earlier in a statement from the university.
He reiterated that stance Saturday night, taking responsibility as athletic director and urging fans to not let it happen again. Look inward at your actions, he said, and then look outward at those around them to make sure the kinds of attitudes of racism and prejudice don't manifest again at the university sponsored by The Church of Jesus Christ of Latter-day Saints.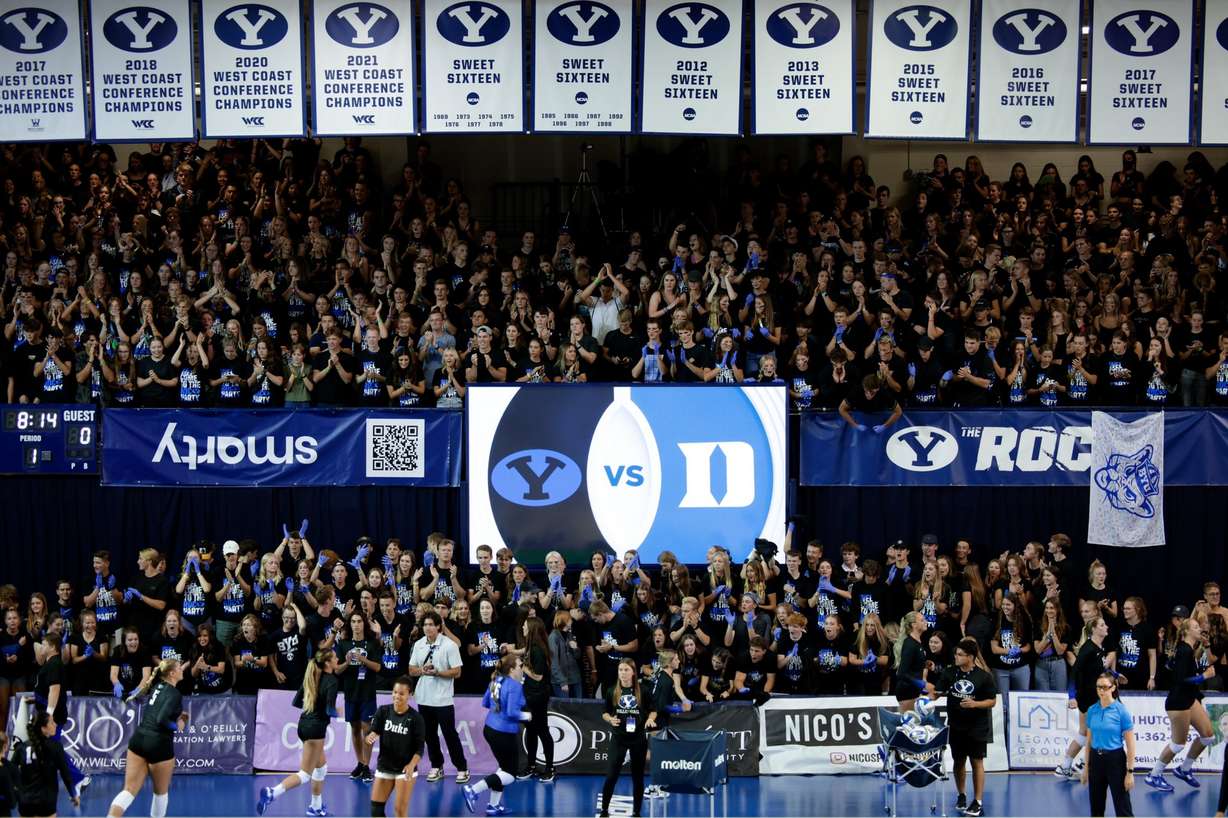 Every visitor to the school, be it for athletic, academic or social reasons, should leave campus content with BYU's status as a Christian university, one espousing and following principles of the gospel of Jesus Christ, he said.
"I ask that everyone at all of our games … that you have the courage to take a stand and be able to take care of each other and more importantly, our guests," Holmoe added, before adding extra emphasis. "Cheer as loud as you can, but do not cross the line where you can hurt or harm."
BYU also released a follow-up statement to its previous initial statement where the university and its athletic department outlined the moments that led up to the ban of the fan after the match against Duke.
The school said it spent "hours reviewing video of the event, speaking with event management and security staff to try and figure out what exactly occurred and how it might've happened."
How it happened is important for making sure it doesn't happen again. But more important is that it happened — and acknowledging that racism and prejudicial words and feelings are still a part of the community and state where the school resides. That's part of the university's charge from its sponsoring faith to "root out racism" in all its forms.
While armchair PR strategists and hot-take artists were firing off tweets Saturday, Holmoe and BYU's administration were meeting with Duke players, coaches and administrators, listening and learning so that such an intolerable instance doesn't happen again.
Then they went to the fans — many the same from the previous night — and exhorted them to calm down. Cheering for your team is good, but don't cross the line. And if your neighbor does, call them out for it.
"This behavior cannot be acceptable to any of us," the statement continued. "When last night's behavior was initially reported by Duke, there was no individual pointed out and despite BYU security and event management's efforts, they were not able to identify a perpetrator of the racial slurs. It wasn't until after the game that an individual was identified by Duke who they believed were uttering the slurs and exhibiting problematic behaviors. That is the individual who has been banned."
BYU's statement went on to accept responsibility for the unfortunate incident.
"We understand that the Duke players' experience is what matters here," the statement continued. "They felt unsafe and hurt, and we were unable to address that during the game in a manner that was sufficient. For that, we truly do apologize, and we are examining our processes and practices to do everything in our power to make sure something like this doesn't happen again.
"We commit to increased communication with our event staff to handle these types of situations better and having further discussion with our student section, and educating them on our fan code of conduct."
Livingston knows the passionate fan base that BYU volleyball has, and that fan base grows larger as the team continues to compete for championships, both within the West Coast Conference, the Cougars' future home of the Big 12, and at the national level.
She also believes that most fans are inherently good people, and loyal to their colors.
"They are amazing, and it's really sad that one fan can be like that. But it's one person out of over 5,000 people, and we're still grateful that they all show up for us.
"They bring the energy, and we love them for it."
BYU stays home next week for the four-team Nike Invitational, beginning Thursday night against Utah State, Friday against Cincinnati and Saturday against No. 6 Pitt.
×
Most recent BYU Cougars stories