Estimated read time: 6-7 minutes
PROVO — Nearly to the midway mark of training camp and with three weeks remaining until the team's 2022 season opener Sept. 3 at South Florida, BYU football held its first full scrimmage of camp Saturday afternoon.
But any idea of which side — the offense or defense — may have "won" the scrimmage will remain under lock-and-key after the Cougars competed behind closed doors during the 84-play session, with another 20 dedicated to special teams.
Most of the work went to younger players, too: starting quarterback Jaren Hall played about 25 reps, offensive coordinator Aaron Roderick estimated, and pass catchers Puka Nacua, Gunner Romney and Dallin Holker did not participate as part of the coaches' "veterans day" strategy designed to keep players healthy and fresh amid the rigors of training camp.
Did that give the defense the upper hand? Maybe, but each of Roderick, head coach Kalani Sitake and linebacker Payton Wilgar all agreed that the defense didn't force a takeaway.
For the offense, that was by design — a key component of the scrimmage.
"It was a clean scrimmage, and that was the main goal today," Roderick said. "We took care of it, had no turnovers, and kept the penalties to a minimum. We had one holding penalty, one false start, and a substitution penalty that was probably my fault more than anyone else.
"For a first scrimmage, the execution may not have always been there. But I was pleased."
So, advantage offense? And yet …
"The defense had some disruptive plays," Sitake said. "It was give-and-take on both sides.
"I think we had 84 total plays, and another 20 on special teams. It was very good for what we wanted. It was good to see the new guys break tackles, live block, and play football. I'm really happy with the talent we have on this team right now."
In the absence of players like Nacua, Romney and Holker, BYU's backups had a day, led by the continued emergence of reserve running back Miles Davis. A 6-foot-2, 210-pound speedster from Las Vegas, Davis redshirted in 2021, when he played in two games and returned four kickoffs for an average of 19.4 yards per kick.
Davis was listed among the reserve tailbacks behind presumed starter Christopher Brooks and veteran Lopini Katoa, but seems to be separating himself from the pack that includes Hinckley Ropati and Jackson McChesney into a role that could earn him more playing time this season.
But the biggest winner of the day was the probably the defense, and even Hall openly and touted it. Maybe even better than the "middle of fall camp" style of defense.
"Our defense is the best defense I've gone against during my five years at BYU," the starting signal caller said. "They have a lot of depth. The linebacking corps leads the way. They're in the middle of everything; pass defense or run defense. We have a very experienced group of defensive backs and defensive lineman, too.
"Their experience and athleticism makes them tough. They give us game-like reps every day."
That's no surprise to Wilgar, who was among the team leaders in tackles with 56 and six tackles for loss until he missed the final twosomes with a knee injury (the Dixie High product finished behind only Ben Bywater's 102 stops and Max Tooley's 68).
It's a defensive line that returns 58 starts, with 73 from the linebackers and 67 from the defensive backs. So while all the talk has centered around the offense and its mammoth offensive line — for good reason, Wilgar is quick add — the defense has been quietly making its mark, eagerly to improve on a unit that finished 74th nationally last year in total defense to better match the No. 17 total offense.
"We've all been playing together for a long time," Wilgar said. "We've all had the same coaches since we've been here. The experience, chemistry and relationships we have off the field build our trust in each other and allow everyone to execute and do their jobs."
On Saturday, they did their jobs, too. No turnovers — Roderick helped make sure of that. But Wilgar added there were "a lot" of three-and-outs and several punts from the 40 or so plays that featured the first-string players. He also complimented the reserve play of freshman linebacker Tate Romney, Micah Wilson, Bodie Schoonover and Logan Pili.
"It was fun to see those guys get some live action," Wilgar said.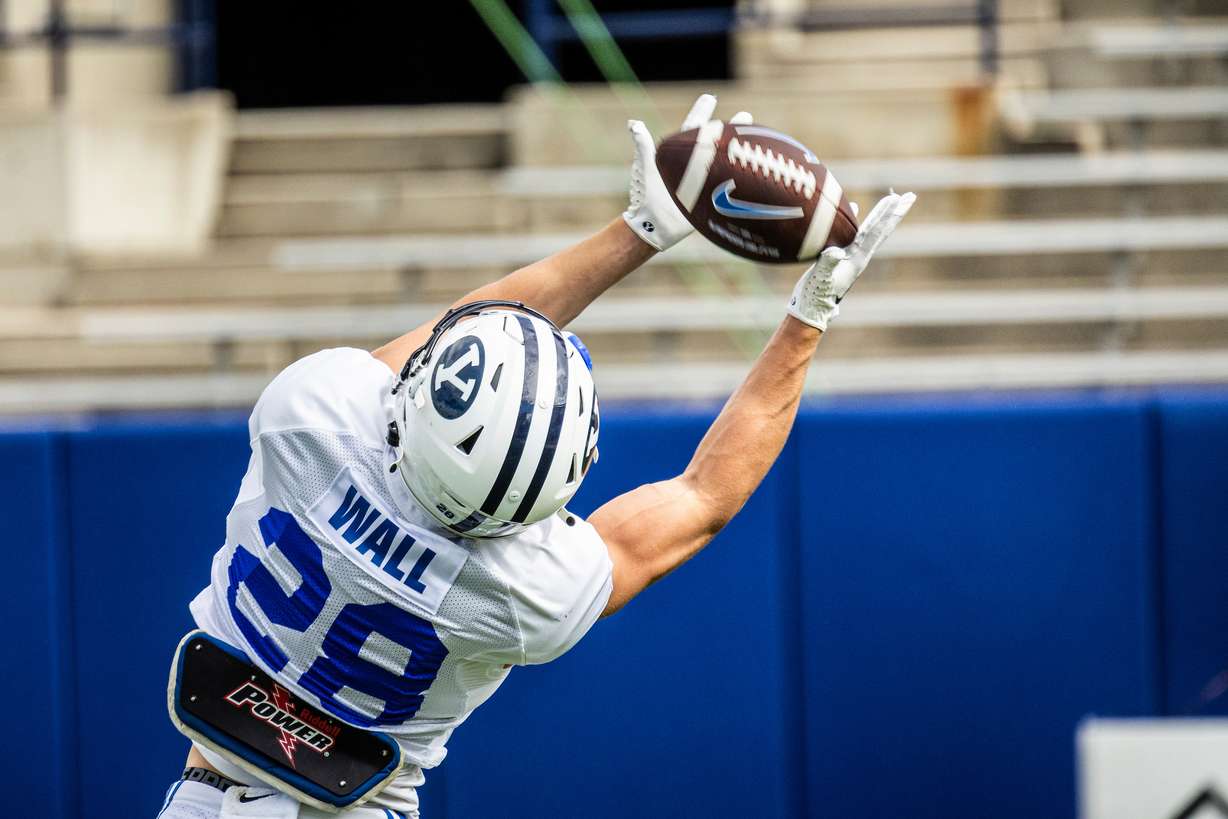 Fall camp star
It's early, but a front-runner is already emerging for fall camp superstar. You know the drill: The player who comes seemingly out of nowhere to impress all the coaches and most of the players but will likely be a rotation player (or special teams ace) during the regular season.
For the 2022 season, Tanner Wall appears to be that guy.
The 6-foot-1, 190-pound receiver from Arlington, Virginia, played in two games while redshirting the 2021 season after returning from a two-year mission for The Church of Jesus Christ of Latter-day Saints in Maceio, Brazil. That's when he earned the team nickname of "Elder Wall," but not necessarily for the most genuine reasons.
"His nickname is Elder Wall because … well, let's just say the mission wasn't good to him," Roderick quipped. "But now he's one of the most ripped guys on the team.
"I would not be surprised at all if he turns out to be a good player for us. He's doing a lot of good things in practice, and I'm very confident he'll be a very good special teams player. He's fast, he could play defense if he wanted to; you can't have too many of those types of guys on the team."
Per Roderick, Wall made one of the standout plays of the day on a post route in the corner, in addition to eye-catching work from reserve running back Miles Davis and backup quarterbacks Jacob Conover and Cade Fegegan.
But "the legend of Elder Wall" has the freshman trending toward a spot on the depth chart — at least on special teams.
One more name to watch
Wall isn't the only young player who is standing out in camp. In a tight end room that features Isaac Rex, Dallin Holker and occasional contributions from fullbacks Masen Wake and Houston Heimuli, keep an eye on Ethan Erickson. The freshman from Kahuku High School in Hawaii also helped the Red Raiders to a state basketball title in 2017 and chose BYU over interest from UCLA, Fresno State, Kansas State and others before landing in Provo as a member of the scout team in 2021.
"Ethan Erickson has had an excellent camp," Roderick said. "He's going to be a really good player some day, and maybe this year. He's got a lot of experience, and that is a really good group."
×
Photos
Most recent BYU Football stories