Estimated read time: 7-8 minutes
PROVO — All around the country, college football is changing.
From the transfer portal to name, image and likeness payments, to USC and UCLA's upcoming move to the Big Ten, the sport is evolving and contorting at warp speed.
But while the Trojans and Bruins won't officially annex Los Angeles as part of Big Ten country until 2024, the reality of the portal is the present. Some schools have made wholesale roster turnover the norm, while others have been more selective in adding reinforcements outside of incoming freshmen.
It would be foolish to assume any school is completely untouched by the inner machinations of today's transfer totality, but one program that remains as unscathed by the portal as any other is BYU football, whose departures represent the smallest percentage of the more than 2,500 FCS and FBS football players seeking a new destination.
And while most transfer reasoning is individual — some leave for playing time, others personal reasons, and a few to seek better NIL opportunities — the individual isn't what matters to the vast majority of BYU's roster that stays in Provo.
"There's just no room for individuals here," said linebacker Payton Wilgar, the former walk-on from Dixie High who started eight games at multiple positions on last year's 10-3 squad. "If you're an individual here, it's going to be uncomfortable; that's probably why some leave. We're all about brotherhood, being happy for one another.
"If you want to be an individual, there are plenty of schools to go to. This is not the place."
That mentality — culture, even — traces back to head coach Kalani Sitake.
"That's the kind of culture Kalani has built," fellow linebacker Keenan Pili added during the school's annual football media day. "You'll feel uncomfortable if you're an individual."
In 2021, close to 12% of all FCS and FBS football players entered the transfer portal, a number that exceeded all previous records with at least 2,669, according to Sports Illustrated. Three of the last five Heisman Trophy winners have been transfers as players jockey for their best landing spot.
"It's basically flat-out free agency," former Oklahoma coach Bob Stoops said during a FOX college football broadcast.
The group includes several players from the state of Utah, including BYU, Utah and Utah State. But while the Cougars have been hardly untouched by the portal, they've also lost as little — or less — as anyone.
And in some cases, they've even seen players come back from the portal. Take, for example, wide receiver Christopher Jackson, who entered the transfer portal in January, announced his commitment to Hawaii in April, then opted instead to stay in Provo after working out with teammates in the summer and signing a name, image and likeness deal with BYU collective CougConnect.
All the while, coaches maintained an open line of communication — with players like Jackson, who opted to leave then return, as well as those who stay, those who go, and those who find themselves somewhere in between.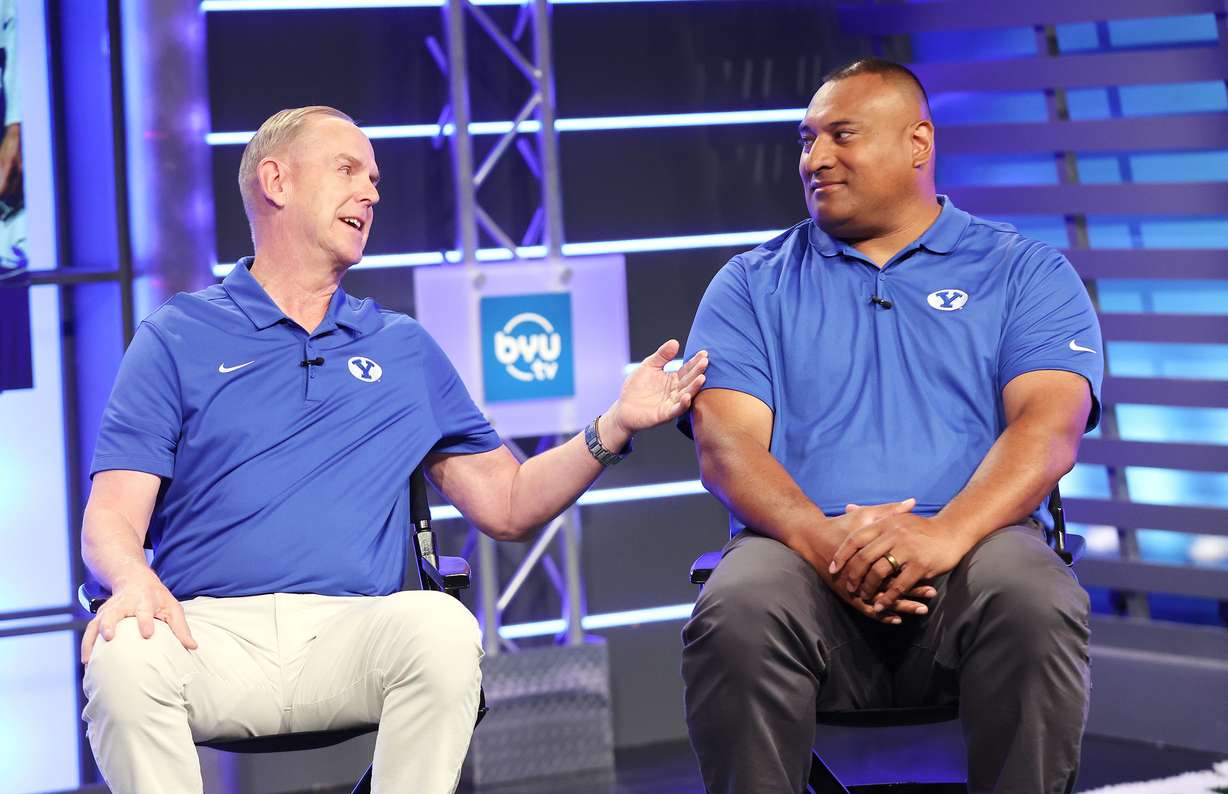 Part of Sitake's culture of "love and learning," he admits, involves not leaving his players in the dark.
"I think the culture is to be open and transparent with our young men," the seventh-year head coach with five bowl appearances said. "I don't ever want our players to have to guess what their coach is thinking.
"People expect feedback to be all positive, but I think people respect feedback, even when it's negative. It's OK when a player is not doing well to say, 'you're not doing well … we need to see this change to accomplish what you want.' Young men appreciate that. Sometimes it's not all good news, but not everybody can start as a true freshman."
He also tries to keep the same attitude with his players from their high school recruitment to their time on the roster. Five stars or no stars, everyone starts from the same place and earns a spot on the depth chart, Sitake said.
"I tell recruits, you get here and compete, and the best will play. We just saw a former walk-on here get drafted," said Sitake, referring to Atlanta Falcons running back Tyler Allgeier. "He came here, and there were others starting ahead of him. But if someone comes out and is a monster on the field, I have to play him."
That attitude extends beyond the field, from the top assistant coach and athletic department personnel to the janitor vacuuming his office at 10 p.m. nightly, his assistants say.
But it doesn't mean players in the program have it easy, or even any easier than those transferring into the group.
Last year, the Cougars saw an escalating number of injuries, from Wilgar to Pili to defensive back Keenan Ellis, who has since retired from football. Even starting quarterback Jaren Hall missed time with a rib injury.
The experience gave a lot of players the chance to earn playing time. But it also hurt — at times, literally. And at times, a lot.
"A lot of guys had to step up," said linebacker Ben Bywater, the former Olympus High rugby standout who started at three different positions over 12 games. "For us, it taught us to prepare the guys who aren't starting, because they are going to get an opportunity. So let's make sure there is no drop-off.
"I learned every position at linebacker last year. And I want to do that again, so I can be a versatile asset. Everyone is bought in, and even if we did take an L, we knew we worked our butts off and learned to live with the results."
Coming to — and staying — at BYU is also about more than football, be it academics, culture, and conforming to the standards of the school's sponsoring faith, he adds.
"Our approach isn't just about football," Sitake said. "It's how can these guys perform in our environment, under the expectations of the school, the program and myself. If we approach it that way, they're going to have a great impact immediately — on and off the field."
All the while, the Cougars have also managed to fill out a roster from the transfer portal when they identify a player who decided to transfer that might fit their scheme — both in football, and the unique culture of the flagship university of The Church of Jesus Christ of Latter-day Saints.
From former Pac-12 players like Puka Nacua (Washington), Samson Nacua (Utah), Kingsley Suamataia (Oregon), Christopher Brooks (Cal) and Houston Heimuli (Stanford) to Group of Five players moving up like cornerback Jakob Robinson (Utah State) and recent Aggie transfer running back Enoch Nawahine, BYU has found standout transfers all while not making a habit of wholesale changes via the portal.
There's no doubt they've used it to get better.
"I think we're a good destination for portal guys, and we haven't lost a ton of guys that we didn't want to lose," offensive coordinator Aaron Roderick said. "We don't want wholesale change every year; we don't want to live in the portal. But any immediate needs we have, we're going to take a look. You have to."
The Cougars also have a handful of assistants and support staff personnel who keep an eye on the portal, alerting coaches to potential fits on the roster when they opt to transfer, Roderick said. But the offensive coordinator who previously worked at Utah stressed that coaches won't try to contact any player from another school before they hit the portal.
That, too, is part of Sitake's culture — though there's another significant factor in transfers wanting to play in Provo.
"Winning games helps," said Roderick, whose team is 21-4 over the past two seasons of independence with one year remaining before joining the Big 12. "If you watch us play on TV, we look like we're having fun."
×
Most recent BYU Football stories