Estimated read time: 5-6 minutes
SALT LAKE CITY — Hunter Erickson's summer has been filled with hoops. Spending days in the gym and two nights a week at Judge Memorial High, he's averaged 24 points and seven assists in the pro-am sensation Powder League.
It's been an opportunity for Erickson, who starred at Timpview High before playing the past two seasons at BYU, to focus on his own game.
Same with the next year.
A few weeks after entering the NCAA transfer portal, Erickson committed this week to Salt Lake Community College, where he'll join a team coming off a 35-2 season, the No. 1 national ranking, and an 83-67 loss to Northwest Florida State for what would've been the Bruins' third national title in program history.
Mostly, though, Erickson transfers to Taylorsville with a chance to perfect his own game.
"The main thing that stood out was an opportunity to go in and really focus on myself and my game," Erickson told KSL.com after one of his recent "runs" in the pro-am Powder League. "I haven't had much game experience, and I feel like that's what I need to take the next step.
"And while doing that, we're going to be a great team with a great group of guys. It's an opportunity to go, focus on myself, get re-recruited and then make a new home after that."
The high-flying, oft-dunking senior at Timpview High who averaged 22.6 points per game en route to first-team all-state honors was flying high about four years ago.
With a scholarship offer to his hometown college BYU and a call to serve a two-year mission for The Church of Jesus Christ of Latter-day Saints in Charlotte, North Carolina, the 6-foot-3, 190-pound dunker known more for his windmill jams than his 55 3-pointers was on top of the world — until he was just a guy.
While he was gone, head coach Dave Rose retired due to health concerns from BYU. Former assistant Mark Pope moved over from Utah Valley and began implementing his own system and style of play with the Cougars.
He could've transferred then; Erickson had offers from Utah, Cal State Northridge and UC Santa Barbara before signing with BYU, and Utah State also expressed interest under former coach Tim Duryea, as well.
But instead, Erickson tried to make the most of it. A reserve guard, the athletic Erickson averaged 1.1 points, 0.4 rebounds and 0.4 assists in 6.1 minutes per game, coming off the bench in 19 contests, including scoring a career-high 10 points against Division II Westminster last year.
He showed what he could do in spurts, even moments of potential, but the consistent playing time wasn't there.
So at the end of the season, Erickson decided he needed a new start. A breath of fresh air. And the kind of playing time that BYU simply wasn't giving him, a program in need of shooters more than the 47% career shooter with just nine career 3-point attempts could offer.
And that's when the transfer portal came into play. Entering the portal was the easy part; all it took was notifying the compliance department, and then Erickson's name was listed among the more than 1,400 men's basketball players, complete with name, height, outgoing school and a link to video highlights.
Of course, that's where Erickson was lacking; coming off the bench for only 6.1 minutes per game left little room for an array of video analysis. And that's where his next school came in.
"I loved every second there," Erickson said of his BYU experience. "But this is an opportunity for me to reset my confidence and get to where I want to be."
In the Bruins, Erickson reunites with former Utah State assistant coach Kyle Taylor, who has developed countless Division I prospects that include former SLCC standout Doctor Bradley to New Mexico State most recently.
Taylor was the primary recruiter who tried to bring Erickson to Logan before Duryea and his staff were unceremoniously fired — a coaching change that worked out well for the Aggies, first with now-Utah coach Craig Smith and then Ryan Odom.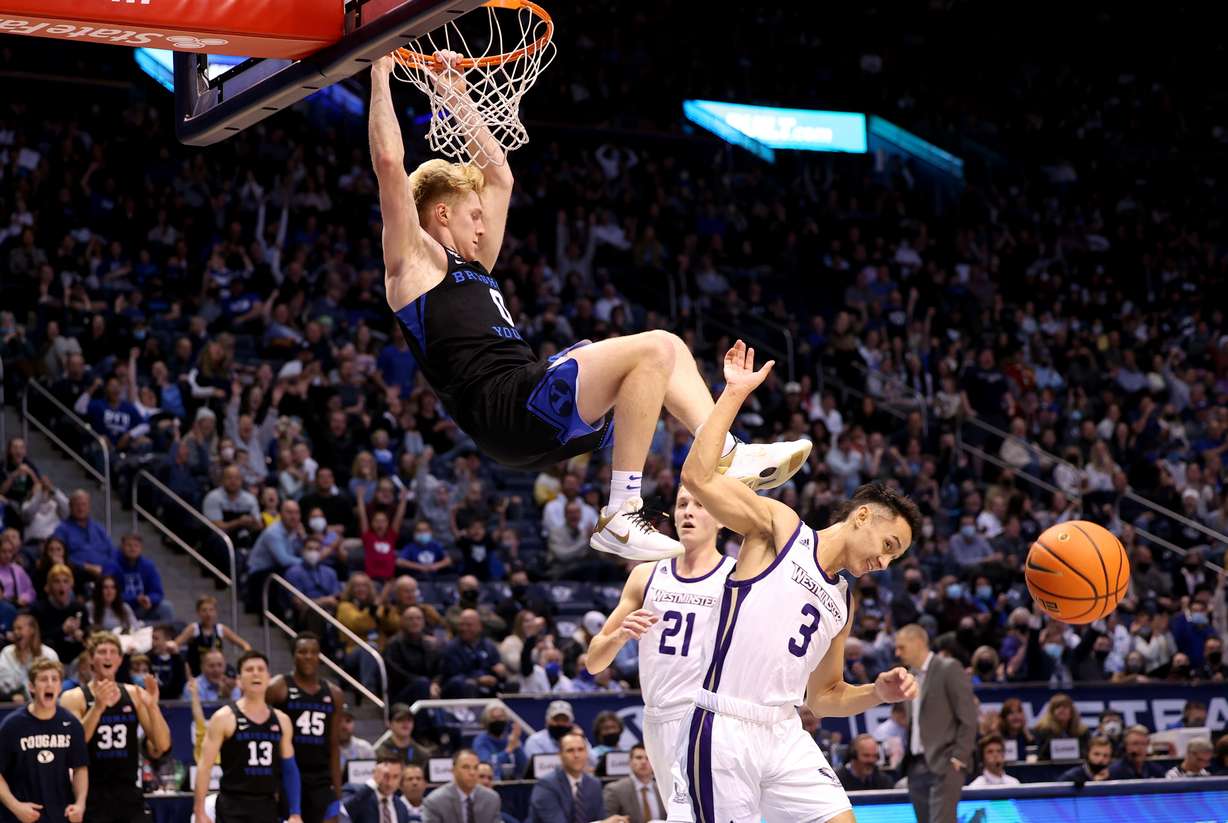 Taylor knows exactly what he's getting in Erickson. And that's comforting to the sophomore-to-be guard.
"I wanted a coach that wanted me for who I am as a player," Erickson said. "They didn't want me for my athletic ability or to mold into a role they had; they wanted me for who I am. That's what the coach pitched me on. They want me to do what I do, and they want to help me take that next step after this."
With the decision made, Erickson turns to the upcoming semester, and finishing out the summer with his own Team Erickson in the Powder League, a pro-am series that includes Utah guard Mike Saunders Jr., BYU's Trey Stewart, Utah Valley's Blaze Nield, Utah State's Isaac Johnson, and former BYU forward Yoeli Childs — who has signed a contract to play in Germany and was intended to play with the Utah Jazz summer league team before they signed Illinois center Kofi Cockburn at the last minute.
Instead, there was Childs, throwing down against Johnson and former Springville High standout Zach Visentin, who will transfer to Snow College after a year at Idaho State, among others.
In a college basketball offseason dominated by the transfer portal, with more than 1,450 players opting to transfer, it was good for all of them to just lace up and start hooping.
That's what Erickson hopes to do more this fall — and for a championship contender, too.
"I feel like we have a really good team coming in," he said. "We really have a shot to go to the JUCO championship again; we've just got a lot of guys from different situations who ended up together, but they could be anywhere, any level.
"I just want to go out there, show what I can do, and help that team. A lot of us already know each other, and we just want to go out, hoop together, have fun, and push each other to the next level."
×
Photos
Most recent BYU Cougars stories