Estimated read time: 2-3 minutes
FILLMORE — Homes and campgrounds in Millard County were evacuated Friday due to what officials are calling "rapidly growing" fires which have burned over a combined 2,000 acres.
The tire-shredding plant in Fillmore also caught fire Friday. This fire "could pose a real danger to Fillmore residents," prompting nearby Scipio firefighters to assist, according to the Millard County Chronicle Progress.
The Halfway Hill Fire had burned an estimated 950 acres and prompted the evacuations of the Virginia Hills subdivision southeast of Fillmore and officials to call for air resources to fight the blaze, officials said. The Virginia Hills subdivision includes mainly seasonal homes and cabins, many of which were empty already. At least one person was evacuated.
Officials said Saturday morning that the fire had grown moderately overnight, and they are bringing in additional fire crews and air resources to fight the fire on Saturday. The fire was estimated at 425 acres Saturday morning but had grown significantly by afternoon to an estimated 6,640 acres.
Erratic wind gusts have furthered the spread of the fire and grounded fixed-wing air resources, according to Utah fire officials.
On Saturday evening, officials estimated that the human-caused fire east of Oak City, the Dry Creek Fire, had reached 1,816 acres. The fire prompted evacuations of campgrounds in Oak City Canyon, but no homes. Utah Fire Info reported only minimal fire activity and light smoke on Saturday.
Millard County officials are asking people to stay out of the following areas:
Sand Rock Ridge and Pine Creek area near Fillmore.
Fillmore Industrial Park where the tire-shredding plant is on fire.
Oak Creek Canyon area and the Dry Creek area near Oak City.
"We appreciate your willingness to avoid unnecessary travel around these events to allow heavy fire resources to move about," the Millard County Sheriff's Office said in a Facebook post.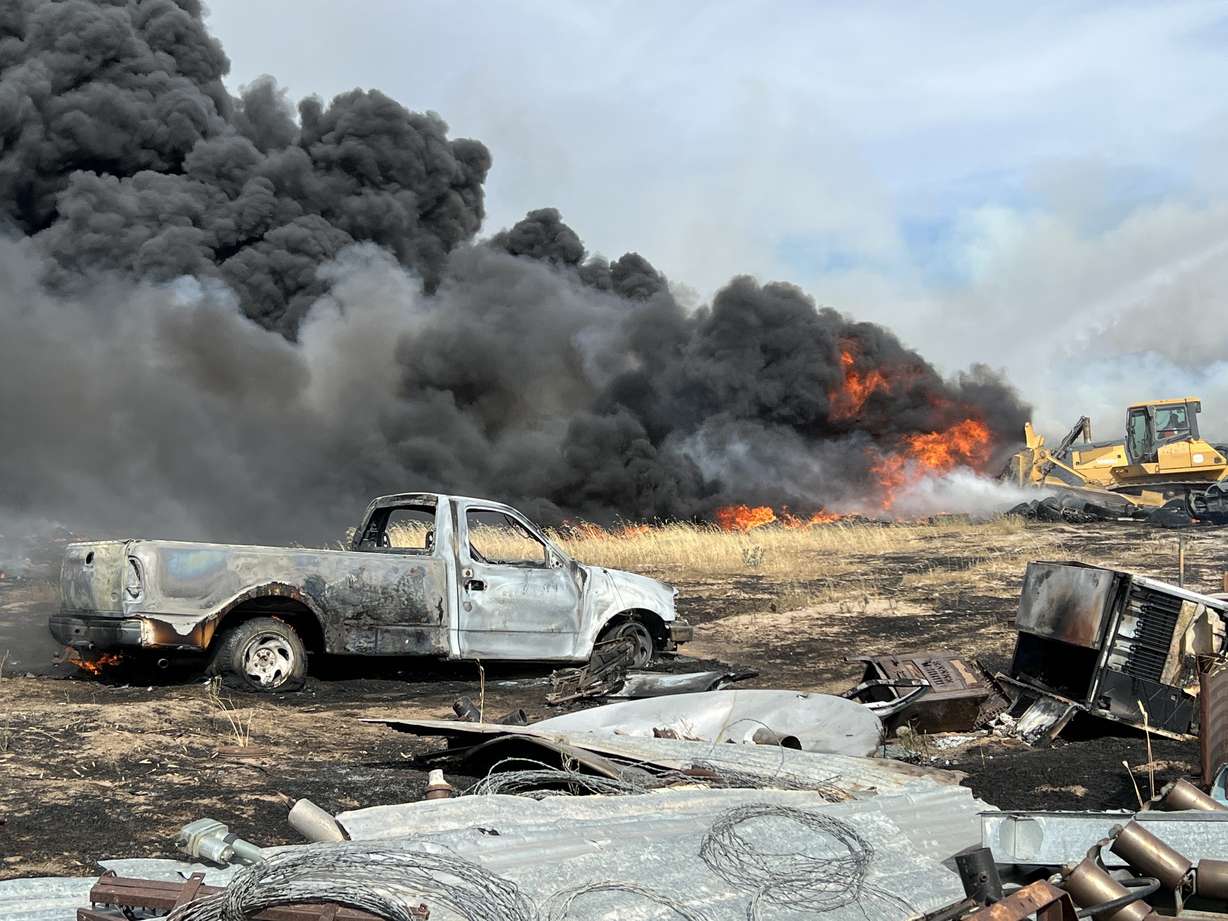 ×
Photos
Most recent Utah wildfires stories