Estimated read time: 4-5 minutes
SALT LAKE CITY — As the Bangerter Highway slowly transitions into a freeway at its southern end of Salt Lake County, Utah transportation officials are getting to work on figuring out the future of the highway's northern end, which reaches all the way up Salt Lake City.
The Utah Department of Transportation began public scoping in June for a project to address the future of the highway from 4100 South in West Valley City to California Avenue in Salt Lake City, including intersections at 3500 South, 3100 South, Parkway Boulevard, 2400 South, state Route 201 and 1820 South in between. The agency held a series of open houses on the subject for the first time last week.
Alex Fisher-Willis, a project manager for the department, said the agency is seeking to address an anticipated spike in the number of vehicles that will use the highway in the coming decades. UDOT reports that about 60,000 cars, on average, used the highway every day in 2021; that figure is expected to double in the next 30 years.
"Bangerter is such an important corridor for the west side of the valley, so we're taking a look at how we can address traffic congestion and improve quality of life by upgrading the highway," she explained in a video published by UDOT.
Bangerter Highway can get quite busy between 4100 South and California Avenue. Granger High School, Jordan Valley Medical Center's West Valley campus and Stonebridge Golf Course are among the many major places located along the highway or nearby. There are also many homes and businesses in the area, along with a pair of pedestrian bridges, major water lines, and frequently used railroad tracks.
State transportation officials just began collecting data and public feedback as they begin work on an environmental study that's expected to be completed by the summer of 2023, according to Fisher-Willis. This study will look at what changes will mean for air quality, noise and water, and what type of impact they might have on homes and businesses by the highway.
It's unclear what those changes will be, which UDOT officials say is the point of scoping.
Recent projects south of 4100 South have drastically changed Bangerter Highway over the past few years. The agency removed nearly a dozen traffic lights in the southwest portion of the valley so the highway flows more like a freeway.
UDOT also celebrated the completion of three freeway-style interchanges at 6200 South in West Jordan/Taylorsville, 10400 South in South Jordan and 12600 South in Riverton in May. Carlos Braceras, UDOT's executive director, said at the time that it was "exciting" to complete the project, which took about 10 years from the beginning of design to completion.
But UDOT officials acknowledge that some of those ideas are difficult to replicate in areas north of 4100 South. For example, Fisher-Willis notes that most freeways have on-ramps and off-ramps spaced at least a mile apart; however, there are seven intersections along this stretch within a mile or less of each other. Five of these are about a half-mile or less.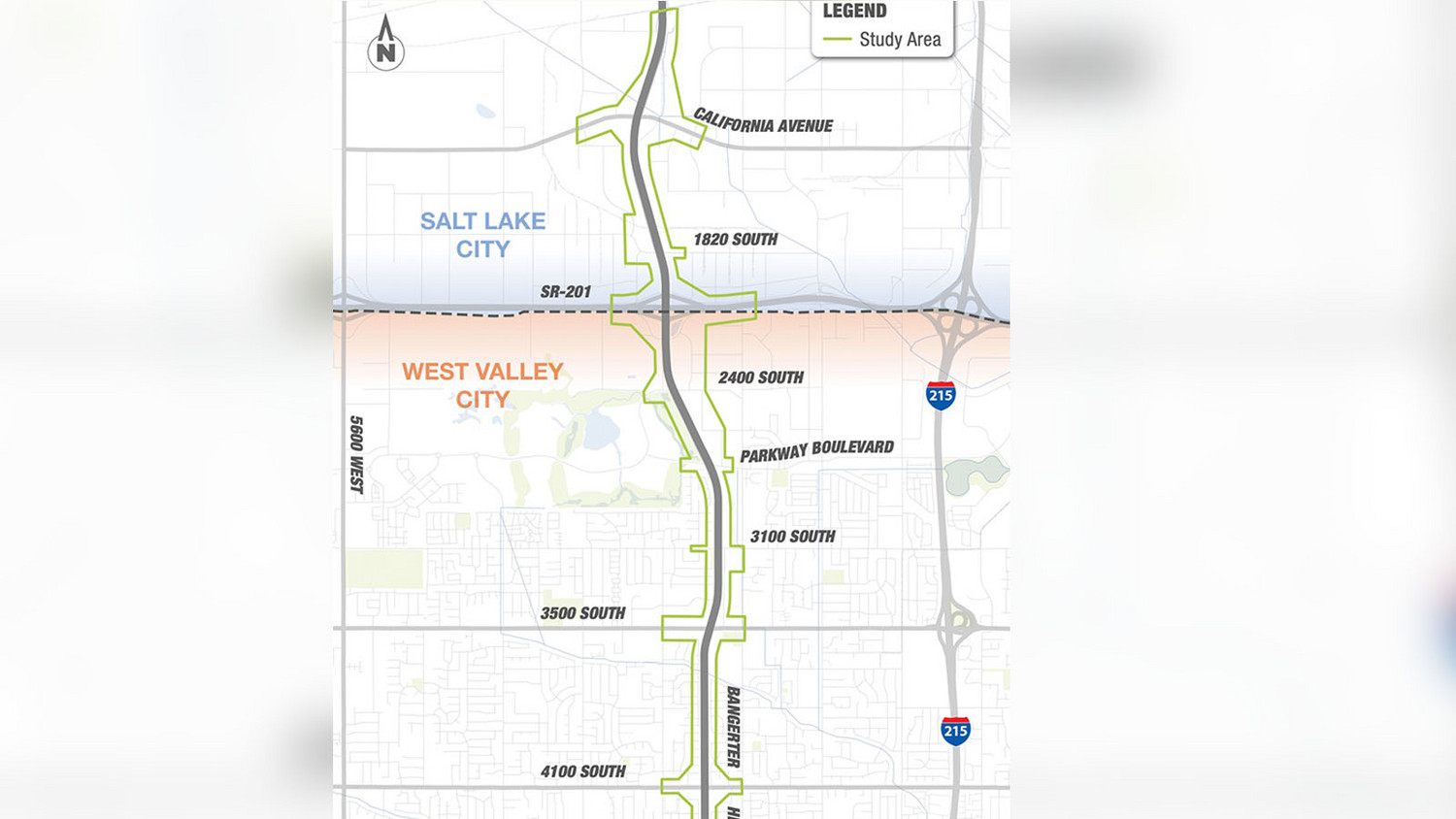 This complexity is why UDOT is looking into the possibility of doing freeway-style interchanges at some of the larger intersections and other ideas like new bridges with a frontage road system over the smaller intersections. The final project design will ultimately balance cost and environmental feasibility, according to the agency.
Though the environmental study is expected to be completed next year, UDOT officials say that construction likely won't begin until 2028 at the earliest.
As the project engineers continue to piece together a plan for the Bangerter Highway's northern end, UDOT officials say they want the people who use the highway in the selected areas to let them know everything regarding how they use it or how it affects their livelihood. Residents and commuters are also encouraged to provide engineers any information that they should consider as they look to alter the highway.
"We're looking for any feedback on things like travel times, pedestrian and bicycle needs, access to homes and businesses, property details or any other information you'd like to share about the highway and its many uses," Fisher-Willis said.
Public comments can be submitted by emailing bangerter@utah.gov or by mail to: Bangerter Environmental c/o Horrocks Engineers,
1265 E. Fort Union Boulevard Suite 200, Cottonwood Heights, UT 84047.
×
Most recent Utah transportation stories