Estimated read time: 7-8 minutes
This archived news story is available only for your personal, non-commercial use. Information in the story may be outdated or superseded by additional information. Reading or replaying the story in its archived form does not constitute a republication of the story.
Jurassic Park, move over! Utah's dinosaur scene has some real bite, and you're going to want to check it out faster than Jeff Goldblum riding in the back of a Jeep Wrangler.
Did you know that Utah is home to the world's largest collections of mounted dinosaur skeletons? It's true. These collections, along with actual dinosaur discovery sites comprise some of the most robust concentrations of dinosaurs ever to be discovered. Take that, John Hammond!
While training actual raptors might not be in the cards (until greedy scientists start drilling into tree sap for dino DNA, that is), there are plenty of spots statewide to get your dinosaur fix. From track sites, museums and quarries, to state parks and national monuments, there's something for everyone.
So if you are looking for prehistoric adventure this summer, stop at Maverik for fuel, food and drinks before you head to some of Utah's most dino-mite dinosaur experiences.
Dinosaur National Monument
Dinosaur National Monument covers over 210,000 acres and is ready for you to explore by holding, biking, rafting, or camping. But if it's the dinosaur crown jewel of Utah that you're after, then you won't want to miss the treasure trove of fossils to be seen, especially in the dinosaur quarry.
Track sites
Few things can match the excitement and wonder of seeing a dinosaur track in the wild, and luckily for Utahns, there are lots of track sites to visit.
St. George Dinosaur Discovery Site at Johnson Farm has Thousands of dinosaur tracks and other fossils found here that tell the story of dinosaurs walking, running, crouching, swimming, wading, and fishing while living near the shores of a large ancient lake, named Lake Dixie, the Utah Geological Survey explains.
Dinosaur Tracks Trail near Moab is a popular site to see some of the best Allosaurus tracks in the nation. Located above the Colorado River, this is an easy site for families to check out the tracks together.
Moccasin Mountain Dinosaur Track Site, located near Kanab, is hands-down one of the most impressive concentrations of dinosaur tracks on the planet. Surrounded by picturesque sandstone cliffs, there are hundreds of dinosaur tracks of at least six different species to be found in this short, 0.5-mile hike.
Copper Ridge Dinosaur Trackways, also near Moab, is an awesome place to see tracks in the red rock likely left by the Diplodocus and the Apatosaurus.
Red Fleet Dinosaur Trackway is another well-known track site located in Red Fleet State Park and Reservoir. Near the end of the trail, and located on the slick rock shores of the reservoir, you will find some awe-inspiring Diloposaurus tracks from nearly 200 million years ago.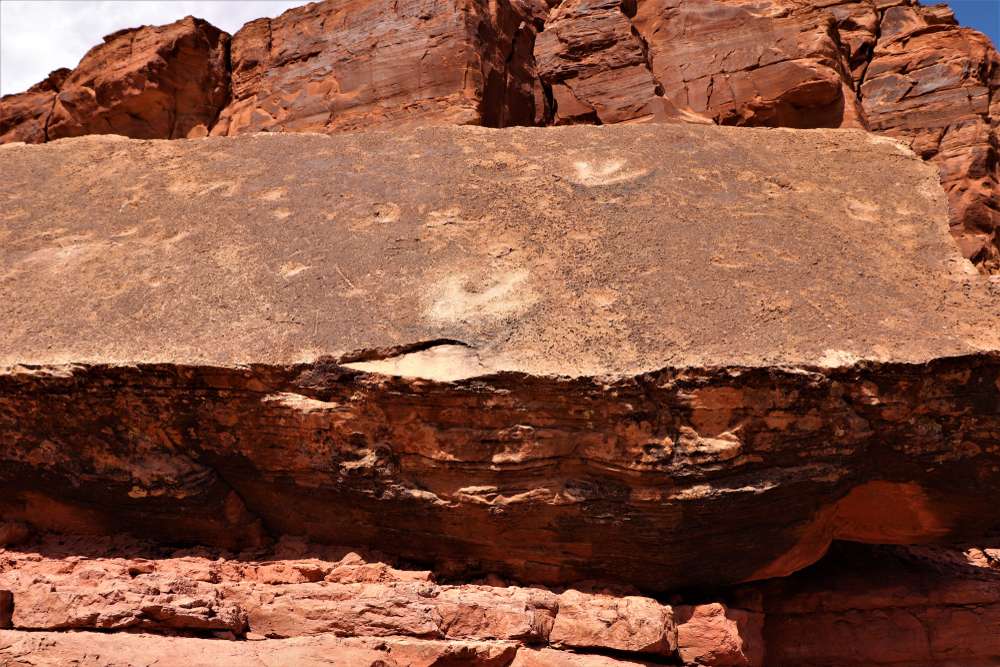 Museums
If museums are more your thing, then you'll love the number of dinosaur-related museums Utah has to offer. With five museums in northern Utah and four in southern Utah, you could spend years enjoying all the curated collections and dinosaur discoveries on display.
Northern Utah
George S. Eccles Dinosaur Park, located in Ogden, is a fun way to spend time with the family. With its impressive indoor museum, animatronic dinosaur recreations and massive outdoor dinosaur displays, walkways and playgrounds, it's hard not to please the whole family here.
The Museum of Ancient Life at Thanksgiving Point is another great place to get the family out of the house to do something new. Make it more than just a passing point on the freeway, and enjoy 60 complete dinosaur skeletons and more than 50 hands-on exhibits, including an Erosion Table and the Quarry Dig.
The Natural History Museum of Utah is a classic, but it's still a significant contributor to the state's dino history. Located at The University of Utah, this museum exhibits some impressive displays of paleontology, spanning millions of years. With over a dozen dinosaurs on display, there's a lot to love here.
Utah Field House of Natural History State Park Museum, located in Vernal, is a must-visit for any dinosaur fan. Vernal, a.k.a. "Dinosaurland," is known for its high concentration of fossils and dinosaurs, and this 22,000-square-foot museum encapsulates that history well.
Utah State University Eastern Prehistoric Museum, located in Price, is one of the most impressive dinosaur museums in the world, housing more fossils from more dinosaur species than any other museum in the country.
The Museum of Paleontology at BYU was built to "prepare, display, and house the rock and dinosaur fossils collected by Dr. James A. Jensen and his crews." The Harvard-trained scientist known as "Dinosaur Jim" developed the modern method of mounting dinosaurs so they can be displayed without visible supports.
Southern Utah
Dinosaur Discovery Site at Johnson Farm in St. George has more than just thousands of dinosaur footprints. There are other fossils of dinosaurs, plants, fishes and more that you won't want to miss.
Dinosaur Museum of Blanding is an underrated gem located near Bears Ears National Monument. It is the perfect stop on your way to Arches National Park and Moab. Featuring unique dinosaur exhibits like dinosaur eggs and fossilized skin, this dinosaur museum is one of the best-kept secrets in Utah.
The Moab Giants Dinosaur Park and Museum is set amongst a stunning backdrop of Moab red rock and is one of the most technologically advanced museums in the state. This museum offers life-size dinosaur replicas and lots of state-of-the-art features like a 3D movie, interactive displays and touchscreen displays. Oh, and be sure to peek through the windows at actual researchers working on their dinosaur projects.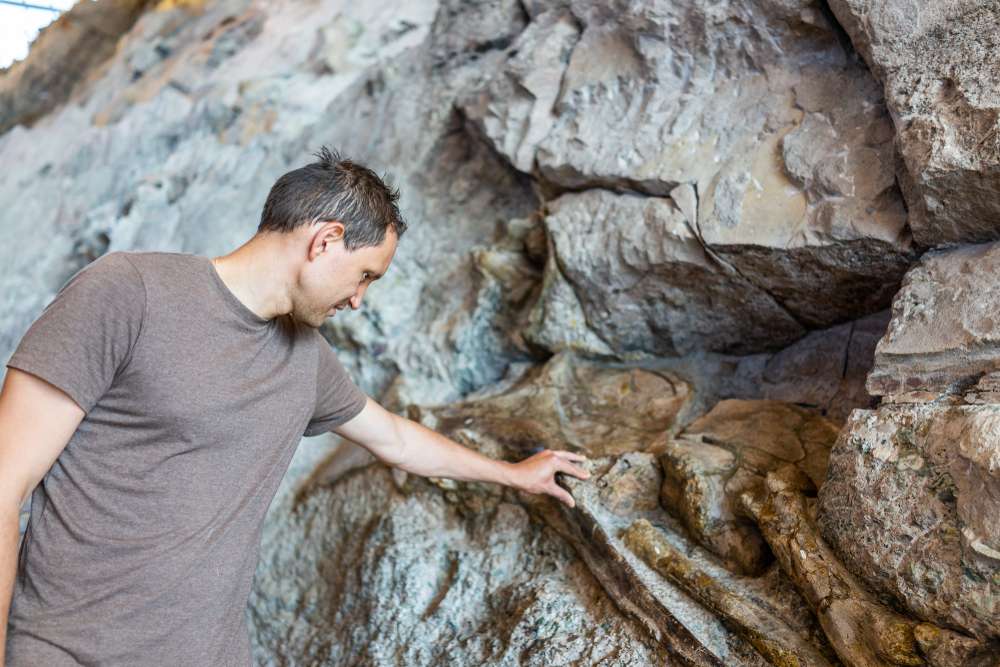 Quarries
Quarries are perhaps the most authentic way to see dinosaur bones. Exposed and left lying in the state they were left in when the dinosaur died, it's haunting to see them still there millions of years later. Here are some of the best ones to visit.
The Cleveland-Lloyd Dinosaur Quarry is a seriously impressive collection of bones. Located in the northern part of the San Rafael swell, this quarry is a final resting place described as "the densest collection of Jurassic-era dinosaur fossils ever unearthed." This collection is comprised of over 12,000 bones belonging to at least 74 different dinosaurs. It's an amazing display and worth a visit.
The Hanksville-Burpee Dinosaur Quarry is another amazing display of dinosaur bones but is probably best suited for more serious dino-hunters. Located in Capitol Reef country, it's well worth exploring for the more advanced adventurer with an off-road vehicle.
Utahraptor State Park
Last, but not least, is Utah's new Utahraptor State Park! Recently designated as a state park, this area located about 15 miles northwest of Moab is a great place to explore and search for dinos of years gone by. Be advised that much of the area is undeveloped and under construction, so amenities might be limited when you visit.
From north to south, east to west, Utah is full of mind-blowing dinosaur experiences the whole family can enjoy. Go and explore today!
Start every Utah Adventure with Maverik
Whatever your destination, make sure to fuel up and grab some food at one of the Maverik locations throughout Utah. Right now Maverik's "revved-up Nitro Card saves you 10-cents off every gallon, every day with additional high-value benefits on its huge selection of tasty food, drinks and snacks, including premium hardwood-smoked meats in breakfast and lunch burritos, two-meat treat, and made-to-order tacos, quesadillas and nachos.
To save on every gallon of gas and get special offers on Maverik's fresh-made BonFire food, drinks, and snacks, download the Maverik app to join the Adventure Club and activate your Nitro Card.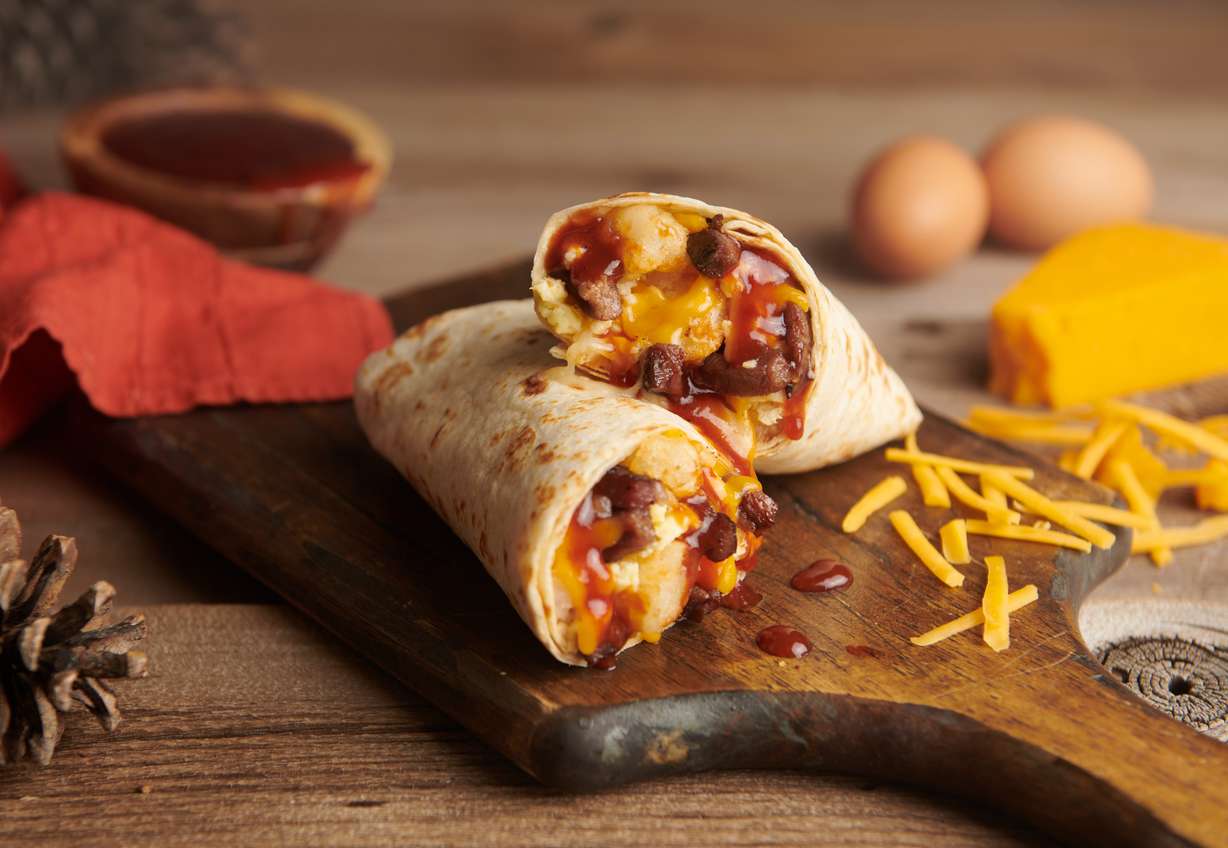 ×