Estimated read time: 4-5 minutes
SOUTH JORDAN — It's been a little over a year now since Fred Lampropoulos decided he wanted to reshape the landscape outside of Merit Medical Systems' offices in South Jordan.
Lampropoulos, the company's president and CEO, felt compelled to act after he saw the drought's impact in and around Jordanelle Reservoir during a drive out to Summit County. Since that commitment, grounds crews have stripped out 3 acres of grass and replaced it with more water-wise plants; more than 1,142 tons of decorative rock and 250 boulders were also installed, while 56 trees were added to the existing trees outside of the facility.
The team also installed a new drip irrigation system that helps prevent water evaporation and runoff as a part of the project which cost about $750,000 altogether. All of the changes, Lampropoulos says, will ultimately save 4 million gallons of water annually.
But instead of gloating about how much the project reduces water consumption during one of the worst droughts in Utah history, Lampropoulos stood outside of the property Wednesday afternoon and promised more projects that will help cut back as much water consumption, explaining that water is used to cool down different medical materials his company produces.
"We have other projects that will match that over the next several years," he said. "In terms of the recycling of water, we use a lot of water here. ... If I hadn't done this, my mother would have given me a bad time. So I think we've tried to do and invest in the areas we think will make a difference. We'll set an example."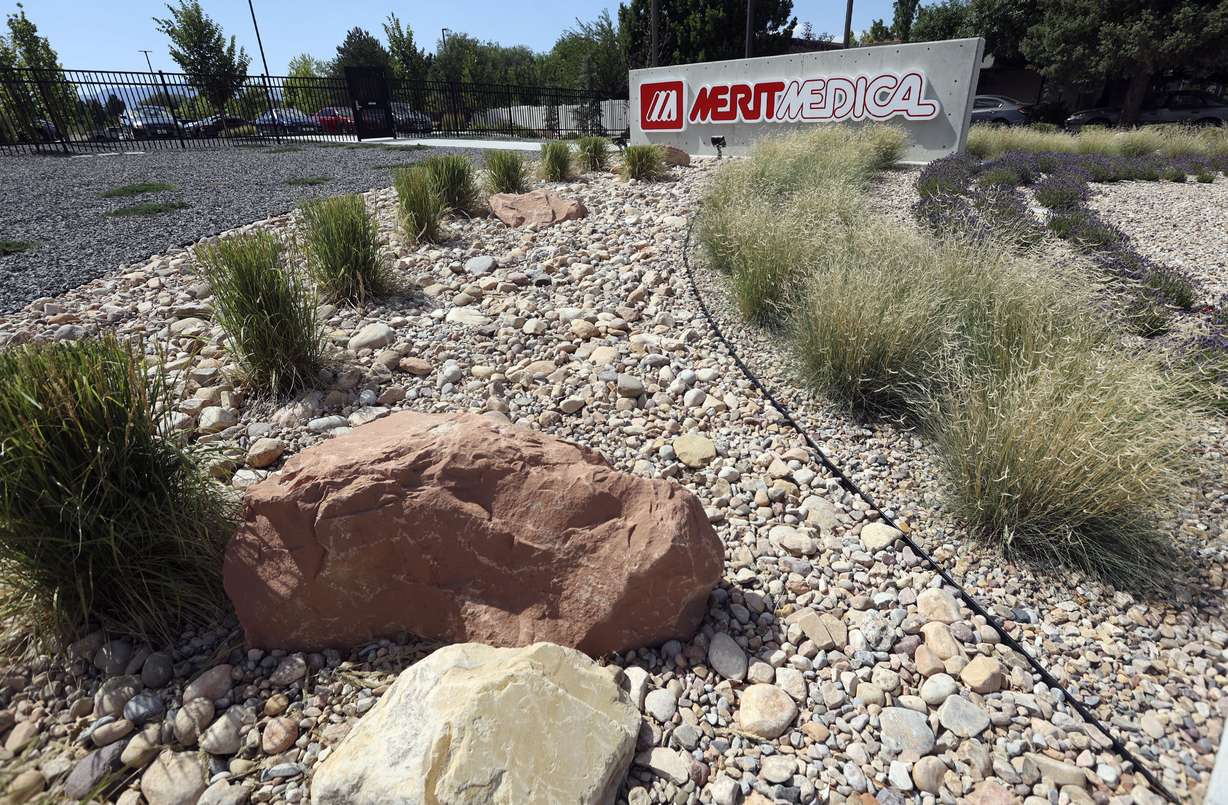 Wednesday's event came nearly a year to the day after the state launched the Water Champions H2Oath program outside of the same South Jordan office. Utah Gov. Spencer Cox, who attended that event last year, said he would come back a year later to see how the changes went, and he was a man of his word.
"Fred delivered in a very big way — bigger and bolder than we expected," the governor said Wednesday, after touring the changes.
While so much has changed over the year, Utah's drought hasn't. About 83% of the state remains in at least extreme drought, down slightly from nearly 93% at the same time last year, according to the U.S. Drought Monitor. The percentage of the state in exceptional drought is drastically different this summer, though, down from 65% to just below 8%.
This summer's monsoons are expected to eventually help fire conditions, but they are almost certainly not going to impact the drought situation's impact on water supply. Utah's collective reservoir system is currently at 61% of capacity.
Cox is quick to acknowledge that the West is also in the middle of the two-decade-long "megadrought," which is considered the worst of its kind in 1,200 years.
"I don't know if this is a 21-year drought, I don't know if it's a 25-year drought, I don't know if it's a 50-year drought; all I know is we are in a drought now," he said. "Our water supply, as we know, is not unlimited. We cannot create new water but we can use what we have more efficiently."
Candice Hasenyager, director of the Utah Division of Water Resources, said cutting back on water consumption is one of the best ways to help out when conditions are even drier than normal. She credits many Utahns who have found ways to reduce water use even if they don't have $750,000 to completely revamp their outdoor landscape.
She said outdoor water use accounts for about two-thirds of residential water use across the state; they've found a growing amount of homeowners who are turning to xeriscape lawns, while others are simply watering less. She also pointed to The Church of Jesus Christ of Latter-day Saints' announcement last week that it will reduce landscape watering outside of its buildings in the West as one of many recent examples of how organizations and businesses are helping out.
More tips and rebate offers to help with water-wise projects can be found online through the state's Slow The Flow program. Lampropoulos said Wednesday that anyone is welcome to view Merit's garden and greenhouse if they want ideas for a water-wise project.
"Water is precious and there's no replacement for it," Hasenyager said. "We've been in a historic drought and we really don't know how long it'll last. The good news is we know what we need to do. Amazing things are happening right now in Utah to slow the flow and save water, and the momentum is exciting."
×
Related stories
Most recent Utah drought stories