Estimated read time: 4-5 minutes
PROVO — Zach McWhorter's final clearance as he approached the final grouping in the pole vault finals at the NCAA outdoor track and field championships was a shirt tail away from clearing.
A top-six finish will have to do for the BYU sophomore.
McWhorter, the No. 2-ranked pole vaulter in the country who already owns the BYU program record of 18-10 3/4, finished the meet in sixth place after clearing a height of 18 feet, 4 1/2 inches. That mark would be tied for second in BYU history with Robison Pratt's mark set in 2006.
The sophomore wasn't the only BYU athlete competing in the finals; junior teammate Caleb Witsken finished 11th with a clearance of 17 feet, 10 1/2 inches. Princeton's Sondre Guttormsen won the pole vault after clearing 18 feet, 10 1/4 inches to edge out Sam Houston's Clayton Fritsch (18-8 1/4).
After six full events and the first day of competition, the No. 4-ranked Cougars were held to just 3 points scored by McWhorter from among their 12 entries, which was tied for the second-most in the field. Tennessee leads the field with 21 points, 5 points ahead of Florida State.
Guttormsen, along with Princeton teammate Simen Guttormsen, who finished fourth in the pole vault, pushed the Tigers to third with 15 points, just ahead of Texas (12) and Alabama (11).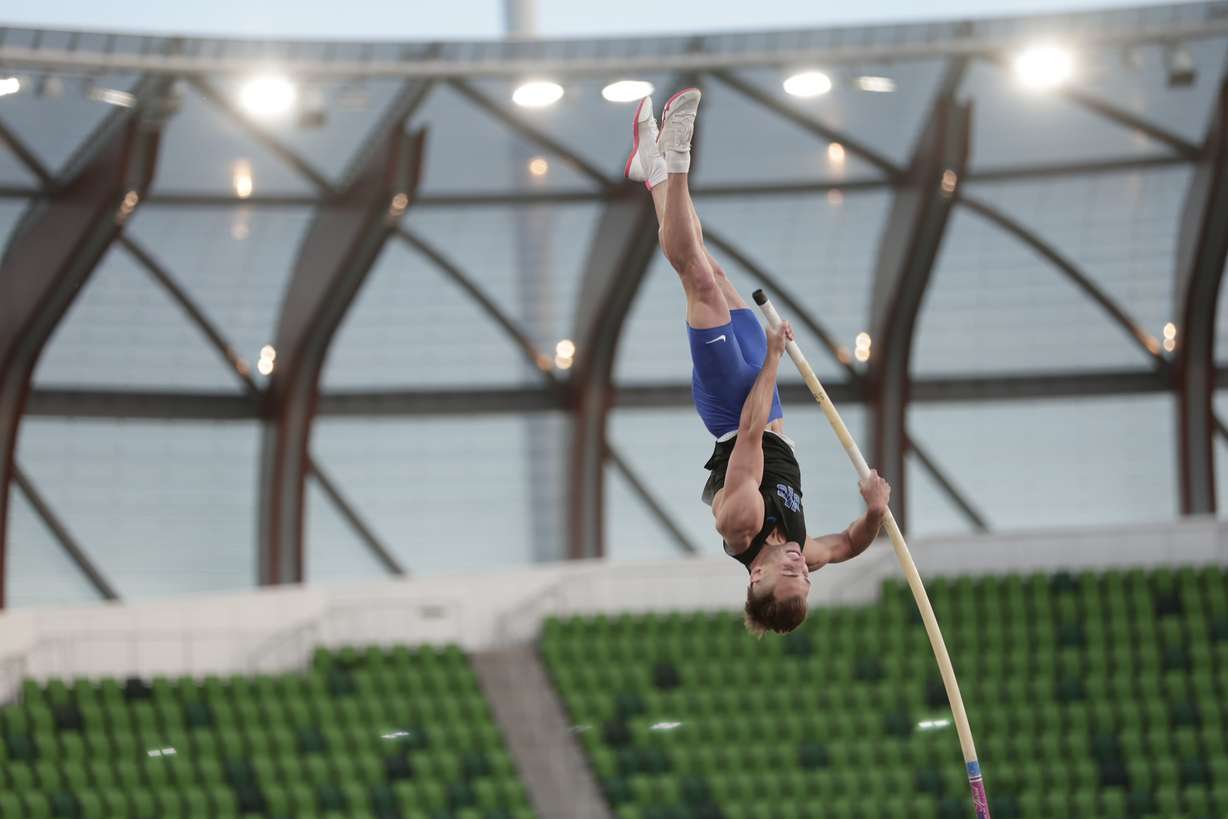 In the 10,000-meter final, Campbell's Athanas Kioko led for all but the final 800 meters before finishing fifth, and Notre Dame's Dylan Jacobs surged to the win in 28 minutes, 12.32 seconds of the distance finals Wednesday night at Hayward Field.
BYU junior Brandon Garnica and sophomore teammate Casey Clinger trailed near the middle or back of the pack for most of the race before finishing well behind.
Garnica finished 11th in 28:21.81, with Clinger right behind in 28:22.99. Both BYU teammates clinched All-American status with a top-12 finish.
"It's an impressive field," Jacobs told ESPN after overcoming a fall 3,000 meters in to win the race in 28:12.32. "I just wanted to stay relax, and we'll catch back up eventually."
In the men's 3,000-meter steeplechase semifinals, BYU's Kenneth Rooks continued his dream season by advancing to Friday's finale with a blazing-fast time of 8:24.88. It's the fastest time for a BYU steeplechaser in 45 years, going back to four-time Olympian Henry Marsh and his 8:21.60 in 1977.
Rooks, who returned from a two-year mission for The Church of Jesus Christ of Latter-day Saints to Uganda last fall, finished second to Montana State's Duncan Hamilton in his heat in a semifinal round that advanced the top-five finishers in each heat plus the next two best times.
"Kenneth definitely advanced with style," BYU director of track and field Ed Eyestone said. "Each race has crucial moments in it and I felt like when that crucial moment occurred, Kenneth knew to move himself up into top-five position, and then he just crushed the last 400."
Utah Valley freshman Adam Bunker finished 17th in 8:44.67, and BYU senior Garrett Marsing was 19th in 8:45.71.
Bunker, a freshman from Monticello, was seconds away from second-team All-America honors before finishing as an honorable mention. He's the fifth All-American in Utah Valley history, and didn't wait long for the sixth, in teammate Aaron Johnson.
The junior finished 21st overall in the long jump with a final leap of 7.32 meters for All-America honorable mention honors. Johnson is the first All-American long jumper in UVU history.
Colten Yardley finished second in the first 400-meter hurdles semifinal heat to edge out New Mexico's Rivaldo Leacock for second place and an automatic qualifying spot for Friday's final. The BYU senior finished in 48.82, or .30 seconds behind Oklahoma's Isaiah Levingston, who won the group, and .04 seconds ahead of Leacock.
Yardley's time was the eighth-best time among finals qualifiers.
BYU's 400-meter relay team of Easton Bianchi, Jared Davis, Dallin Draper and Yardley finished 24th in 40.10 seconds, failing to advance.
Sebastian Fernandez, the BYU freshman who made it off the Cougars' "farm team" just a month ago to make his first NCAA championship meet, finished 11th in 1:47.66 in the 800-meter run. The Minnesota native was .21 seconds behind Arizona State's Dayton Carlson and Texas' Yusuf Bizimana for the final spot in Friday's final.
BYU's Michael Whittaker finished 20th in the javelin final with a throw of 216 feet, 5 inches.
BYU decathlete Dallin Vorkink finished in 20th place after the first day of the 10-event competition. The junior's best finish came in the shot put, where he threw for 44 feet, 6 inches for 11th place.
Vorkink added a 13th-place finish in the high jump in 6 feet, 4 3/4 inches, and an 18th place finish in the 400-meter run in 50.95 seconds to finish with 3,733 points.
×
Photos
Related stories
Most recent BYU Cougars stories