Estimated read time: 5-6 minutes
PROVO — Last week, BYU freshman Sebastian Fernandez did something he never thought he'd do since the days he started playing casual pickup soccer games in middle school: He passed on his roommates' offer to play with his BYU intramural team.
The freshman from Andover, Minnesota, has slightly more important things to do this week, when he'll lace up his track spikes in the 800-meter race at the NCAA outdoor track and field championships at Hayward Field in Eugene, Oregon.
When he does, Fernandez will be the first from his team to qualify for nationals in the 800 since Shaquille Walker in 2016.
Not bad for a freshman coming off the fall season with BYU's non-competitive "farm team" who didn't start running track until his junior year of high school.
"Sacrifices need to be made, obviously," Fernandez told KSL.com with a sly laugh. "I think there might be more opportunities for me in track than there are in soccer anymore."
Fernandez is one of 21 bids from BYU headed to the national meet, which ties for the eighth best mark nationally. Texas leads all schools with 33 entries, followed by Florida (28), LSU (25), Oregon (24), Texas Tech and Arkansas (23).
Among the other entrants, Utah Valley will send a program-record four athletes to the NCAA championships, including two female athletes for the first time in school history. Utah will be represented by multiple athletes for the first time since 2012, and Southern Utah long jumper Elizabeth White rounds out the Beehive State's national contingent.
Between the 12 bids from the fourth-ranked BYU men's team — tied for the second-most in the field — and nine from the No. 14 BYU women, the Cougars have hopes for a top-10 finish at the national meet from both teams after the women placed 10th a year ago.
"If we can score 20 points or more, then we're going to have a top-10 performance," said BYU director of track and field Ed Eyestone, who works primarily with the men's team and distance runners. "If we can be in the 30-point area, that's top 4-6, and I think our women have been conditioned to score in the 20-30 point range."
The women's team will be led by Courtney Wayment and Ashton Riner, ranked No. 1 in the 3,000-meter steeplechase and javelin, respectively, as well as 800-meter specialist Claire Seymour, who placed second at nationals last year.
On the men's side, No. 2-ranked pole vaulter Zach McWhorter leads a deep cast that also includes fourth-ranked steeplechaser Kenneth Rooks and dual-distance star Casey Clinger.
But to compete for a team title — or even a top-10 finish — requires not just depth, but breadth.
To do that, the Cougars need to score points in as wide an array of events as possible, which leaves Fernandez in an all-important position as a rare mid-distance runner to qualify for nationals.
"Sebastian is certainly somebody who we are excited about," Eyestone said, "and as we move towards Big 12 competition, it's going to be important that we have well-diversified events, and particularly strong in the middle distance events."
Fernandez's rise in the sport — and an event that is one of the most feared in track and field, a two-lap jaunt around a track at a sprinter's pace with distance mechanics — has been nothing less than meteoric.
The 5-foot-11 soccer player broke the program record at Anoka High in the 4x800-meter relay during his first year of high school track in 2019, and went on to register all-conference and Minnesota all-state honors in the event that same year. After resisting at first, the former 400-meter athlete's path "down the dark side" was set.
That brought him to BYU, where the son of Argentine immigrants enrolled as a student in chemical engineering and tried out for a walk-on spot on the track and field team. In his first semester, he got positive feedback from Eyestone and several teammates — before being cut from the competition roster.
That could've been it, the end of a dream, with Fernandez going to school, enjoying intramural soccer, and being a regular college student. But it wasn't.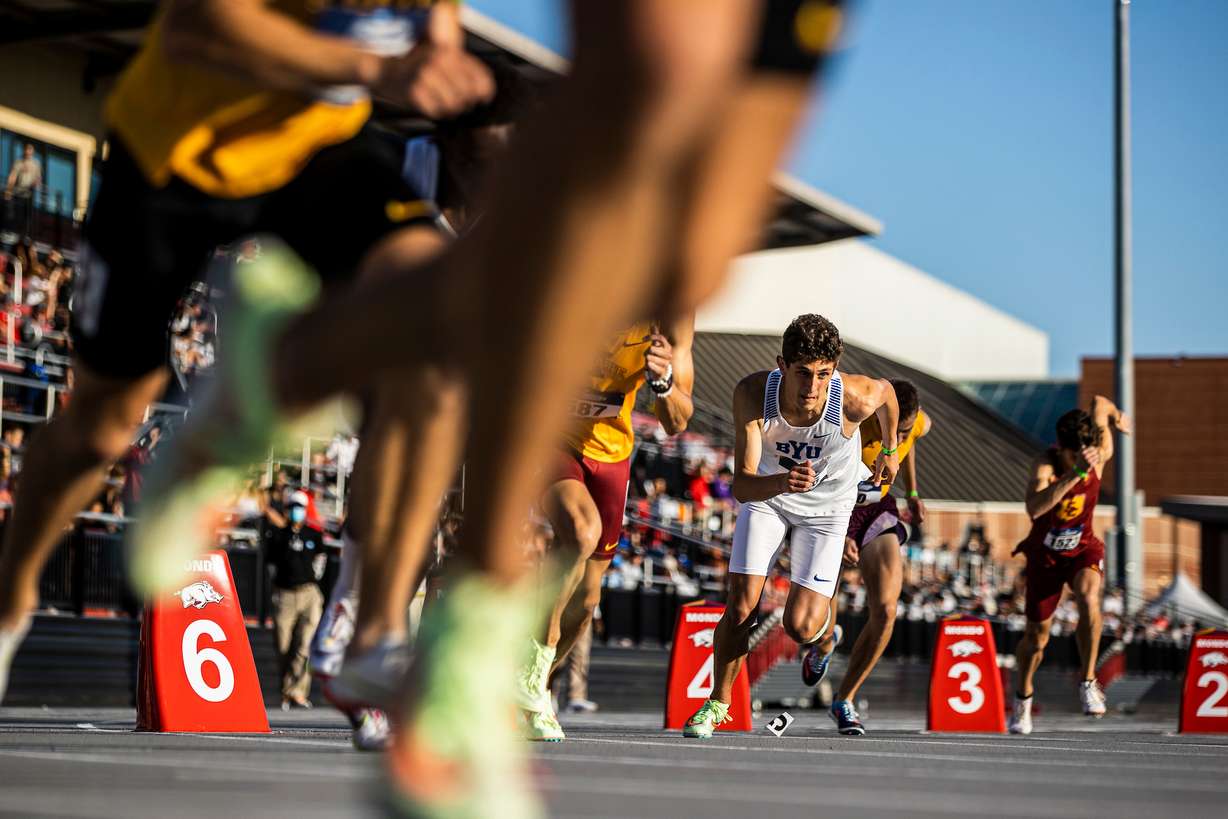 Thanks to the farm team, where he trained and improved for a season until earning his shot this spring.
"I think that's a very influential part of the story," he said. "Having teammates to work out with is a lot better than just working out on your own. I just went into it and tried to see what I could do. It wasn't enough then, but when I came back for this year, I gave it even more, and here I am.
"Having that experience of failure helped me realize that nothing is going to be given to me," he added. "I have to work hard to earn everything."
Known as one of the top track and field programs in the west, BYU often scores the bulk of its points at national meets through distance and some field events. But having a weapon like Fernandez — in the same vein as one like Walker six years ago — is a game-changer for Eyestone and the Cougars.
"We've tried to build other areas, diversifying our program, and I'm proud of the fact that all six of our full-time coaches have at least one athlete at the national meet," Eyestone said. "That just tells you that each category is strong."
After making the team this spring, Fernandez burst onto the scene during the Cougars' home finale. The gangly middle distance runner cruised to a final time of 1 minute, 47.03 seconds on his home Robison Track and Field Complex, beating a facility record that had stood since former Virginia athlete Paul Ereng set it in 1989.
Fernandez's mark that day ranks fifth all-time in BYU history, just ahead of Mao Tjiorze's time in 2001 and three seconds shy of the 1:44.99 that Walker ran in 2016 just a few weeks before he turned pro with one year of collegiate eligibility remaining. In all, he's dropped six seconds off his personal-best 800 in a season that — for eligibility purposes — started about a month ago.
"Nationals wasn't even on my radar until two or three weeks ago; I hadn't broken 1:50 yet," he said before recounting his sensational home-finale performance. "It was a good pace, and I would say an almost perfect race. That was kind of unexpected, but I went in knowing that I was fast and had to show what we have been doing all season."
Next up: the unexpected athlete meets the nation's best in Eugene.
×
Photos
Related stories
Most recent BYU Cougars stories