Estimated read time: Less than a minute
VIRGIN, Washington County — Two people died Sunday when a tour bus and SUV collided in Virgin, Washington County.
The SUV was southbound on Kolob Terrace Road around 4:45 p.m. when it came to the intersection with state Route 9. The SUV stopped at a stop sign before pulling out into the intersection in front of a westbound tour bus, according to a police press release.
"The tour bus driver was unable to avoid the SUV and the front of the tour bus struck the driver side of the SUV in a 'T-bone' type collision," the release said.
Four people were in the SUV. The front two passengers, a man and woman, were killed in the crash. A juvenile girl was ejected from the vehicle and taken to the hospital by ambulance, and a juvenile boy was taken to the hospital by life flight. Police say the family appeared to be on vacation from outside Utah.
Some on the tour bus had minor injuries, and police say the bus driver and other occupants are cooperating with the investigation.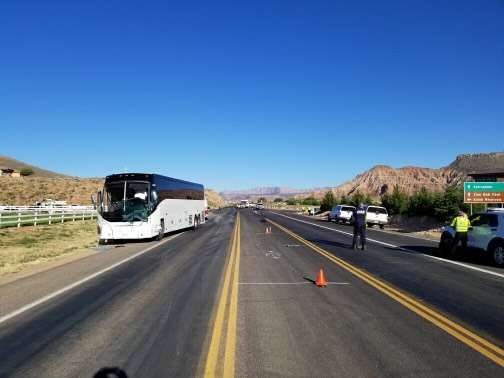 ×
Most recent Southern Utah stories