Estimated read time: 8-9 minutes
HERRIMAN — Robbie Abel took a look around Zions Bank Stadium during his final week of practice with the Utah Warriors before wrapping up the 2022 Major League Rugby season and smiled.
After six months in the league, in the team, and with the state, the forwards coach could only reflect on what his time with the fifth-year franchise has meant to the club. He hoped it would be for the better, even if the past year has been another but easy in his mind.
The Warriors wrapped up one of the more challenging seasons in the club's five-year history Saturday, a 5-11 campaign filled with lengthy losing skids and some surprise moments like a 22-8 win over an Austin, which led the league at the time before eventually being disqualified from the postseason due to a violation of league rules.
Hopefully, he says, Abel has left the Warriors in a better place than he found them — even through a midseason coaching change that saw the departure of reigning MLR Coach of the Year Shawn Pittman and a lineup reshuffle that included the return of former BYU standout Paul Lasike from England's Harlequins, among others.
"Leave the jersey a little better than when we found it; I feel like we've done that," Abel told KSL.com prior to the club's 33-5 road win over the expansion Dallas Jackals in Saturday's season finale. "It feels like we're in a really good spot right now, and in a good place to carry that on for years to come. And that was a goal: to get to the end of the season with something we are proud of, with something that this whole organization can be proud of, regardless of who is coaching or who is playing."
Abel doesn't know when he'll return to Utah; the Australian native and New Zealand hook is still under contract back home with Auckland Rugby Union, where he will play for at least one more season in New Zealand's National Provincial League.
After that, it's anybody's guess. Abel will turn 33 in July, and even if he doesn't know exactly how much time he has left in the game — it could be one more year, it could be five, depending on how this upcoming season treats him — he's confident that the playing days behind him are greater than the ones in front.
Which is why his time in Utah was so important to him.
"It's an opportunity for me to kind of see what it's like coaching, and being involved on this end," he said, before adding: "I've loved it so far.
"I've loved it, loved being in Utah. The people have been amazing, the fans are amazing, and it's just been a great experience for me and my family to be here."
'Light the World'
Abel was a rising star in the Austral "A'' School ranks when as he began his journey to professional rugby. Coming from a rugby-mad family, the future Maori All Black international started his career at St. Edmund's College in Canberra in 2006 before enrolling in the Brumbies Academy from 2007 until 2010, with a brief stint at Northland in 2009.
But as the budding standout's career began to take shape, a new priority also rose in his life: the desire to serve a two-year mission for The Church of Jesus Christ of Latter-day Saints.
Coaches, players and even more incredulous news media back home couldn't understand it; why would Abel set aside rugby — the national sport of New Zealand — for 24 months to knock on doors, set up appointments, and preach scripture? Couldn't Abel be a shining light for his faith in the pro ranks, any ways?
But for Abel, it did't feel like a sacrifice. He knew what he had to do.
"At the time, I didn't feel like I was giving up anything to serve a mission," said Abel, who served as a full-time missionary in Western Australia. "Now looking back, I understand that it was quite a bit; it took me a while to come back and be ready to perform at a professional level. It was a hard road trying to get back.
"But I knew, like other athletes who went on missions, that it was the place for me. I was totally content with where it would take me — whether that was rugby or not. Everything I gained from going on a mission, it really did shape my life."
Other professional athletes followed a similar path as Abel, including another rising rugby standout in Australia native and Tongan international Will Hopoate, who served just a few years later in 2012-13. Still other pros have opted to start their careers early, and have helped shine a light on the church that way.
For Abel, perhaps the most important example he could've set was to his younger brothers Charlie and Jake, who followed him in professional rugby. Just a few years after Abel's mission, Charlie Abel — who currently plays in MLR for the LA Giltinis — opted to hit pause on his career for two years, as well.
"Maybe it helped him, and some of my cousins," said Robbie Abel, a bit sheepishly, "but I also had great examples, greater leaders, great parents growing up … and for me, it never felt impossible.
"If anything, going made feel like more was possible out of my life."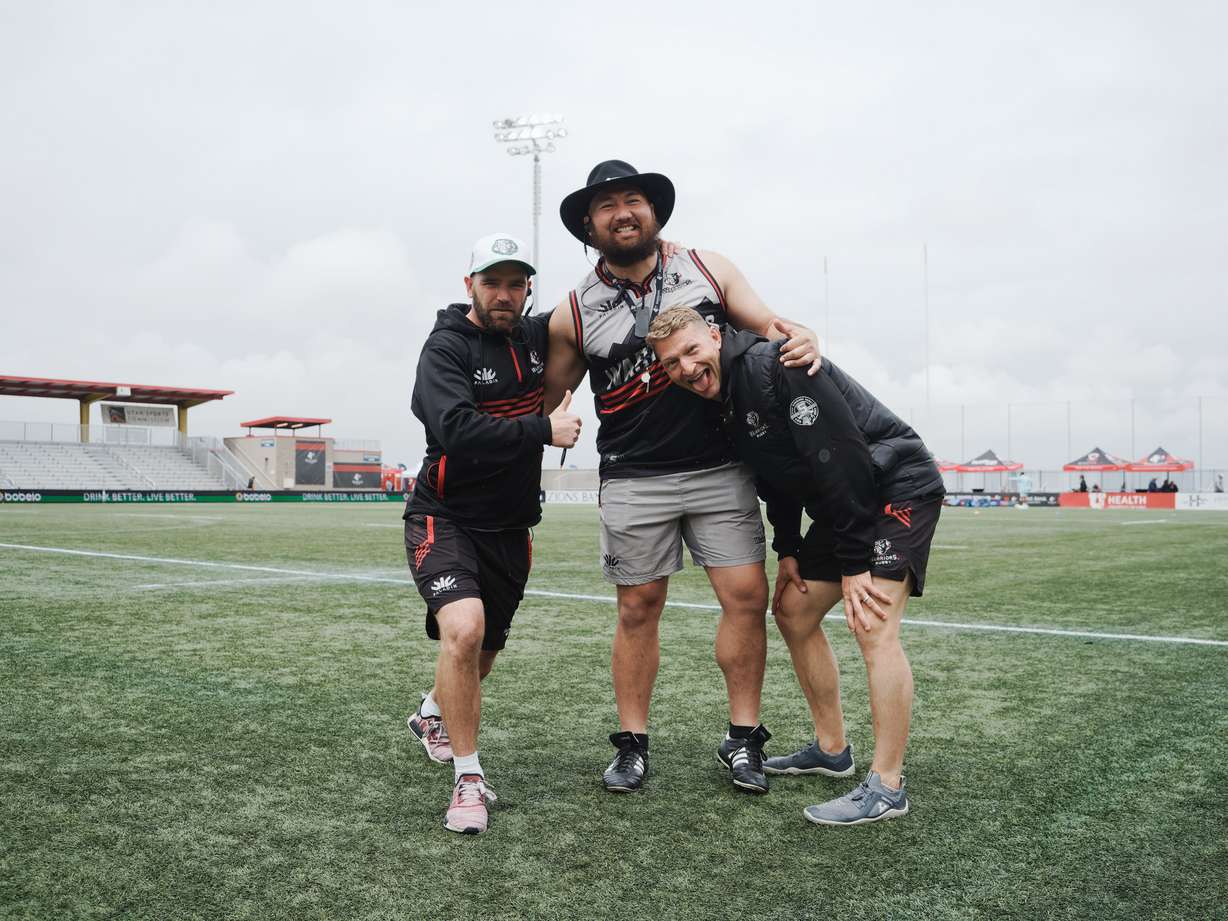 'Shoulder to the Wheel'
Abel returned from missionary service in 2012, but he admits it took him nearly two years to get back into full conditioning. He returned to Brumbies in 2013 after a year and 17 appearances with Northland's B team, and also represented Perth, Canberra and Auckland.
In 2014, Abel earned his first callup to Super Rugby Pacific, which features top teams in Australia, New Zealand, Fiji and the Pacific islands, by signing with Perth-based Force Rugby. He stayed in the competition until 2020, moving from Force to Brumbies to Rebels and finally Waratahs in New South Wales.
But he always knew his playing career had an expiration date, and mortality comes for every man. So when he started inquiring on the next chapter, Abel's eyes turned to the startup Major League Rugby in the United States — and a founding franchise at the base of the Wasatch Mountains, a community that means plenty to his faith.
In many ways, his rugby accolades speak for themselves; why wouldn't the Warriors want that experience on their staff, alongside backs coach and former BYU standout Shawn Davies?
Abel hasn't even changed much in his brief "internship" in coaching.
"He's such a nice guy that I think he just naturally pulls the boys together. He's a good gauge, a good uncle, and everything else," said Zion Going, the Warriors' 20-year-old scrum half and a nephew of Abel from his mother's side. "He's easy to talk to. But when it's time to be serious, he knows how to be serious, too."
But when Abel contacted Warriors CEO Kimball Kjar about an opportunity, one of the first things he mentioned wasn't just the chance to coach rugby — but to bring his three children and baby brother to Utah for a few months while he put his whole heart into coaching.
"To be honestly, I've had my own struggles spiritually — and for me, coming here has been more than just rugby," he said. "It's been an opportunity to tap into that part of my life that means so much to me. It's been really good to me, to my kids, and to my little brother who came here with me."
With his wife Taila staying back home for work-related reasons, Abel spent his working hours trying to make the Warriors' forwards better — and then took his children to a dozen Latter-day Saint temples in the Salt Lake Valley and surrounding areas.
It's been so cool to be here," said Abel, who credits his wife for making allowing the children to move to the States with dad. "It's been such a good experience for us."
'Til we meet again'
Abel doesn't know how much longer he has left in his playing days; again, it could be a year, it could be longer. Those kinds of things change quickly in professional sports.
But when he does finally hang up the boots on the old knothole for the last time, he would love to make a return trip to Utah — and formally start his coaching career with a Warriors franchise that has embraced him and his family.
"I'd love to come back," he said. "I thoroughly enjoyed being with the players, the fans, the staff here. I'd love to come back. I feel like we started something special here, and I'd love to see that through."
×
Photos
Most recent Utah Warriors stories