Estimated read time: 5-6 minutes
PROVO — Jackson Egbert was smiling wide, and not just because of the gold medal around his neck after winning the 300-meter hurdles on the final day of the 5A state track and field meet.
His smile, instead, wafted over to the gold draped around the neck of the person next to him as they posed for photos atop the podium: his younger sister Abby.
Jackson Egbert held on for a win in 37.88 seconds, and freshman Abby Egbert added her own first-place finish in 44.25 seconds Saturday at the Robison Track and Field Complex at BYU.
"It's crazy," Jackson Egbert said. "We're going to have some good laughs over this at dinner tonight. My little sister is awesome; I'm so happy for her.
"This is the first sport we've been able to play together, which is cool. And she's going to be better than me; I'll tell you that. She's going to kill it."
Added Abby: "It feels awesome. I can't even — It just feels great."
Jackson, who will next serve a two-year mission for The Church of Jesus Christ of Latter-day Saints in Brazil after high school, held off teammate Logan Jensen for his first state title.
"He was in my head," Jackson Egbert said of Jensen. "I just had to finish the race."
Truthfully, the brother-sister duo have a lot in common. They train together every day in the hurdles, which Jackson has loved as a senior and Abby has appreciated as a freshman.
"I've loved it," Abby said. "He pushes me to work hard, and if I lay down in a workout or try to leave early, he'll tell me to get up, to keep going.
"I'm so glad I could run with it, because I won't be able to in high school again."
Orem's boys won the team title with 168 points, finishing the first day with a big lead and rolling to the Tigers' second-straight title over second-place Lehi (152.5). Box Elder (111.5), Mountain View (95) and Timpview (70) rounded out the top five.
In the 5A girls meet, Sarena Mackley won the 100-meter hurdles in 14.98 seconds, and Box Elder took a nearly 30-point lead at the start of the second day and never looked back en route to 79.5 points and the Bees' second title in five seasons. Timpanogos (58), Lehi (52), Mountain View (42) and Timpview (40) rounded out the top five.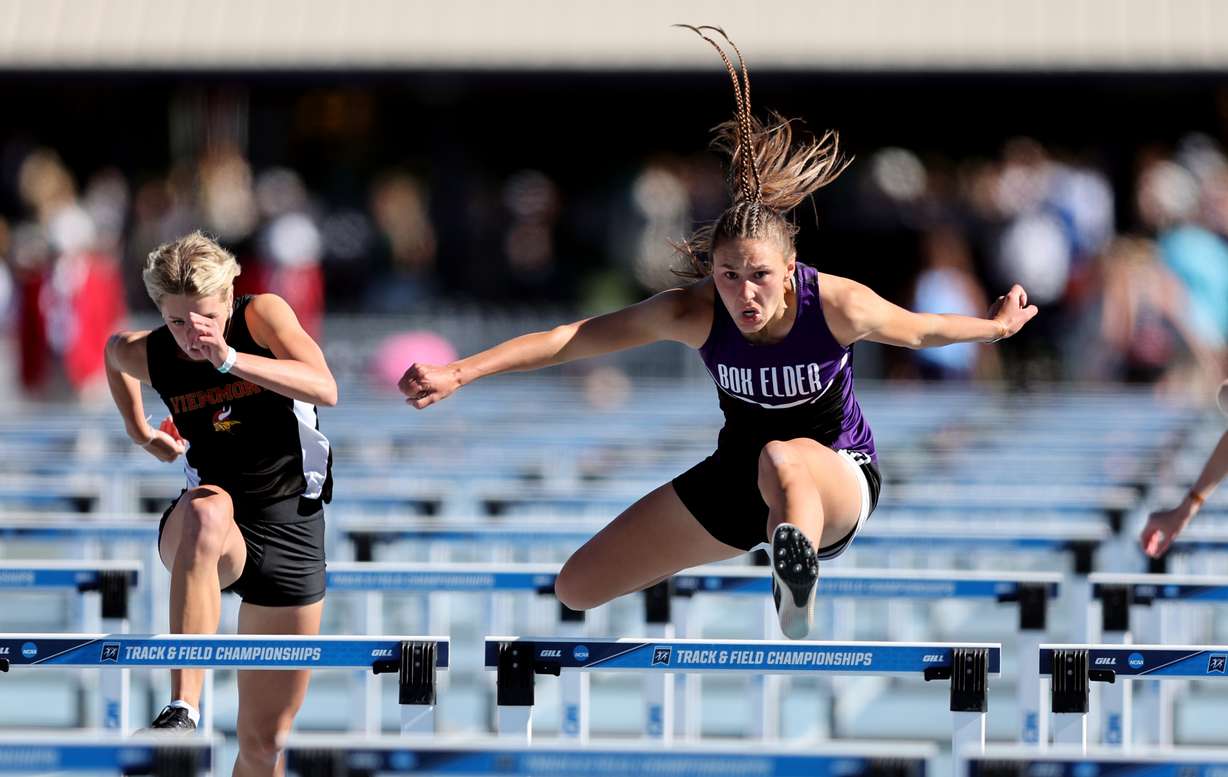 Class 5A state track and field meet
5A boys
Team scores
Orem, 133
Lehi, 1005.
Mountain View, 53
Maple Mountain, 44
Stansbury, 36
Park City, 35
Box Elder, 32
Timpview, 30
East, 23
Olympus, 22
Springville, 21.5
Woods Cross, 21
Alta, 20
Brighton, 16
Spanish Fork, 15
Provo, 12
Bountiful, 10
Northridge, 10
Salem Hills, Murray, 9
Uintah, 5
Skyline, Wasatch, 3
1600m timed finals
Jefferson McMullin, Lehi, 4:15.06
Tayson Echohawk, Orem, 4:15.25
Isaac Hedengren, Timpview, 4:16.07
Liam Heninger, Mountain View, 4:18.72
Logan Garnica, Springville, 4:19.94
JoJo Jourdon, Olympus, 4:20.78
Sam Hansen, Woods Cross, 4:21.09
Jackson Stone, Mountain View, 4:21.14
110m hurdles final
Benjamin Johansen, Lehi, 14.76
Logan Jensen, Orem, 14.82
Ellijah Earl, Lehi, 14.93
Zane Wong, Brighton, 15.01
Joey Trageser, Spanish Fork, 15.24
Jackson Egbert, Orem, 15.32
Cole Mortensen, Box Elder, 15.34
Mikolas Kafentzis, Alta, 15.38
100m final
Kevin Doe, East, 10.91
Benjamina Douglas, Stansbury, 10.97
Peyton Wolvington, Brighton, 11.03
Amari Adams, Murray, 11.07
Jaxson Denton, Maple Mountain, 11.15
Noah Flores, Alta, 11.20
Carson Baynes, Park City, 11.26
Peter Meuzelaar, Wasatch, 11.28
400m final
Caleb White, Woods Cross, 48.98
Banks Jackson, Maple Mountain, 49.65
Cade Olsen, Spanish Fork, 49.97
Isaac Woolford, Maple Mountain, 50.37
Haven Halladay, Timpview, 50.45
AJ Mendizabal, Alta, 50.65
Hunter Petty, Mountain View, 50.96
Christian Ure, Bountiful, 50.98
300m hurdles final
Jackson Egbert, Orem, 37.88
Logan Jensen, Orem, 38.21
Cole Mortensen, Box Elder, 39.29
Elijah Earl, Lehi, 39.33
Joey Trageser, Spanish Fork, 39.69
Nikolas Kafentzis, Alta, 39.77
Zach Mattson, Timpview, 40.04
Sam Sebring, Bountiful, 40.59
800m final
Jefferson McMullin, Lehi, 1:55.06
Tayson Echohawk, Orem, 1:55.35
William Spencer, Olympus, 1:56.04
Toby Knudsen, Mountain View, 1:56.39
Issac Sohler, Mountain View, 1:56.44
Isaac Hedengren, Timpview, 1:57.01
Beckham Clements, Skyline, 1:57.05
Isaac Woolford, Maple Mountain, 1:57.08
200m final
Kevin Doe, East, 21.74
Benjamin Douglas, Stansbury, 22.07
Carson Baynes, Park City, 22.18
Peyton Wolvington, Brighton, 22.26
Amari Adams, Murray, 22.26
Jaxson Denton, Maple Mountain, 22.51
Jackson Egbert, Orem, 22.58
Jared Howard, Mountain View, 22.62
4x100m relay timed finals
Park City, 42.52
Mountain View, 42.86
Stansbury, 42.91
Alta, 42.92
Lehi, 43.09
Box Elder, 43.23
Orem, 43.57
Provo, 43.65
4x400m relay timed finals
Lehi, 3:21.33
Orem, 3:22.85
Timpview, 3:25.83
Woods Cross, 3:26.41
Maple Mountain, 3:28.27
Mountain View, 3:28.53
Olympus, 3:29.82
Spanish Fork, 3:30.05
Discus
Teague Andersen, Lehi, 183-04.75
Jesse Helton, Park City, 174-03.25
Mark Bryant, Orem, 170-08
Erik Bryant, Orem, 159-11
Fisher Stokes, Maple Mountain, 158-03.50
Chad Pendleton, Maple Mountain, 142-07
Jacob Asay, Northridge, 139-06
Brock Bissegger, Box Elder, 136-11.25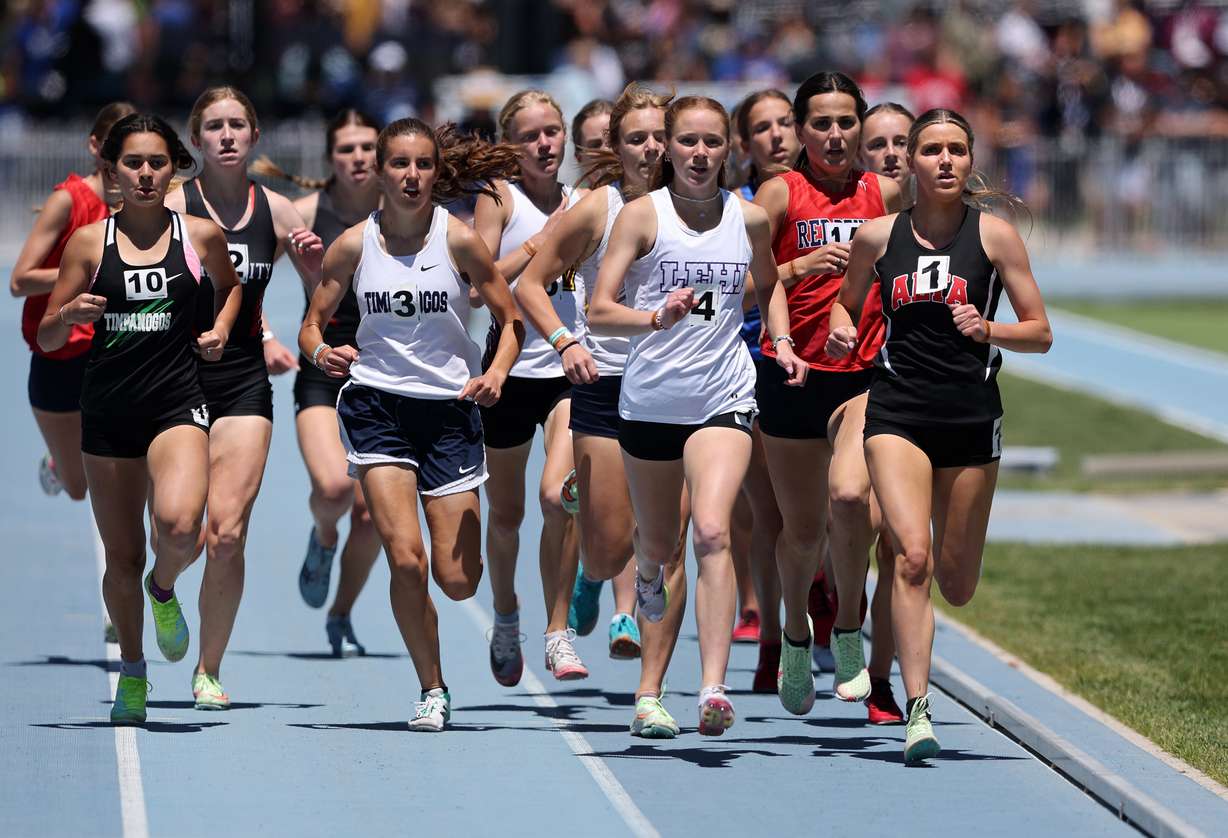 5A girls meet
Team scores
Box Elder, 79.5
Timpanogos, 58
Lehi, 52
Mountain View, 42
Timpview, 40
Skyline, 39
Spanish Fork, 37
Orem, 35
Wasatch, 30
Springville, 29
Park City, 27
Northridge, 22
Maple Mountain, 21
Alta, 20
Salem Hills, 17
Uintah, 16.5
Viewmont, Jordan, 16
East, 15
Stansbury, 10
Olympus, 9
Brighton, Bonneville, 8
Cedar Valley, 7
Provo, Highland, 4
Bountiful, 1
1600m timed finals
Jane Hedengren, Timpview, 4:50.91
Julie Moore, Mountain View, 4:57.82
Mari Konold, Mountain View, 4:59.55
Caroline Moon, Lehi, 5r:02.57
Emily Sumsion, Springville, 5:02.84
Lia Sealander, Brighton, 5:03.05
Tobin Hutchings, Timpanogos, 5:03.87
Lydia Templeman, Springville, 5:05.06
100m hurdles final
Sarena Mackley, Box Elder, 14.98
Sarah Spangenberg, Viewmont, 15.14
Olivia Taylor, Salem Hills, 15.44
Shelby Johnson, Box Elder, 15.62
Sydney Watson, Springville, 15.69
Emily Gwilliam, Spanish Fork, 15.93
Kirsten Oldham, Jordan, 16.13
Gracyn Cook, Spanish Fork, 16.26
100m final
Sarah Ballard, Lehi, 11.86
Madi Durrant, Wasatch, 12.21
Ellie Hadfield, Maple Mountain, 12.36
Natalie Hadlock, Cedar Valley, 12.59
Lily Boyden, Skyline, 12.64
Katie Hutchings, Timpview, 12.68
Morgan Carter, Park City, 12.69
Kate Fallon, Spanish Fork, 12.78
400m final
Madi Durrant, Wasatch, 55.33
Elyse Jessen, Alta, 56.16
Brooklyn Sturdivant, Orem, 57.22
Bria Anderson, Timpanogos, 57.58
Kylie Hadfield, Box Elder, 57.67
Millie Wilcox, Olympus, 58.00
Lily Boyden, Skyline, 58.12
Charolette Wilkinson, Northridge, 58.92
300m hurdles final
Abby Egbert, Orem, 44.25
Sydney Watson, Springville, 44.42
Emily Gwilliam, Spanish Fork, 45.65
Udochi Okoro, Skyline, 45.89
Sarah Spangenberg, Viewmont, 46.13
Sarena Mackley, Box Elder, 46.97
Ellie Christensen, Park City, 47.07
Raygan Peterson, Timpanogos, 47.13
800m final
Elyse Jessen, Alta, 2:14.84
Caroline Moon, Lehi, 2:16.66
Julie Moore, Mountain View, 2:17.18
Tobin Hutchings, Timpanogos, 2:17.21
Kaylee Hale, Park City, 2:18.11
Lily Boyden, Skyline, 2:19.20
Kate giles, Wasatch, 2:19.91
Lydia Templeman, Springville, 2:20.12
200m final
Sarah Ballard, Lehi, 24.19
Madi Durrant, Wasatch, 25.08
Lily Boyden, Skyline, 25.28
Ellie Hadfield, Maple Mountain, 25.39
Brooklyn Sturdivant, Orem, 25.43
Summer Christensen, Timpanogos, 25.61
Elyse Jessen, Alta, 25.63
Katie, Hutchings, Timpview, 25.72
4x100m relay timed finals
Spanish Fork, 48.00
Timpanogos, 49.26
Timpview, 49.42
East, 49.43
Stansbury, 49.69
Park City, 49.81
Cedar Valley, 50.20
Brighton, 50.69
4x400m relay timed finals
Timpanogos, 3:55.66
Park City, 3:56.06
Lehi, 3:56.75
Orem, 3:57.40
Box Elder, 4:01.70
Olympus, 4:02.70
Timpview, 4:04.52
Skyline, 4:04.56
Javelin
Brekell Gammell, Salem Hills, 137-01.75
Ashlyn reeder, Box Elder, 129-01.50
Hallie Reeder, Box Elder, 127-06.25
Keira Braegger, Box Elder, 120-03.25
Alana King, Timpanogos, 111-02.75
Tobin Hutchings, Timpanogos, 109-06.50
Paige Berg, Wasatch, 109-06.25
Madison Reeder, Box Elder, 105-07.25
Long jump
Kate Tueller, Northridge, 17-09.75
Elle Jacobson, Jordan, 17-07.50
Kirsten Oldham, Jordan, 17-05.50
Sarena Mackley, Box Elder, 17-04.75
Kora Cook, Uintah, 17-02.25
Sarah Spangenberg, Viewmont, 17-00.75
Lucie Prettyman, East, 16-10.25
Gracee Alders, Stansbury, 16-06.00
×
Photos
Related stories
Most recent High School Sports stories