Estimated read time: 10-11 minutes
PROVO — To some, it's the golden era. To others, it's ongoing and a culminating momentum of something that began a long time ago.
But no matter how it's viewed, one thing is indisputably true: One of the distance running capitals of America is the state of Utah.
Starting Thursday and going through Saturday, this running prowess will be on full display as high school runners compete in the UHSAA State Championships at Clarence F. Robinson Track at BYU.
The distance races — specifically the 3200-meter race on Thursday morning and the 1600-meter race on Saturday morning — are expected to represent what American Fork head coach Timo Mostert describes as a "standard of excellence" of distance running that's swept across the state in recent years.
These state races have become must-watch showdowns. The moment's where future stars of the distance running world have chances to make a name for themselves on high school's biggest stage in Utah.
Like on May 20, 2017, when five of the top 20 high school distance runners nationally competed in the 4A or 5A state 3200-meter race. In the 5A race, future NCAA All-American Casey Clinger ran a 55-second final lap in the final 400 meters to come from behind and edge out future sub-four minute miler, Weber's Talon Hull, 8:57.90 to 8:57.95.
Or on May 17, 2018, Lehi's Ryan Raff, a future national champion at Northern Arizona, vyed for Connor Mantz's 3200-meter 4A state record of 8.55.94. With no competition to push him, Raff was willed on by cheers from the packed state championships crowd and managed to run an 8:54.09 time.
These types of performances from Utah high school runners — several of whom are current collegiate and professional runners — have become commonplace in recent years.
Weber State head coach Corbin Talley, who was the head coach at Davis High for 15 years before jumping to the Division I level, has witnessed it first hand.
"I would say until 2010 that competition was fine, but it wasn't anything like the next five, six years. My last five or six years at Davis, it just took off," Talley said. "Just this huge jump in Utah that has really maintained almost every year. You can look at the charts and the rankings and how many guys are running a mile under 4:20 and the two mile under 9:20, too. It's ridiculous. It is insane how many fast guys are going."
"Per capita, it is the best distance state in the U.S," Mostert added.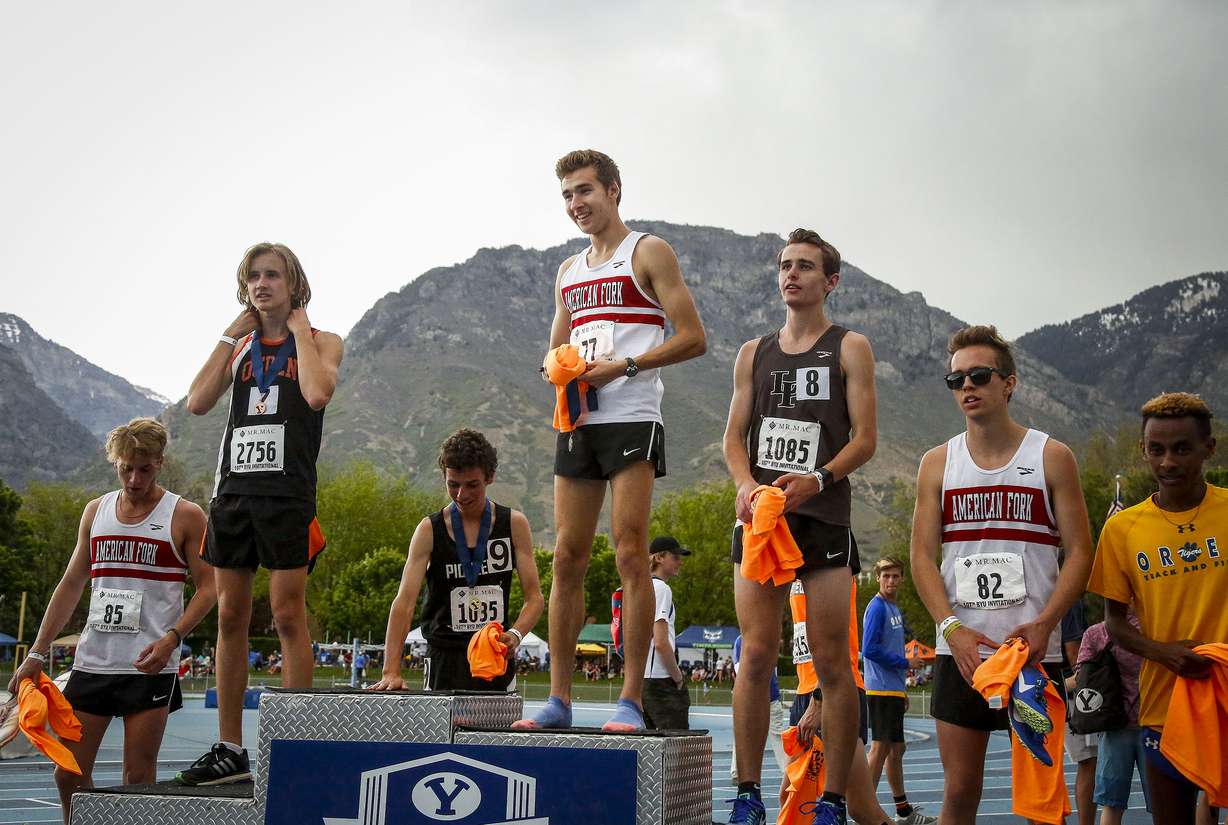 The 2022 state championships boast five different runners who have broken 9:10 in the 3200-meter race at altitude, and 27 runners have run a sub 4:20 in the 1600-meter run at altitude. In the Dye Stat national XC rankings in the fall of 2021, five Utah teams were in the top 20 — more than any other state.
But if past seasons are any indication, this year's state championships won't just be a chance to watch the top high school talent go toe to toe for Beehive State supremacy. It may also be a sneak peek at which distance runners will be dominating the NCAA races in the coming years.
Take the 2017 3200-meter race, for example, when 69 individuals competed across the 3A, 4A and 5A races. Five years later, 35, or 50.7%, of those runners are currently on a Division I cross country and track and field roster.
Fourteen of those athletes have earned all-conference honors in their respective conferences; three have broken the four-minute mile — Olympus alum Nate Osterstock (SUU), Hull (Washington) and Clinger (BYU); three have been either NCAA XC or track All-Americans — Hull, Clinger and Springville alum Caleb Garnica (Utah State); and two have been varsity members of XC national championship teams — Garnica's brother Brandon (BYU), and Raff.
Other Utah natives outside the 2017 class have excelled as well: Sky View graduate Connor Mantz (BYU) — the 2015 4A 3200-meter state champion — won the NCAA men's individual XC title in both 2020 and 2021.
"I think Utah's, arguably, the best or one of the best states for cross country and track in the country, but I don't think anybody else thinks that," Raff said. "So to see Casey and Talon and Connor and all these guys do so well, it kind of just reaffirms that people who come out of Utah can run really well."
Some Utahn natives, such as Raff and Hull, have left the state and are having successful careers elsewhere; the majority, however, have stayed home, which has directly translated into success for several Utah Division I programs, as a whole.
The BYU men's team won the XC national championships in 2019. In the 2020 season, which occurred in the winter of 2021 due to COVID-19, three men's programs in the state finished top 15 at the NCAA national championships — BYU (7), Southern Utah (9) and Utah State (11).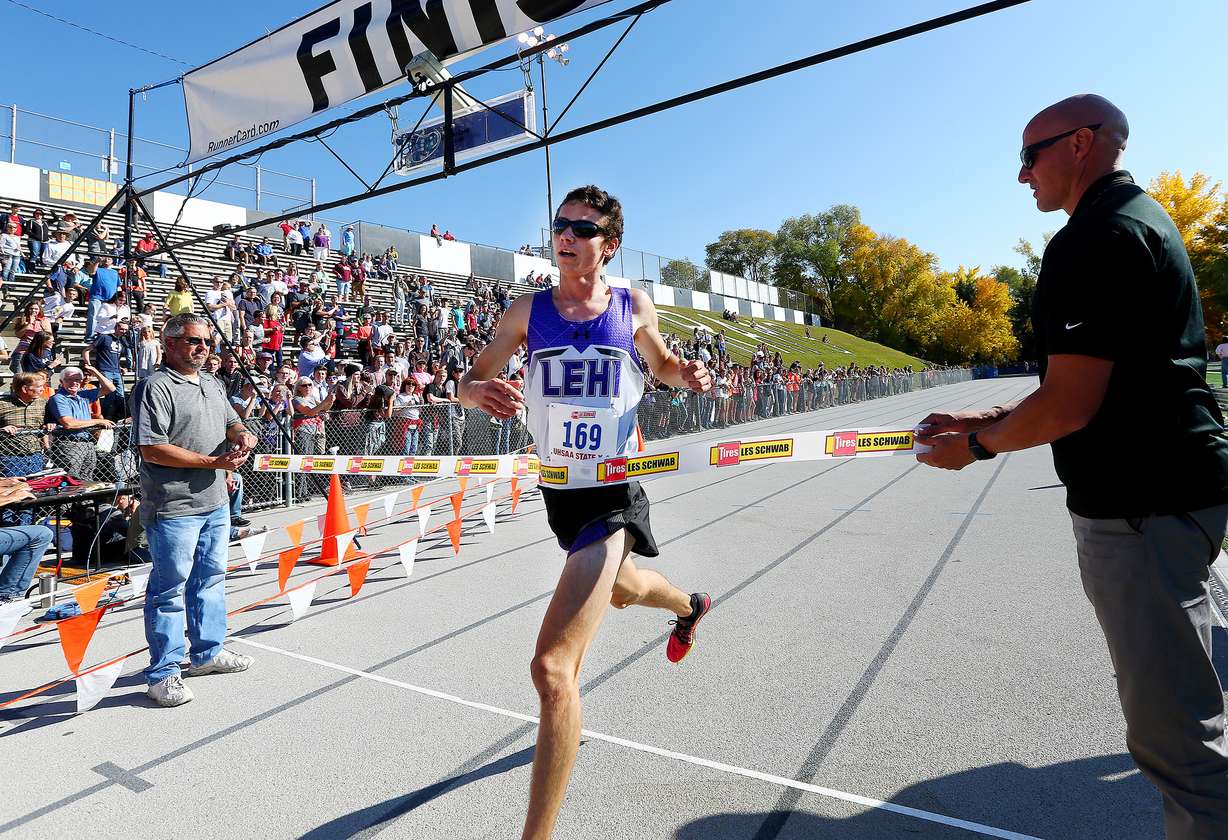 In the fall 2021 season, BYU and SUU's men's programs finished nationally ranked, while Utah State and Weber State made appearances in the ranking throughout the season. The BYU women's team won the national championship for the 2020 season. BYU, Utah and Utah State all finished nationally ranked on the women's side in 2021.
"So it's a continuation of the high school quest for excellence at the next level," Mostert said. "And it's not just BYU. It's Weber State, Utah State, it's SUU, it's at UVU. We have some good coaches at the collegiate level who understand what they're going through in high school, what they've accomplished."
This much success from student-athletes and collegiate programs in a state of just 3 million people may seem improbable, but according to those who have been involved with the sport's rise, it makes sense.
It's the fruits of several years of trial and error to find the optimal coaching techniques; and it's the result of having an increasingly competitive culture that has built upon itself.
Mostert, who is considered by some to be sort of a Godfather to high school distance running in Utah, has played a direct role in the state's emergence onto the national scene.
He began coaching at Murray High in 1988 and came to American Fork in 1998. He's won nine state titles and has coached several athletes who have gone on to be All-Americans and national champions, such as Clayson Shumway and Connor McMillan.
Mostert's first state title, however, didn't come until 2009. He had several great teams, sure, but couldn't breakthrough, so he adjusted his training.
"I'd fallen in the trap of a lot of hard, short, fast stuff that was popular in the 80's and 90's," Mostert said. "And when I started going away from that and concentrating on building the aerobic engine, that's when we started having success and getting much, much faster."
American Fork finally won state in cross country in 2009; they didn't lose the 5A title until 2016 when Talley and Davis High edged them out. Consistent with American Fork's rise was Utah's distance running revolution.
About 15 years ago, if a school's top five runners averaged 16:20 in the cross country three-mile championships, that team could win state. Now, the average time required to win, according to Mostert, is in the 15:30 to 15:40 range.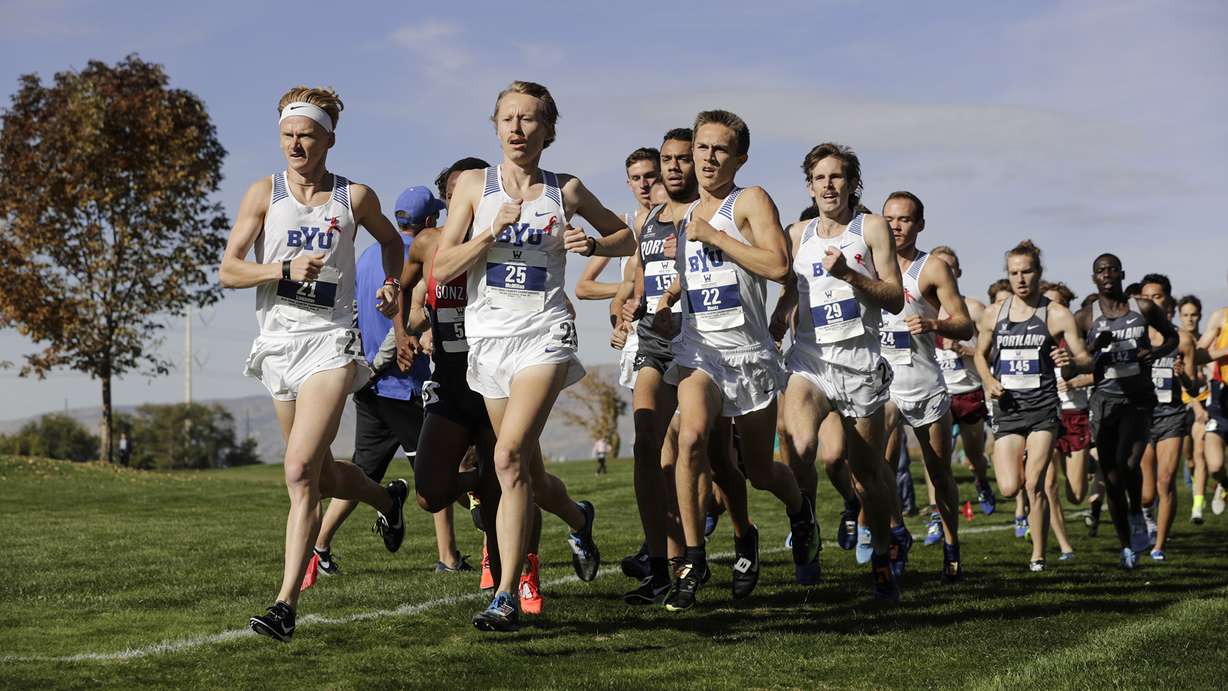 This is directly correlated to the increased emphasis on aerobic-based training. Mostert was one of the first Utah prep coaches to go all-in on it, and now it's adopted by every high school and college coach that wants to be competitive — less speed training, less racing; more "long slow distance" and higher mileage.
"I think a lot of coaches in the state get along and they discuss amongst each other good training, what good training looks like and they're willing to share how they're training their athletes," Mostert said. "And that's helped boost up the entire state, especially at a national level."
"We just say we want our guys to be aerobic animals, right? So we're just trying to get as efficient as we possibly can and producing and using our oxygen," Talley said. "That's our whole goal — was all year long."
Utah's geographic location is optimal for this training. Being able to run upwards of 50-70 miles a week in high school and 80-100 miles in college at high altitude expands the VO2 max of an athlete, or maximal oxygen consumption, which increases the runner's aerobic capacity. Another benefit, according to Talley, is the ability to run on mountain trails, which reduces the wear and tear on legs that often comes from doing the required high mileage on pavement.
Several high school runners have embraced the training, which has improved the time and increased the competitiveness statewide. In return, the competitiveness has forced more coaches and students to prescribe to aerobic training. The all-time level of competitiveness has pushed Utah schools onto the national scene.
In 2016, American Fork and Davis finished second and fourth at the Nike Cross Championships and Dye Stat national rankings. But on their heels were Springville (15), Timpanogos (16) and Olympus (21).
"I want to say to that, on the high school level that definitely American Fork, but also those years that I was at Davis, like the two of our teams, really pushed the national rankings and pushed that level," Talley said. "I think some other coaches saw what could be done. And now they're putting together teams that are trying to do the same thing."
That was Raff's experience at Lehi, where much of his high school motivation was on chasing down American Fork's three top runners.
"We kind of idolized those guys: Patrick Parker, Casey, McKay Johns," Raff said. "Like they were the top three. They were it. They were who you wanted to be. That was who everybody wanted to be. They were almost untouchable.
"It was really cool to be in a state where the best runners in the state were also some of the best runners in the country."
For Garnica, he and his Springville teammates were determined to dethrone American Fork, as well. In his junior year, the 2016-17 season, their efforts fell short; but in the process, they qualified for the Nike Cross Nationals Championship.
"This was like the highest you can go in high school running," Garnica said. "So we're like, we can't believe we're here. And then so after that season, it really opened our eyes and our world — we can be as competitive at the national level."
His senior season, Springville beat American Fork and finished fifth at the Nike Championships and in the Dye Stat final rankings.
Garnica has carried that same mentality to the college scene, where BYU has dominated the scene under coach Ed Eyestone. Now, Utah State, among other schools, is also relevant.
"I guess we were all sick of seeing BYU do good. And we were like, we could be good as well," Garnica said. "And this ball, it's rolling faster now."
And there are no signs of it slowing down.
On the high school circuit, more and more former Utah distance runners — who have first-hand experience of the current training and competition — are now becoming coaches. And with them, more schools are emerging.
The five Utah schools nationally ranked at the end of the 2021 XC season were Farmington (6), American Fork (11), Mountain View (13), Corner Canyon (16), and Riverton (19). Farmington's Chris Brower, Corner Canyon's Devin Moody and Riverton's Chase Englestead are all Utah natives who ran at UVU in the 21st century.
The scene is growing collegiately, too. Salt Lake Community College is starting a cross country team program this fall under former BYU assistant and alum Isaac Wood. The expectation is they can be a premier junior college squad from the get-go by harvesting in-state talent.
"I'm excited to see the new guys, the guys that are in high school right now what they're going to do in college and beyond," Raff said.
So are we amid the golden age of distance running in Utah? Maybe so, but it's only becoming more refined. And that refinement can be seen live this weekend at the state meet at the Clarance F. Robinson track.
Because another future NCAA champion just might run a sub 9-minute 3200-meter time at altitude.
×
Most recent High School stories