Estimated read time: 5-6 minutes
This archived news story is available only for your personal, non-commercial use. Information in the story may be outdated or superseded by additional information. Reading or replaying the story in its archived form does not constitute a republication of the story.
PROVO — After 21 years leading the program, BYU women's basketball coach Jeff Judkins is calling it a career.
The winningest coach in BYU basketball history — men's or women's — unexpectedly announced his retirement Thursday, calling the end of a career that finishes with a 456-204 overall record, a .691 winning percentage, and 10 NCAA Tournament appearances that include two Sweet 16 berths.
"I've loved my years here. The program is in a good place and it's a good time for me," said Judkins, the 2020 West Coast Conference coach of the year with five conference regular-season titles and four postseason tournament crowns. "I have so many great memories of BYU. I've loved the people, the players, the coaches and everyone here at BYU.
"We turned this program into a consistent winner that wins conference championships and goes to the tournament on a regular basis. We've had great players and historic wins but more importantly it has been the people and the relationships that I have loved and will remember the most. I've been lucky to be able to do something that I've loved so much for as long as I have."­
Judkins' latest coaching honor — which featured a bevy of stars including seniors Paisley Harding, Tegan Graham, Sara Hamson, rising sophomore star Shaylee Gonzales, and double-double machine Lauren Gustin — was his sixth conference coach of the year all-time spanning the Cougars' time in the Mountain West and West Coast conferences.
The former University of Utah standout was a second-round pick by the Boston Celtics in the 1978 NBA draft and played five seasons in the league with the Utah Jazz, Detroit Pistons and Portland Trail Blazers. He was also a member of the 1977 United States team that captured the gold medal at the World University Games.
Upon his retirement as a player and after a brief career as an executive with Safelite insurance, he went to work at his alma mater, joining the late legend Rick Majerus' staff in 1989. After a decade on the Hill, the former Highland High star made the move to BYU — and women's basketball — in 1999 and was promoted to head coach two years later following Trent Shippen's 72-49 run in four seasons at the helm.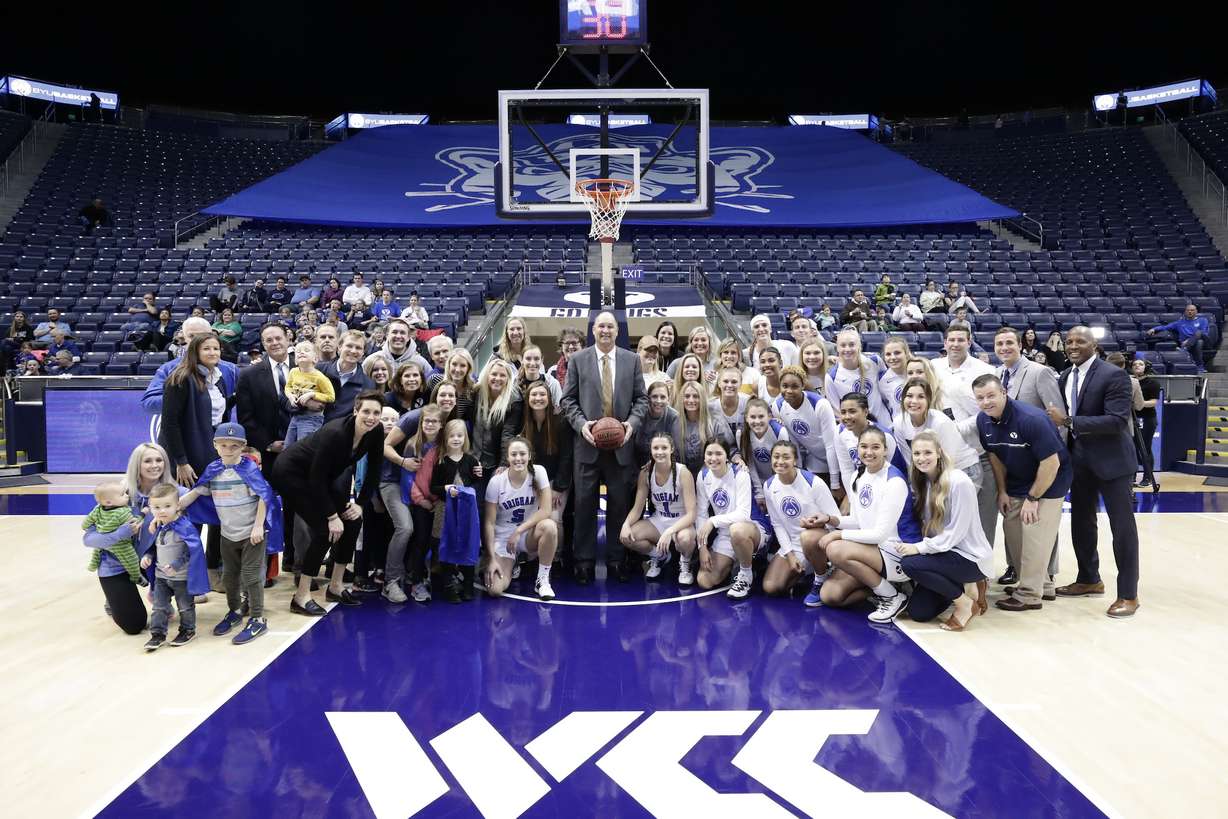 But the avid horseman and loving grandfather was much more than a basketball player or coach to those who knew him best.
"Juddy is a great basketball coach who cares about how student-athletes perform on the court, but more importantly cared deeply about how they were doing in their academic and personal lives," said Norma Bertoch, who was Judkins' sports information director until recently. "He also cared for and appreciated his staff and everyone who worked in any way with the women's basketball program. I used to tell him that traveling with him was like being around a superstar; anywhere we went, someone would reach out and want to speak with him. No matter what he was doing, he would stop to speak with anybody who recognized him. He had a way of making them feel like they were the most important person in the world to him.
"For me, one of the most common sights was seeing him talk with players from opposing teams, especially those in our conference. He made them feel just as important as his BYU players. In the 21 years that I worked with him, I don't recall seeing many coaches who would reach out in that way to opposing players. He was truly one of a kind."
Beloved by fans, media, fellow coaches and — most importantly — his players, the three-time first-team All-Western Athletic Conference nominee and two-time academic All-American went on to coach eighth conference players of the year, eight All-Americans, 63 players with all-conference honors and 102 players with academic honors.
"I think the biggest word that comes to mind with Jud is just consistency," former BYU assistant and current Utah Valley head coach Dan Nielson told KSL.com on the celebration of Judkins' 400th win, a milestone in college basketball. "To be able to do what he's done over the past 19 years; I'm no mathematician, but getting to 400 (wins) in less than 20 years means you're averaging more than 20 wins per year — and that's really impressive in this day and age."
But he saved one of his finest coaching jobs for last, taking the plethora of talent to a program-record 25 wins in the 2022 regular season and ranking as high as No. 15 in the Associated Press Top 25 — the highest ranking in program history.
Upon season's end, the Cougars had spent a school-record 16-straight weeks in the AP poll.
"Jeff Judkins has had an illustrious career in basketball," said BYU athletic director Tom Holmoe in a statement. "From his high school days at Highland High School, to starring at the University of Utah, to his time in the NBA and finishing off with 21 years as head coach of the BYU women's basketball team, Juddy has accomplished so much.
"His record of wins, championships, great players he's mentored and great teams he's led will long be remembered. Jeff loved his players, and they loved him."
A national search will begin immediately for Judkins' replacement, the university said.
"I remember Jeff Judkins taking the time to make me feel important and special at his basketball camp when I was a young boy. I even won a pair of his shoes!" BYU Radio analyst Mark Durrant said. "He's been so great to me over the years.
"On one thing, all Utes and Cougars can agree, Jeff is a Utah treasure and legend."
×
Related stories
Most recent BYU Cougars stories