Estimated read time: 6-7 minutes
PROVO — The dream officially died Sunday.
BYU men's basketball was not selected for the Field of 68 Sunday afternoon, finalizing an incredible dropoff for a team that ranked as high as No. 12 in the nation during the season.
Perhaps just as surprising — maybe more — is that BYU wasn't even among the First Four Out of the tournament. Dayton, Oklahoma, SMU and Texas A&M were designated as the top-four non-tournament teams, meaning they will be replacement teams if any school is forced to withdraw by Monday. The First Four tips off Tuesday and Wednesday in Dayton, Ohio.
Instead, the Cougars drew a No. 2 seed in the NIT and will open by hosting Big West Tournament runner-up Long Beach State on Wednesday (7 p.m. MDT, ESPN+). The Cougars are 6-5 all-time against the Beach, a series that dates back to 1972 between two teams that haven't met since 2015.
SMU drew the No. 1 seed on BYU's side of the bracket. Utah State also earned an invitation to the NIT, with the Aggies scheduled to host Oregon in a first-round matchup Tuesday night.
Only two teams in the country can hang a banner at the end of every year: the NCAA champion, and the NIT champion. BYU's first goal was dashed — but a second one could loom on the horizon.
"It's just opportunities," Pope told local media during a Sunday night video call. "There are 260 teams that weren't good enough to earn this chance, and we have an opportunity to go do something that hasn't been done here in a long time. That's really exciting.
"It's just a special time of year. You get to go compete in that time of year where you lose and you're out. There's a specialty to that, and it's something that we're going to take advantage of."
Three teams from the West Coast Conference were selected to the NCAA Tournament. Joining No. 1 overall seed Gonzaga in Portland is Saint Mary's, with San Francisco set to face Murray State in Indianapolis.
In the final NET rankings of the 2021-22 season, BYU finished No. 54 with a 2010 record, a 4-6 mark in Quad 1 opportunities and a 3-3 record in Quad 2 (as well as a 13-1 record against teams from the third and fourth quadrant).
KenPom judged the Cougars similarly, rating them No. 51 nationally with the No. 52 adjusted offense and No. 56 adjusted defense — as well as a top-30 adjusted strength of schedule. BYU played a brutal nonconference schedule, and it kept them in contention for an NCAA bid for a while.
But eventually, it may have caught up to the Cougars, as well.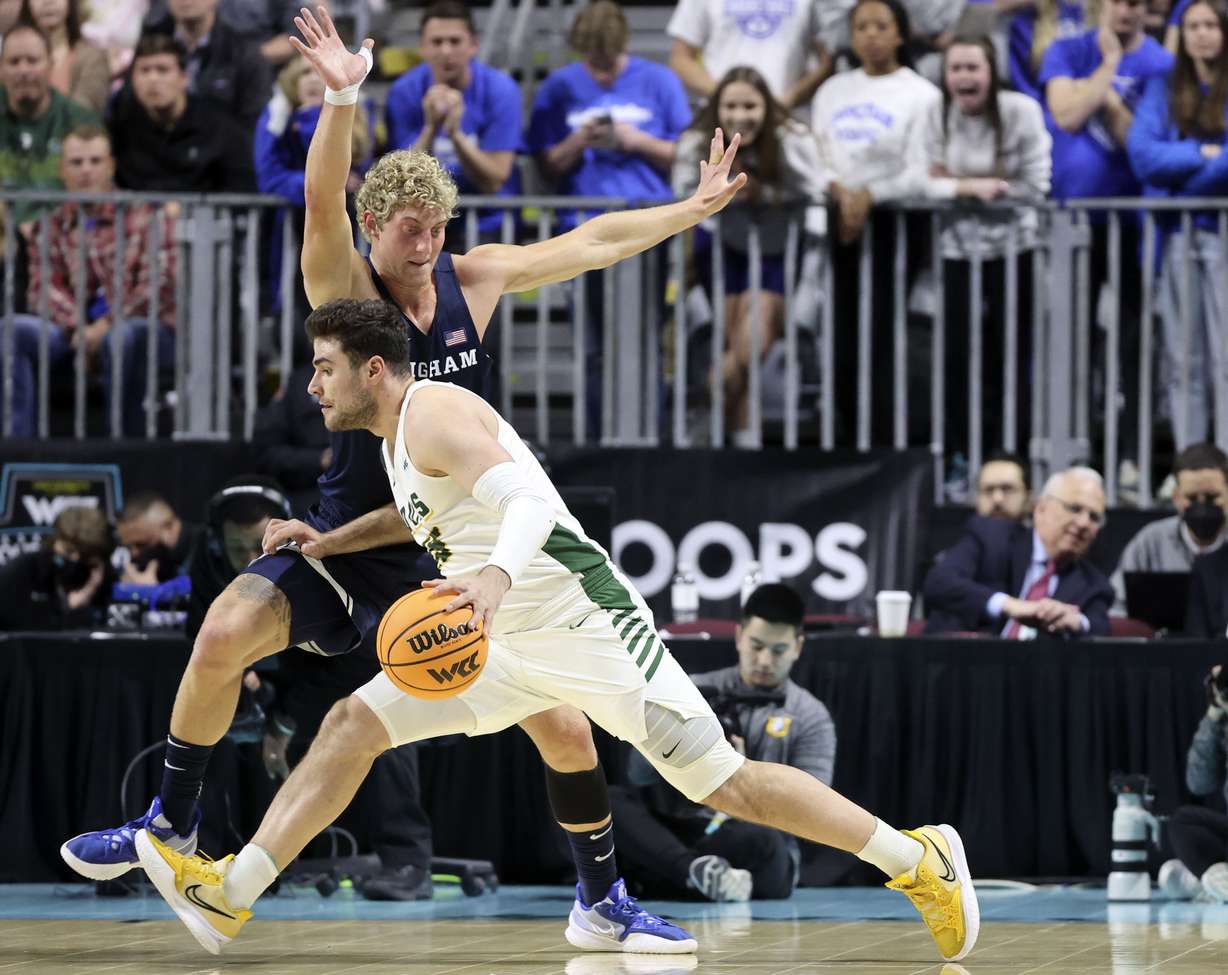 So how did BYU get here? How did the Cougars go from a shining star — one safely in the field and ranked as high as No. 12 in the Associated Press Top 25 — to missing out on the NCAA Tournament for the sixth time in seven years, relegated to the nation's No. 2 tournament for men's basketball, one colloquially dubbed the Not Invited Tournament for its status outside the field of 68?
BYU started on fire, putting together a fiery fast start and a nonconference record of 12-3. Knowing that the West Coast Conference didn't always provided them numerous opportunities, the Cougars went and hunted Quad 1 wins — and won them. They brought in San Diego State, beating the Mountain West Tournament runners-up 66-60; they beat defending Horizon League champion Cleveland State by 10; and traveled to Portland for the biggest win of the season: a humiliating 81-49 win over then-No. 12 Oregon in the Phil Knight Invitational.
They followed it up with a win over defending SWAC champion Texas Southern, and a road victory against rival Utah in the Huntsman Center while Caleb Lohner put on a show against a group of fans that once embraced him wholeheartedly when he initially signed with the Runnin' Utes out of Wasatch Academy.
It was the first time an unranked team beat a top-15 opponent by 30 or more points since 1993, per ESPN stats and information, and signaled that the Cougars had arrived. AP Top 25 votes followed. BYU was riding high.
Even without starting post Richard Harward, who suffered a medical issue before the first game of the year that would keep him out all season, the Cougars were rolling. Then tragedy struck.
For the third time in his career, Gavin Baxter went down with a season-ending injury, a torn ACL on the court of the UCCU Center in Orem that preempted BYU's first loss of the season — a 72-65 overtime setback to Utah Valley. The loss alone was not overly damaging — it was a Quad 2 loss at the time, and even flirted with the realm of a Quad 1 setback.
But the ramifications moving forward were immense. Suddenly, BYU was down to two key post players, both freshmen, in Fousseyni Traore and Atiki Ally Atiki. Thrown into the fire, the duo initially handled the pressure well enough. But losses to Creighton and Vanderbilt highlighted a nonconference slate that had changed completely.
Alex Barcello, the fifth-year guard who returned for one final run at an NCAA Tournament bid and averaged 17.2 points, 3.7 rebounds and 3.1 assists per game en route to All-WCC first-team honors, could only do so much. Ditto for Te'Jon Lucas, the Milwaukee transfer who added 10.6 points and a team-high 4.6 assists per game out of the back court.
Finally came the big one — the stretch that came to define a season. On Jan. 27, the Cougars were 45 seconds away from a victory at Santa Clara before Jalen Williams drove the length of the court as time expired to lift the Broncos to a 77-76 win. Reeling from the defeat, the Cougars dropped another one two nights later, a 76-73 loss at Pacific that became the first — and only — Quad 4 loss of BYU coach Mark Pope's three-year tenure in Provo.
But it was enough. The loss compounded with home defeats to San Francisco and Gonzaga — the game with the Dons in Provo had the air of an NCAA Tournament elimination game, and a 73-59 loss that sent the Dons screaming through the hallways of the Marriott Center crowing "We got one!" took a sizeable chunk out of the Cougars' resume.
They still had chances to make up for it. But a 69-64 loss at Saint Mary's only mildly inspired confidence, and a 75-63 loss to to San Francisco in the WCC Tournament quarterfinals finally set BYU's NIT ship afloat.
"This hasn't been an easy season for us," Pope said. "We've had a lot of really tough moments, devastating moments. But this group just doesn't want it to end. We have incredible leaders on this team who are going to keep pushing our group as hard as they can. It's exciting, and we're excited to take on the challenge Wednesday night."
×
Related stories
Most recent BYU Cougars stories