Estimated read time: 6-7 minutes
This archived news story is available only for your personal, non-commercial use. Information in the story may be outdated or superseded by additional information. Reading or replaying the story in its archived form does not constitute a republication of the story.
SALT LAKE CITY — The first game of the night set the tone for the next three games as the No. 5 Herriman Mustangs and No. 1 Lone Peak Knights found themselves tied 49-49 with just under two minutes left to play in the 6A girls state tournament.
Herriman made it all possible with a 10-5 run to begin the fourth quarter.
Knights head coach Nancy Warner opted to take advantage of the fact that a shot clock won't be added into high school basketball until next year and had her players work it around the perimeter until only seven seconds were left in regulation.
The ball ended up in the hands of Knights point guard Makelli Ika, who had only 4 points all game. The junior got the ball at the top of the key and decided to take it herself, bursting through the heart of the defense to finish with a hard-fought layup with 2.8 seconds left to secure a 51-49 victory for the Knights and advance to the championship game.
"We executed the way that we needed to and I'm proud of the girls for being able to do that," Warner said. "It's hard to hold onto the ball for that long, so it was huge for our girls to step up and play that situation right."
Herriman held a narrow 31-28 lead at the half, but Lone Peak came out strong in the third quarter to double the offensive output of the Mustangs, which eventually propelled them to closeout the win.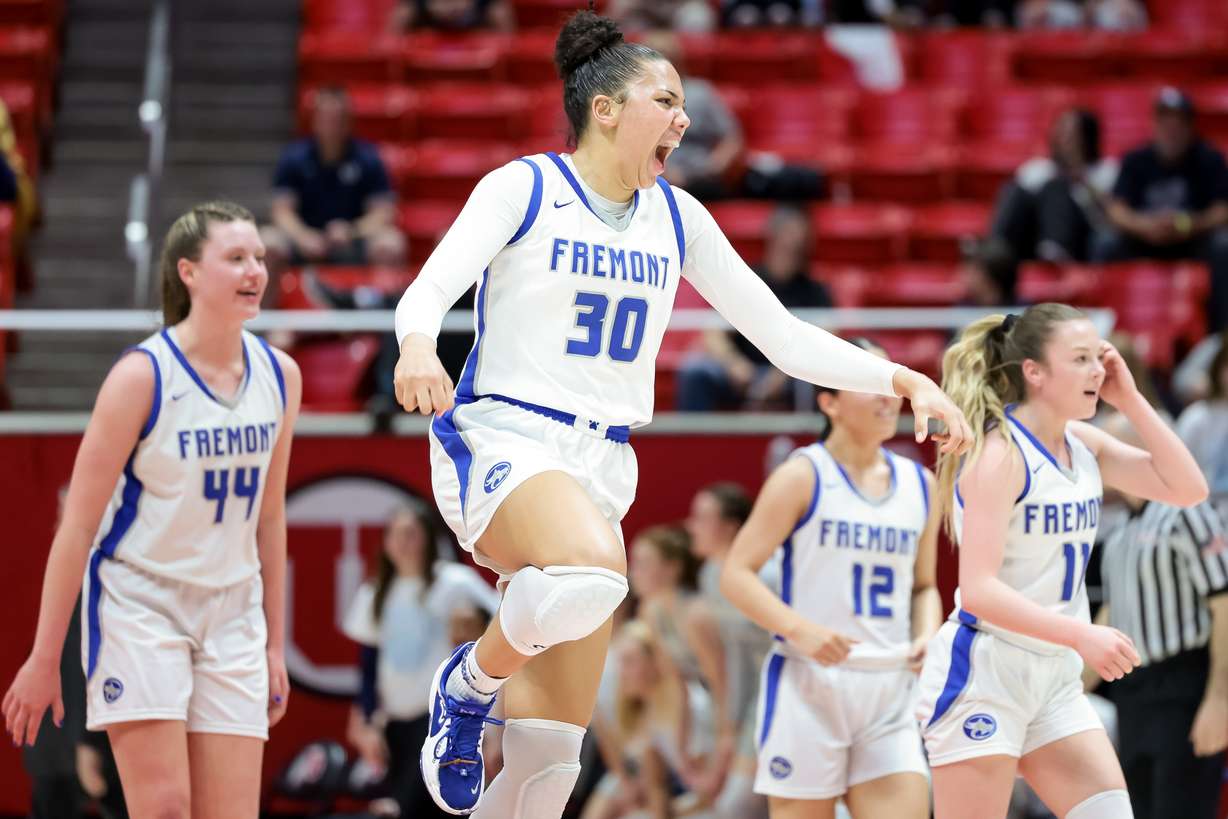 No. 3 Westlake vs No 2. Fremont
The Fremont Silverwolves girls looked to be in trouble early as they trailed 24-18 a few minutes into the second quarter, but they erupted on a 16-0 run to end the half to give Fremont the momentum needed to secure a 49-40 win.
"I felt like our energy on the defensive end of the floor really lead to that run," Fremont head coach Lisa Dalebout said. "Because we were competing on defense and rebounding better, I thought it really got our offense going and led to better shots."
Westlake led 21-16 after the first quarter but fell behind when Fremont outscored the Thunder 18-3 in the second quarter. Part of that was the dominant play of Fremont center and Nebraska commit Maggie Mendelson, who has been one of Fremont's best players all season.
Mendelson struggled in the first quarter with the physicality of the Thunder before dominating the rest of the night and finished with 14 points and seven rebounds.
"It was defiantly an adjustment playing a team with good post defenders, but once we started to slow it down and find the open players everything opened up inside," Mendelson said. "We really grinded it out and it was a good win."
Junior guard Ally Combs added 14 points as the Silverwolves were able to hold off the Thunder from storming back for a late comeback.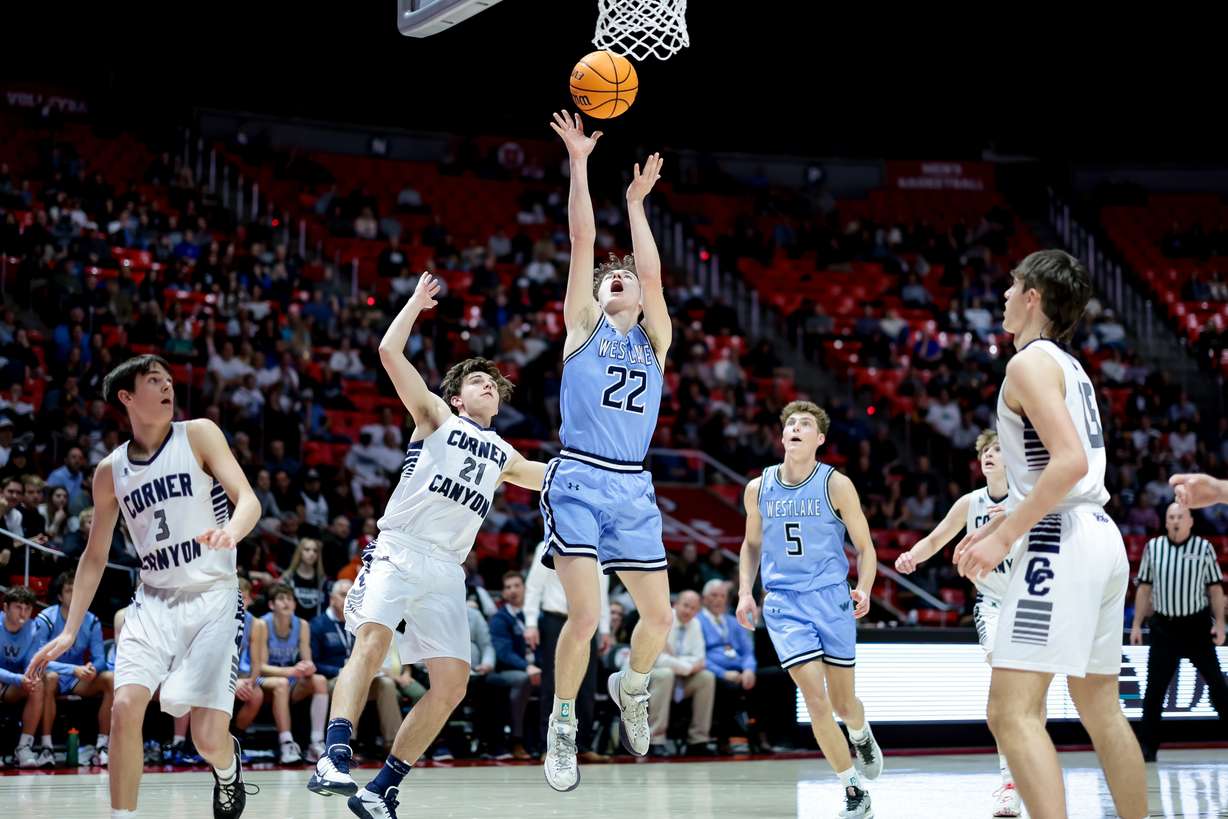 No. 5 Westlake vs No. 4 Corner Canyon
Fresh off a big upset win over top-ranked Bingham, the Westlake boys were looking to keep their impressive run going. But Corner Canyon senior Jaiden Feroah had other plans.
Feroah scored 26 points — his second highest total of the season — drained four 3-pointers, and tallied four blocks to help the Chargers advance to the championship game with a 68-60 win over Westlake.
"It feels good, and we've worked so many day and hours to get to this moment," Feroah said. "They kept leaving me open on the pick and pop, so I just shot it with confidence and was able to help my team get the win."
It was a back-and-forth game all night, with the Chargers leading by just 1 point after Willy Jensen drilled a 3-pointer for the Thunder on the first possession of the fourth quarter. But as they had done all game when the lead was tight, Corner Canyon responded with a 9-0 run that ultimately was too much for Westlake to overcome.
"I thought our kids made plays when we needed to make plays," Corner Canyon head coach Dan Lunt said. "We knew Westlake wouldn't go away and they kept making runs, and what I'm most proud of is the resilience of our kids to extend the lead each time it got close."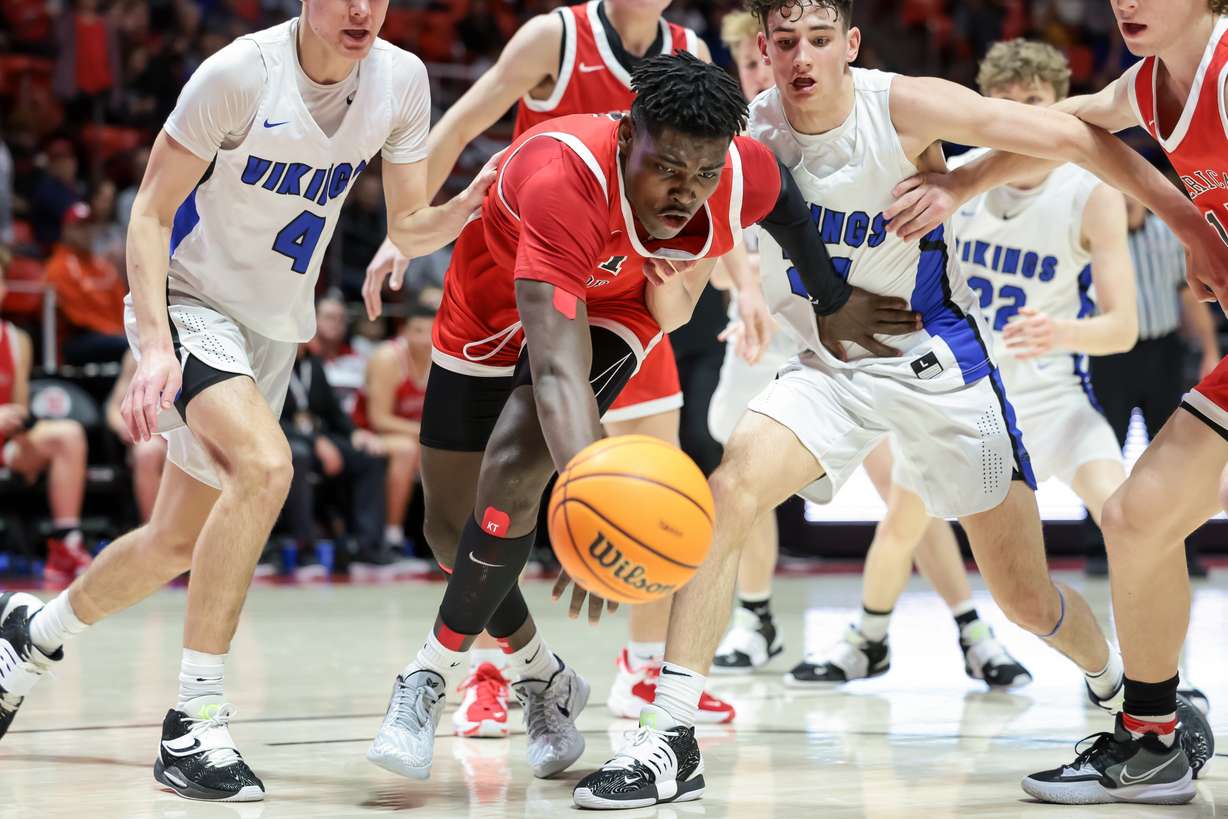 No. 10 American Fork vs No. 3 Pleasant Grove
The American Fork Cavemen and Pleasant Grove Vikings where locked in a battle all game long, with both sides unable to pull away from the other. The largest lead of the game by either team was only 6 points.
With just over a minute left in the game, senior guard Even Young knocked down a pair a free throws to put American Fork up 51-46.
Things looked bleak for Pleasant Grove until McCaden Adams drilled a deep 3-pointer and was fouled in the process. The senior guard made the free throw to make it a one-score game with less than a minute left in regulation. The Vikings eventually fouled freshman Tiger Cuff, who went 1 of 2 from the free-throw line to give American Fork the chance to take the lead.
On the ensuing position, Adams drove to the basket on his right side but was doubled up as he spun back left. He realized the double was coming so he kicked it outside to junior Isaac Garret, who made his only 3-pointer of the game to give the Vikings a 53-52 lead with less than 45 seconds left in the game.
After a timeout, Cavemen senior guard Ollie Anderson wasted no time getting to the basket and, after a quick pump fake to get his Vikings defender in the air, he dropped in the go-ahead basket to give American Fork a 54-53 lead.
With 19 seconds left, Pleasant Grove still had a chance, but Young stepped up with two of the biggest defensive plays of the year. He fought over a screen and draw a charge; and then after knocking down two more free throws, Young blocked the Vikings' final 3-point attempt to seal a 56-53 Cavemen victory.
"I've been able to make those plays all season, so to be able to get it done in that moment felt really good," Young said. "It was an intense game, and I feel like our defense as a team really locked in."
The Cavemen held the Vikings to 12 points or less in each of the first three quarters before the Vikings made their late comeback in the fourth quarter.
"There's always a lot of emotion in games like these, and we knew it was going to be a battle. At this point, you just survive and you're happy you can move forward," American Fork head coach Ryan Cuff said. "I'm proud of these guys' composure and the way they locked in."
×
Photos
Most recent High School stories