Estimated read time: 5-6 minutes
This archived news story is available only for your personal, non-commercial use. Information in the story may be outdated or superseded by additional information. Reading or replaying the story in its archived form does not constitute a republication of the story.
SALT LAKE CITY — Like offense? Utah women's basketball had some of that.
Whether inside, outside, a layup, jump shot or 3-pointer, Utah had a bit — OK, a lot — of everything Thursday night in the quarterfinal round of the Pac-12 women's basketball tournament against No. 3-seeded Washington State at the Michelob ULTRA Arena in Las Vegas.
The No. 6-seeded Utes shot 62% from 3-point range (8 of 13) in the first half and built a 20-point halftime lead behind a team focus to push the tempo and attack the rim. Even after a rough third quarter — at least in relation to the rest of the game — Utah added to its lead in the fourth quarter and pulled away for a 70-59 win.
With the double-digit victory, Utah advanced to its first-ever semifinals of the Pac-12 tournament, where the Utes will matchup with No. 2-seeded Oregon, who edged past UCLA in a 3-point win in the game preceding Utah, Friday night.
"I'm happy for us. I'm happy for our program," Utah head coach Lynne Roberts said of the team's first semifinal appearance. "My staff, they work their tails off. So it's nice to get places that you've never been. That's always what our goal is every year — let's do something we've never done in the past. And this year we're going to check off some huge ones, which is exciting."
Utah's Jenna Johnson followed up an 18-point performance Wednesday night with a team-high 19 points Friday and was the primary attacker to lead Utah's offensive push. Johnson scored two of the team's nine 3-pointers in the game — a cooled off 36% by the team — and was pulled out of the lineup midway through the final quarter with Utah still controlling a game-high 24-point lead.
Johnson was seemingly unstoppable Friday night, but it was Utah's 26 points from the bench that helped establish a consistent threat on offense. Brynna Maxwell (11 points) and Isabel Palmer (10 points) led the bench with a combined 21 points in the win.
The Utes used a three-minute stretch in the first quarter to establish a double-digit lead and pull away from the higher-seeded Cougars. Utah jumped out on a 17-2 run that included multiple 3-pointers to push the lead to as much as 16 to closeout the quarter.
From there, it was all about maintaining the quick tempo and the lead, of which Utah never gave up. The Cougars threatened in the third quarter and cut the lead to 12 before the Utes closed out the quarter 6 of 7 from the free-throw line to push the lead back up to 18 points going into the fourth quarter.
"I'm incredibly proud of our team," Roberts said. "I thought our defense was fantastic. We certainly shot the ball great in the first half and kind of threw the first punch there offensively but then we hung in there defensively. And they made a run in the second half which we knew they would but we answered the bell and won it handedly. So great day to be a Ute, as they say."
It was a familiar spot for the Utes, who a month prior led by 19 points going into the fourth quarter before the Cougars made it a 6-point game. Utah pulled out a win then, but had to sweat it out a little bit. On Thursday, though, there was little to fret about in a sweep of Washington State on the season — even with a Cougars 12-0 run to closeout the game.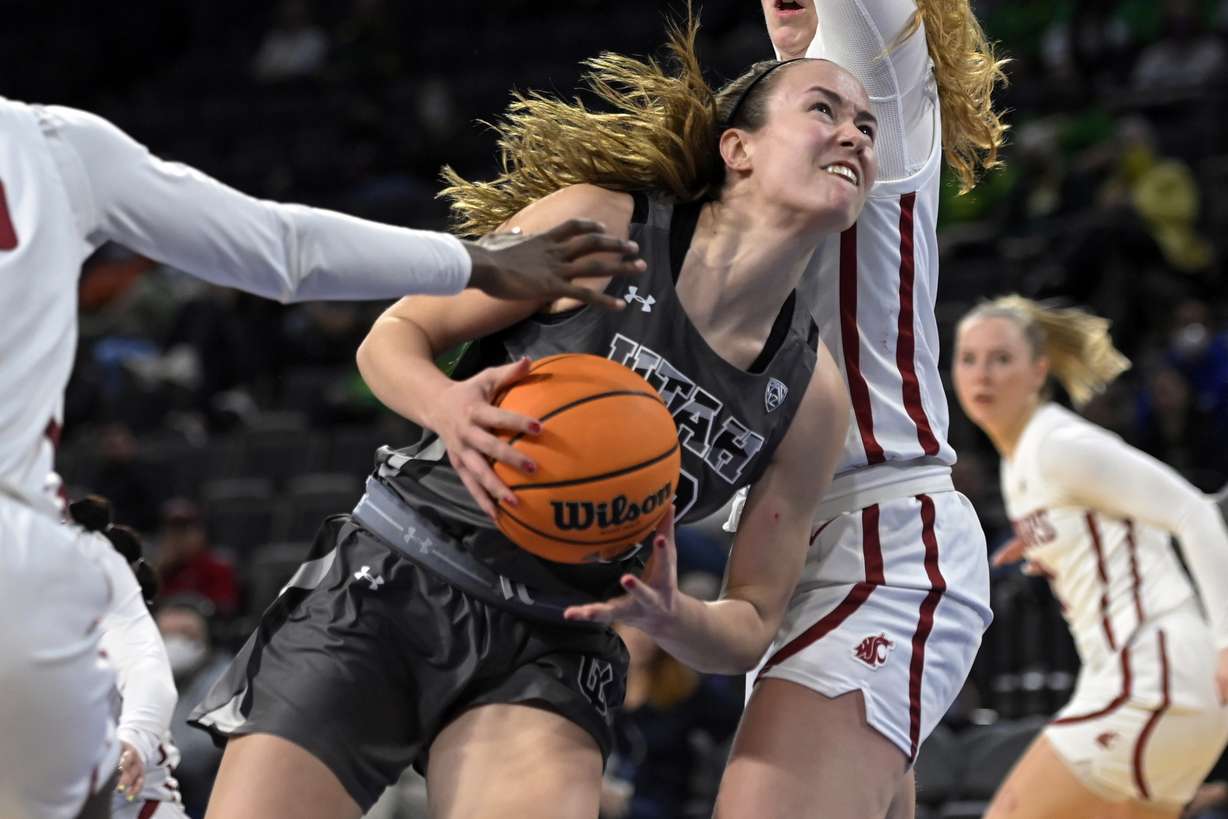 Not all was positive for the Utes, though, who lost forward Peyton McFarland to an apparent knee injury in the second quarter. McFarland was driving to the basket and suddenly grabbed her right knee after getting a shot off. She lay on the ground for several minutes before being helped off the court and taken to the locker room.
McFarland's status for Friday's game is unknown.
"It doesn't look good, to be completely honest," Roberts said. "And I hurt for the kid. And it's a tough one. And regardless of impact on our team or whatever, I just
feel badly for her. She's such a great kid and a big part of our program regardless of production. She's just a huge member of our family. So I ache for her. And I don't think we'll know probably until tomorrow when we get some imaging on it."
Washington State was led in scoring by center Bella Murekatete's 18 points and five rebounds, and guard Tara Wallack's 16 points and six rebounds. The Cougars got the bulk of its scoring Friday in the post, where they outscored Utah 32-28. But with only 10 points from its bench, Washington State had few answers to combat the hot shooting by Utah.
With the loss, the Cougars' season is not all lost, at least according to the latest NCAA Tournament projections by ESPN. At the time of this writing, Charlie Creme predicts Washington State to make the postseason tournament with a 10 seed.
Utah seemingly remains a lock for its first NCAA Tournament berth in the Pac-12 era, and a win Thursday night might be enough to move the Utes out of the dreaded 8- or 9-seed draw. in the meantime, though, Utah will look to guarantee a punched ticket with hopes of a Pac-12 title.
That opportunity begins Friday (9:30 p.m. MST, Pac-12 Networks) as Utah returns to action against Oregon. Utah played Oregon twice during the regular season, both losses.
"Man, what an opportunity for us, right? Like, I'm excited," Roberts said about the upcoming matchup. "It's, like, let's go. And just a great chance for us to put the shoes back on and on that floor and see what we can do. So I'm looking forward to it."
Around the Pac-12, top-seeded Stanford moved past Oregon State in a 57-44 win. The Cardinal will take on Colorado in the other semifinal matchup at 7 p.m. MST. The Buffaloes edged past an Arizona team ranked No. 14 in the Associated Press Top 25 to stun the Wildcats 45-43.
×
Photos
Most recent Utah Utes stories