Estimated read time: 4-5 minutes
This archived news story is available only for your personal, non-commercial use. Information in the story may be outdated or superseded by additional information. Reading or replaying the story in its archived form does not constitute a republication of the story.
PROVO — Conference play is in the books, at least in the West Coast Conference. Next stop: Las Vegas.
So where did BYU land?
The Cougars drew a No. 5 seed and will tip off the tournament Friday at the Orleans Arena in Las Vegas against the winner of Loyola Marymount and Pacific. It's the lowest seed BYU has drawn in its decade in the conference after the Cougars finished with a 21-9 record that includes a 9-6 mark in league play.
Gonzaga earned the No. 1 seed after finishing with a 13-1 record, its only loss coming Saturday at Saint Mary's in the final game of the regular season and one of seven teams in the top nine nationally to lose over the weekend. The Gaels will take the No. 2 seed, with both advancing directly to Monday's tournament semifinals.
"We get to go play Friday, and that's not a space we've occupied, maybe ever," BYU coach Mark Pope said after Saturday's regular-season home finale against Pepperdine. "But right now for us, we've just had to find a way to win a game. That's been our place for the last month.
"I do like our trend, I like our momentum, and I thought our defensive effort — especially in the backcourt — has been terrific.
The Cougars were "actively, aggressively" seeking a makeup nonconference game — one that would've been a Quad 1 game, likely on the road — prior to the end of the regular season. But Sunday's draw, giving BYU a potential Quad 1 quarterfinal against San Francisco on Saturday, might have cooled those talks. BYU would likely need to schedule the game by Sunday night in order to make it happen, Pope told reporters last week.
For the second year in a row, the WCC partnered with Ken Pomeroy to develop a model of adjusted winning percentage based on the uneven number of games played across the conference. That model left Santa Clara with the No. 3 seed after finishing 10-5, a half game ahead of San Francisco with an adjusted winning percentage of .673 to USF's .655.
BYU finished fifth at .595, followed by Portland at .429. San Diego, LMU, Pacific and Pepperdine round out the field.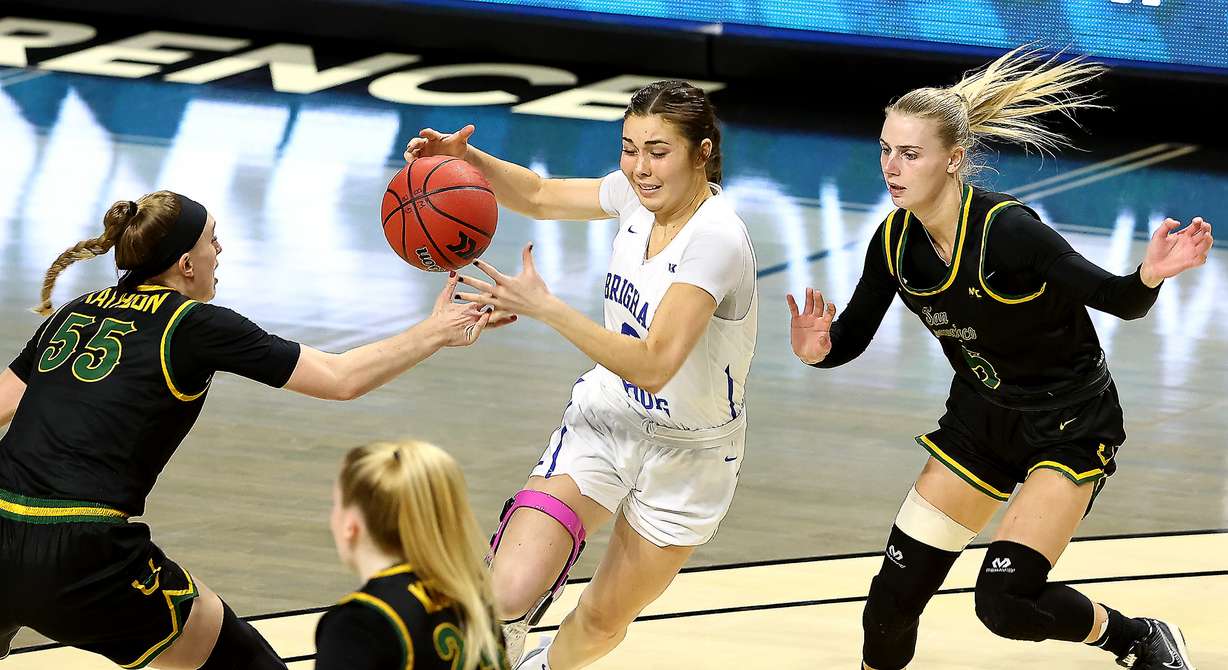 On the women's side, BYU stormed to the WCC regular-season title with a 15-1 record in league play and easily out-distancing second-place Gonzaga in adjusted winning percentage, .921 to .870. The Cougars will advance directly to Monday's semifinals, where they will face the winner of fourth-seeded Portland's quarterfinal against Saint Mary's, Pepperdine or LMU.
It's the first regular-season title since the 2015-16 season for head coach Jeff Judkins and BYU, who have won just two regular-season crowns since joining the conference in 2011.
"This is big for our program to be able to win this conference," Judkins said after wrapping up the regular-season title Saturday. "Gonzaga's won it so many years, and it's good for us to be able to go win it.
"We really want to win that tournament, go into the NCAA Tournament with a high, and start playing our best basketball."
All games through the men's quarterfinals and women's finals will be on the WCC Network and BYUtv. Tuesday's women's final will air on ESPNU, with the men's final scheduled for 7 p.m. MST on ESPN.
Here's a complete look at both tournaments:
Thursday, March 3
Women's Game 1: No.8 Pepperdine vs. No. 9 LMU, 1 p.m. MST (BYUtv/WCC Network)
Women's Game 2: No. 7 Santa Clara vs. No. 10 Pacific, 3 p.m. MST (BYUtv/WCC Network)
Men's Game 1: No. 8 LMU vs. No. 9 Pacific, 7 p.m. MST (BYUtv/WCC Network)
Men's Game 2: No. 7 San Diego vs. No. 10 Pepperdine, 9 p.m. MST (BYUtv/WCC Network)
Friday, March 4
Women's Game 3: No. 5 Saint Mary's vs. Game 1 winner, 1 p.m. MST (BYUtv/WCC Network)
Women's Game 4: No. 6 San Diego vs. Game 2 winner, 3 p.m. MST (BYUtv/WCC Network)
Men's Game 3: No. 5 BYU vs. Game 1 winner, 7 p.m. MST (BYUtv/WCC Network)
Men's Game 4: No. 6 Portland vs. Game 2 winner, 9 p.m. MST (BYUtv/WCC Network)
Saturday, March 5
Women's Game 5: No. 4 Portland vs. Game 3 winner, 2:30 p.m. MST (BYUtv/WCC Network)
Women's Game 6: No. 3 San Francisco vs. Game 4 winner, 4:30 p.m. MST (BYUtv/WCC Network)
Men's Game 5: No. 4 San Francisco vs. Game 3 winner, 8:30 p.m. MST (ESPN2)
Men's Game 6: No. 3 Santa Clara vs. Game 4 winner (ESPN2)
Monday, March 7
Women's Game 7: No. 1 BYU vs. Game 5 winner, 1 p.m. MST (BYUtv)
Women's Game 8: No. 2 Gonzaga vs. Game 6 winner, 3 p.m. MST (BYUtv)
Men's Game 7: No. 1 Gonzaga vs. Game 5 winner, 7 p.m. MST (ESPN)
Men's Game 8: No. 2 Saint Mary's vs. Game 6 winner, 9:30 p.m. MST (ESPN2)
Tuesday, March 8
Women's championship, 2 p.m. MST (ESPNU)
Men's championship, 7 p.m MST (ESPN)
×
Related stories
Most recent BYU Cougars stories