Estimated read time: 6-7 minutes
This archived news story is available only for your personal, non-commercial use. Information in the story may be outdated or superseded by additional information. Reading or replaying the story in its archived form does not constitute a republication of the story.
PROVO — Korbyn Green had known BYU and its coaching staff for less than two months when he stepped off the plane last weekend on his official visit.
It didn't take him much longer to know that he wanted to be a Cougar.
But how did a defensive back from Tulsa, Oklahoma who had interest from a handful of Big 12 programs like Baylor, Oklahoma and Kansas know he'd be suiting up for BYU so quickly?
There's a cliche answer here about the mountains of Utah, the culture of the program, or the spirited fanbase he met that flashed him Shakas and yelled "Go Cougs" to him on his visit. But maybe the biggest influence was when Green and his mom were stopped for 15 minutes during that campus tour for a talk.
They talked about him, about the defensive back from Tulsa, the 6-foot, 175-pounder who also ran track and posted a 10.7-second 100-meter dash during the spring season. And that talk wasn't just with a random fan on the roadside in Provo.
It was a casual bump-in with BYU athletic director Tom Holmoe.
"He didn't just know I was a recruit, but he knew I was Korbyn Green, that I was the DB out of Oklahoma," Green recalled during Wednesday's national signing day. "He knew me by name.
"You go to schools where they know nothing about you, but that wasn't the case (at BYU). I got close to a lot of guys."
Green committed on the spot last weekend, revealed his commitment on social media Monday, then affirmed his pledge by signing a National Letter of Intent on Wednesday morning. He was one of the first letters to make it to Provo, highlighting a six-member February signing class to that numbers nearly two dozen recruits including those from December's early signing period and eight more mid-year enrollees that have already enrolled on campus.
If a two-month recruitment feels like warp speed, then imagine how Green felt before he put pen to paper. But such is the life of college football, especially in an age where the early signing period saps the juice from the once-chaotic first Wednesday in February and the transfer portal has made recruiting a year-round endeavor.
And while BYU cornerbacks coach Jernaro Gilford has only known of Green for a little over two months, the defensive back came with a bevy of recommendations that left him confident the three-star prospect by 247Sports was the right fit for BYU.
One of those trusted sources — one of "four or five head coaches" that Gilford has come to know in the state of Oklahoma — was Owasso coach Bill Blankenship, the former Tulsa coach who gave Green a glowing recommendation, at times without even mentioning the player's name.
But the whole time, Gilford felt Green was the right fit — academically, culturally and physically — as someone who can contribute quickly to the Cougars' defensive backfield.
"They wouldn't put everybody's name out there, and Korbyn happened to be one," Gilford said. "We did our homework to see if he would be a great fit, and he was.
"He's a great kid, comes from a great family, handles his schoolwork, and will absolutely make it here at BYU."
BYU's early signing class was heavy on in-state recruits, with the majority coming from Utah and a handful from surrounding states like California and Arizona. Wednesday's group, though much smaller in breadth, also jumped outside the Beehive State — including into Big 12 territory, where the Cougars will begin play as a full conference member in 2023.
In addition to Green, BYU added Stockton, California-area defensive back Zion Allen, San Diego-area defensive back Nathaniel Gillis, Pebble Beach, California-area cornerback Evan Johnson and Encinitas, California-area defensive end Zoom Esplin — who edge coach Preston Hadley described as "this giant of a kid, just gliding across the field" at 6-foot- and 250 pounds.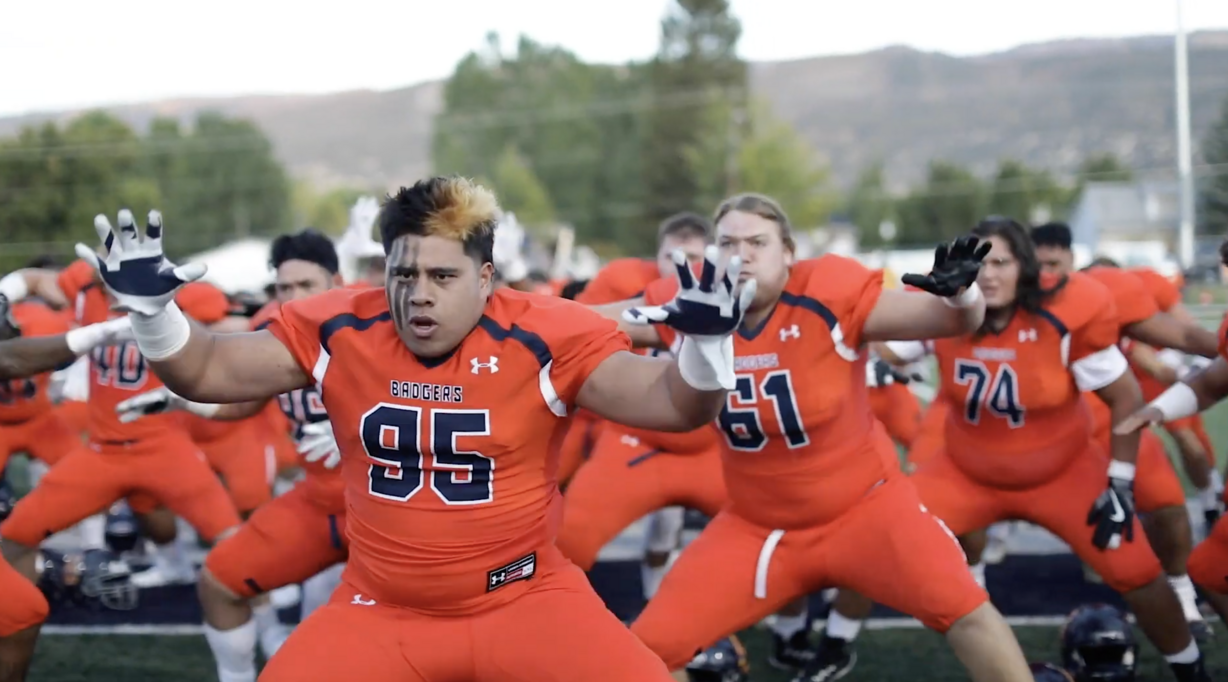 "Regardless of where they come from, the key is that we have access to so much film and to a lot of people and resources that are out there that can speak for these young recruits," BYU coach Kalani Sitake said. "Whether they're from Oklahoma, California or Utah, we just need to make sure they can help us on and off the field and be a drive force for our culture.
"Our core recruiting base is still members of the church. We'll look that way first — but then it's also important for us to span the entire country. You look at the conference, UCF is in Florida, so we might as well head that way. … The key to us is we'll always have this membership following us, so we'll look to that right away."
Of course, not every BYU football player is also a Latter-day Saint, and the same holds true for BYU's most recent signing class. Not everyone has years of experience with the program, like Green, but some do.
Some have returned to BYU after developing away from the program, even.
The fifth member of the traditional signing class is Lisala Tai, a 6-foot-7, 336-pound offensive tackle from Inglewood, California, who initially signed with the Cougars before serving a two-year mission for The Church of Jesus Christ of Latter-day Saints in Houston.
Tai returned to Utah before the 2020 season, only to enroll at Snow College just before the COVID-19 pandemic pushed junior college football to the spring season. The newly-converted defensive lineman and his Badger teammates went on to an 8-1 record and NJCAA national runner-up finish in that truncated spring season, then ranked No. 4 in the fall before the No. 4-rated JUCO offensive tackle by 247Sports saw his recruiting blow up again, with offers from Boise State, Maryland, Fresno State, Jackson State and others.
All the while, though, BYU kept a close eye on him — even with first-year offensive line coach Darrell Funk.
"Just because he came here before doesn't automatically mean he's a fit now," said Funk, who noted Tai has four years of eligibility remaining after playing two seasons at Snow, largely because of the COVID-19 pandemic. "But in his case, he was a perfect fit.
"We did everything we needed to. Lisala and I got to know each other very well, and his family as well. We did everything we needed to do with a recruit. We had a great visit last weekend, our assistants have been great, and we covered every step of what we need to do to make sure he's still a fit, and he is. We're very excited about that."
Wednesday's class rounds out a group that ranks 55th by the 247Sports composite rankings, which is nearly 20 spots up from last year's signing class and in the range of UCLA, Louisville, TCU, Oregon State, Cal and Boise State.
It includes just two four-star recruits — Corner Canyon wide receiver Cody Hagen and Weber defensive lineman Aisea Moa — but also a higher average rating than the Cougars general receive by the recruiting service.
And it still puts a focus on development — something BYU will likely never push to the side, regardless of the Cougars' conference affiliation.
"If stars mattered, all these marquee programs who had this rich (recruiting) tradition, you'd see them in the playoff each year. But you don't," Hadley said. "We take a lot of pride in trusting our own evaluation. Even if we're the only team to offer, we know what we're looking for and how to develop them. We have a proven track record now, with five guys who were drafted last year and a handful still on NFL rosters.
"The method doesn't change."
×
Related links
Related stories
Most recent BYU Cougars stories