Estimated read time: 7-8 minutes
This archived news story is available only for your personal, non-commercial use. Information in the story may be outdated or superseded by additional information. Reading or replaying the story in its archived form does not constitute a republication of the story.
PROVO — During one recent practice, the quick and controlled guard swiped at the ball, cruised down the court and quickly finished an easy layup in transition for a quick 2 points.
On the next play, he used his 6-foot-2 frame to clog passing lanes and force the ball handler to give up possession.
With all of this happening in a recent practice inside the Marriott Center, you'd think these plays might describe BYU star Alex Barcello, or maybe point guard Te'Jon Lucas.
Think again; this is Trey Stewart, the freshman from American Fork who recently returned from a two-year mission for The Church of Jesus Christ of Latter-day Saints and has been a role player for the Cougars, primarily used on scout team and making fives appearances in the 2021-22 season after Saturday night's win over Portland.
And while he doesn't get the same screen time as Barcello, the 47% 3-point shooter who Jay Bilas recently called "the best shooter in America" live on ESPN, or Lucas, the Milwaukee transfer who averages 10.2 points and 4.7 assists per contest, he's just as vital to the success of the 17-4 Cougars as the rest of them.
"Trey Stewart is an elite athlete, and he has a chance to become a world-class defender. He makes us better," BYU coach Mark Pope said. "I promise you, if our guys on this scout team are not working the way they are, we aren't where we are at as a basketball team. With no doubt, we're just not as successful as we are if those guys aren't here doing what they do.
"Trey Stewart wins games for us. Casey Brown wins games for us, Nate Hansen, Jeremy DowDell, all of our scout team players. They come to challenge us every day and help us get better."
Stewart, the son of former Utah Valley State College standout and current BYU women's basketball assistant coach Ray Stewart who played professionally in Sweden and Brazil, has found a way to help his team in his first season since proselytizing in Leeds, England, and Kennewick, Washington.
When he's not helping his team on the practice court or subbing into games for the final 3.5 minutes on average of an already determined win, Stewart is usually finding ways to help his teammates.
Sometimes, his help isn't on the court but on his teammates' shoes.
Stewart is the founder of Default Happiness, a printing company that takes one's personal mantra and embeds it onto a patch worn on gym shoes. He put 'Oo-de-lally' — yes, from Disney's Robin Hood — on his own kicks, because he appreciates the way Robin Hood and Little John were "just cool dudes with tough circumstances who made the best of it."
In his life, Stewart has tried to make the best of his own tough circumstances.
The former Cavemen star went from a freshman bench player to averaging 11.0 points, 4.0 assists, 3.0 rebounds and 1.5 steals per game as a junior while earning the attention of Denver, North Carolina A&T, UC Davis, Utah State and Utah Valley, where he ultimately committed when Pope was head coach there.
A year later, he earned first-team all-state honors as a senior, averaging 14.8 points per game while leading American Fork to a 24-3 record and a 6A state title.
But he also hid a secret.
"When I was in high school, I struggled with a little bit of mental health and depression, but I didn't tell anybody," said Stewart, who admits he still struggles to this day. "You're supposed to be a man, to tuck it under the rug, to just play your sport.
"My main thing now is telling people that sports are hard, but everyone has a personal motto to drag them through it."
The son of a coach was never dragged to the gym by his dad or whipped into shape when his high school coach forgot to take him off the bench as a freshman. But he was constantly reminded that if he wanted to change his lot in life, it was up to him to make things better.
His father Ray was always there to get up extra shots or rebound for Stewart in the driveway of the family's Utah County home. But he didn't push him into basketball, either.
If anything, every time Stewart thought he had figured something out or found another level, his dad was quick to send a video of him doing the same thing — only better, he'd add — years ago during a professional career that spanned Sweden to Brazil, the two still joke.
"He wanted me to go to the gym, but also to ask him to go shoot with him," Trey Stewart said. "He kept that distance and was able to remain my father instead of just my coach. He's always there for me when I'm struggling, but he doesn't want to be a dad who helicopters over me."
That self-reliance pushed the younger Stewart toward his new business.
Default Happiness, which has been given an enthusiastic thumbs up by Pope and spread around the team — and to others in the BYU athletic department — is a constant reminder to others of their "why."
Women's hoops star Shaylee Gonzales used Stewart's service to print her mantra — mind over matter — on her shoes as she continued to work her way back from a year-long ACL injury. Freshman quarterback Jacob Conover has two pairs of cleats customized by Stewart, one that says "born for this" and another that reads "sent here for a reason."
When the BYU women's soccer team found out that head athletic trainer Carolyn Billings was fighting cancer during the Cougars' run to the NCAA College Cup this past season, Stewart helped the team personalize their cleats with the motto #CarolynCan — because if Carolyn can, so could they.
"It's been cool to work with a lot of people," said Stewart, who is studying psychology at BYU. "I just want to promote mental health, and maybe eventually work with youth sports teams in the same way."
Stewart's just a freshman, after all, and he still has a role to play in the Marriott Center Annex. He's a teammate and a friend, but also a tenacious defender who doesn't go easy on the starters on off days, Lucas said.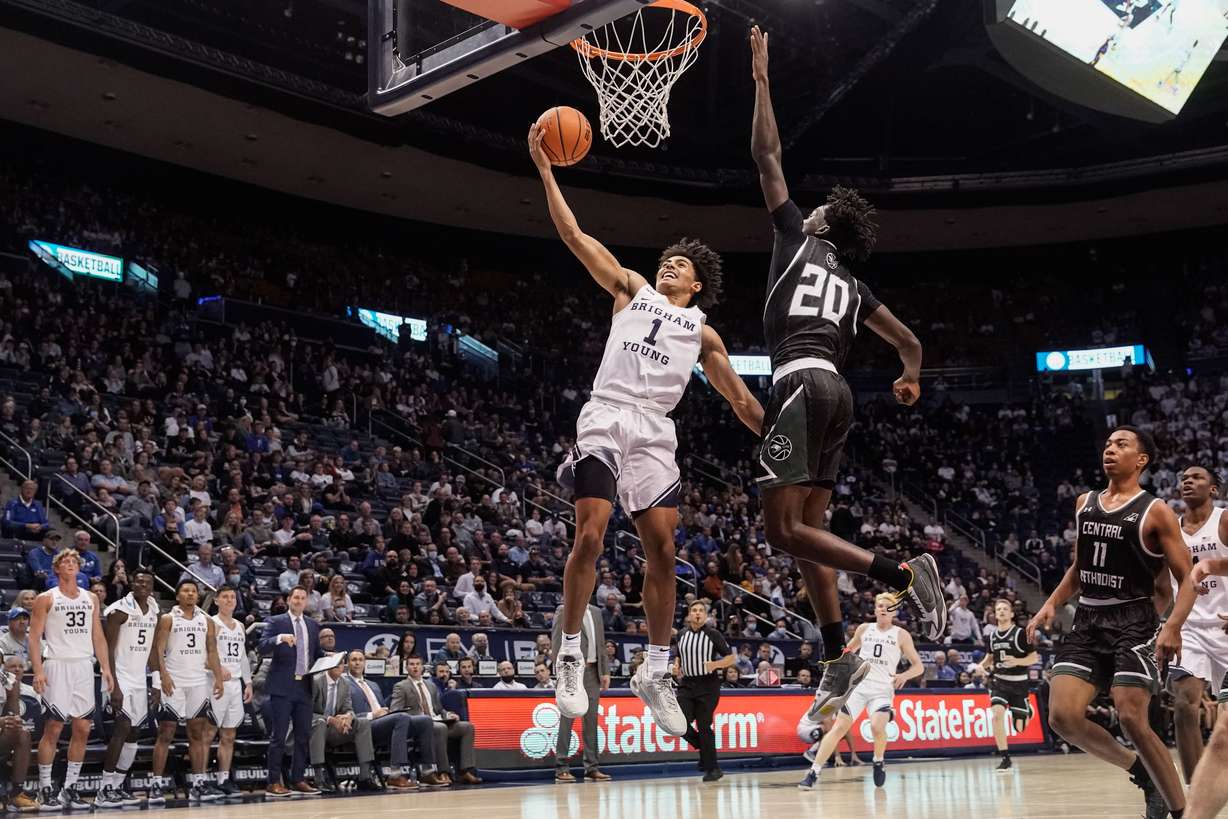 "He's someone who you don't want to have guarding you with the ball," he added. "He already frustrates me and Alex a lot in practice … but I think that's what prepares us for games, for guys like (USF guard Jamaree) Bouyea and (teammate Khalil) Shabazz. Trey plays way harder in practice for us, and he's out there guarding us with super length.
"When he kills us in practice, it helps us out during a game."
Stewart's present is basketball, but his future — who knows?
That's why he wants to be ready for life when the ball stops bouncing, and BYU's liberal name, image and likeness policies provided by the NCAA's adjustment of its rules have come at the perfect time for the startup owner. Default Happiness gives Stewart real-life experience and access to what he may want to do later — just like he gives his teammates a real-life look at the Cougars' next opponent with the scout team.
"A lot of college players have that moment where they get done with sports and then they don't know what to do with their life," he said. "BYU's programs like Built for Life help us figure out what we want to do, use the resources that BYU has and connect with BYU alumni who are willing to bend over backwards and help us out.
"I don't see it as a distraction, but preparing myself for the future, rather than being a robot playing basketball and then getting out."
×
Photos
Related stories
Most recent BYU Cougars stories