Estimated read time: 5-6 minutes
This archived news story is available only for your personal, non-commercial use. Information in the story may be outdated or superseded by additional information. Reading or replaying the story in its archived form does not constitute a republication of the story.
PROVO — Mark Pope took a step back and let out a big long sigh, then got up from the table to walk over to the one that held a few boxes of assorted cookies while deciding which one he wanted.
After the week he just had, he deserved the treat.
Better get used to it, coach.
The third-year BYU men's basketball head coach had just wrapped up a three-games-in-eight-days stretch against Saint Mary's, Gonzaga and San Francisco — the three toughest teams in the West Coast Conference, by any metric — with a 2-1 record, including two of those games on the road.
That's three games against teams ranked No. 1, 34 and 37 in the NCAA's latest NET ratings, with a winning record. So what did he learn from facing the still-dominant Zags, Gaels and Dons in quick succession?
Most importantly, he learned that his team needs to get a lot better — not just for this year but for that 2023 start date in the Big 12, when the Cougars will join arguably the toughest conference in college basketball.
You think three top-40 teams in a week is tough? In the Big 12, which features a pair of top-10 teams in Baylor and Kansas and six more in the top 50, that's just like any other week.
"I think they feel like we can get a lot better," Pope said after exhaling and eyeing that cookie tray one more time. "I think they feel urgency to get better.
"It just was hard, right? You play those three teams back-to-back-to-back, and they are really good teams. But I was looking at the Big 12 split today … and if you look at the way they're going to break up the Big 12, even with divisions, that split is probably as hard as we'll have in divisions based on the standings right now. It's a little like how we're going to feel, but it's going to be back-to-back-to-back-to-back-to-back, all around."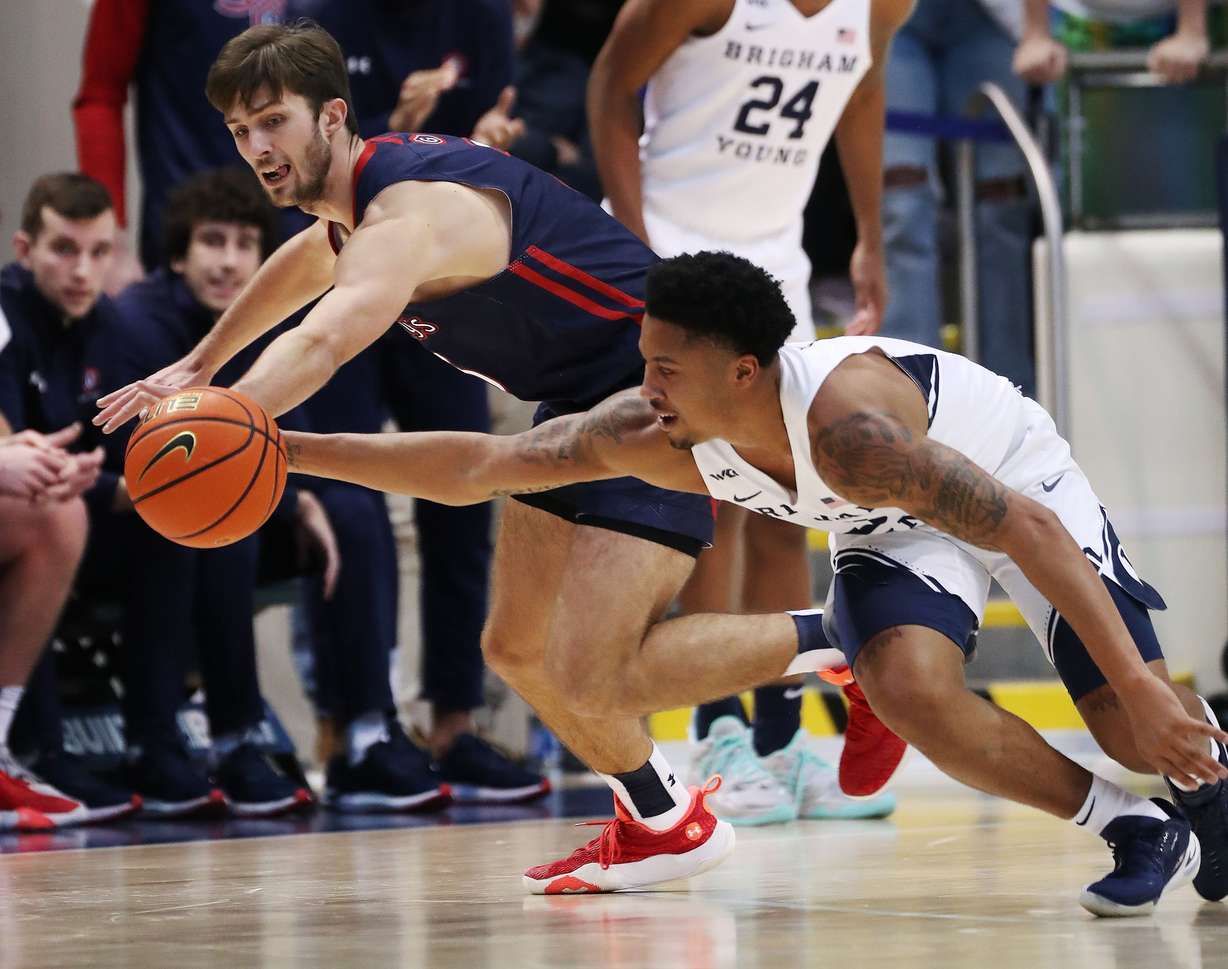 That's nothing new, though. BYU has played the second-most Quad 1/Quad 2 games in the nation, with an 8-4 record in those contests, combined to make the 13th most difficult schedule in the country.
And it doesn't get easier. The grind keeps grinding.
In some ways, Thursday night's home tip against San Diego (7 p.m. MST, BYUtv) may seem like a breather. The Toreros are 10-7 overall, ranked No. 191 in the NET and No. 188 in KenPom, and boast a best win over Nevada during nonconference play to go along with losses to Cal, Cal State Fullerton, South Alabama and Fresno State, to name a few.
But USD recently held off Loyola Marymount 70-64 to win their third-straight game, and the Toreros are putting things together as the page turns on conference play.
It's exactly what you want out of a team in the position of USD in the West Coast Conference — which is to say, tied with BYU for second in the league.
"We've just got to approach every game like we've been doing," BYU guard Te'Jon Lucas said. "I don't think there's been a game where we've felt like we could take a night off. It didn't matter who we played, even when we played Westminster or Central Methodist; we always prepared to go out and fight the same way.
"Just because they aren't predicted to be at the top of the league, they're still going to give us the best shot possible. They're still great teams, and it's still the West Coast Conference, which is a pretty good league. At the end of the day, we've got to take care of one game at a time."
The Toreros are led by Marcellus Earlington, the St. John's transfer who is averaging 13.8 points per game for a defense-first team that averages 67.5 points. Terrell Brown is averaging 8.8 points and 7.4 rebounds per game, but just pulled down back-to-back double-doubles on the road against San Francisco and Pepperdine.
No rest for the weary, right?
"I think we feel some urgency to get better," Pope said. "Our guys are happy and proud and excited, but I think they're really, really humbled. We got it all in the last few games."
The Cougars learned some things from the past three games. They learned that they can win with defense when they smothered Saint Mary's and out-Randy Bennett'd the Gaels in Provo. They learned that Caleb Lohner is still the offensive threat he was when he committed to BYU after initially signing Utah, based on his decisive play against Gonzaga.
They even learned that a 10-point deficit in the final 10 minutes on the road at a top-40 team like San Francisco is not insurmountable, as they did just that in handing the Dons their first home loss of the year.
And they learned that the grind never really stops — even when you think it might.
"It would be human nature to go through those three teams, two of them on the road, and want to exhale," Pope added. "But that's not how this league works. We remember last year having to save our season in overtime at Portland, to save our season at San Diego.
"For everybody but the Zags, league games are like in-state games. It's just up for grabs … and I think we understand the reality of that."
How to watch, stream and listen
BYU (15-4, 3-1 WCC) vs. San Diego (10-7, 3-1 WCC)
Thursday, Jan. 20
Tipoff: 7 p.m. MST
TV: BYUtv
Streaming: BYUtv.org
Radio: BYU Radio 89.1 FM/KSL 1160 AM, 102.7 FM
Series: BYU leads, 18-6
×
Related stories
Most recent BYU Cougars stories