Estimated read time: 8-9 minutes
LOGAN — On the first Friday of the new year, Utah State head coach Blake Anderson found himself embarking on a road trip with his daughter to help move her from Arkansas to Utah, where she was hired for a new job.
Departing from Jonesboro, where Anderson was head coach at Arkansas State for seven seasons, they traveled the southern route to avoid snow. They entered Texas and, somewhere along the way, green trees turn into endless dry plains. That's where Anderson was raised, played college football and got his start in coaching.
It was then through the desert of New Mexico, where he had two stops along his coaching journey.
It was a drive down memory lane.
Anderson, who once got two speeding tickets in one trip while traveling from Texas to New Mexico, didn't seem too concerned about the long road ahead of him this go around. Hauling a U-Haul trailer with a car attached to the back, the road trip was a chance to catch up with his daughter, and perhaps reflect on what has undoubtedly been one of the most memorable years of his life.
In Year 1 at Utah State, Anderson's team achieved what many in Logan saw as the ultimate goal, yet a goal that wasn't probable in the first year of his tenure: winning a Mountain West Conference championship.
"For that moment, that feeling that day, that three and a half, four hours, there's really nothing else that you get a chance to do that comes close to what that's like," Anderson said via a phone call during his road trip.
"It's really hard to explain how much fun and how enjoyable and how fulfilling that (is)."
Utah State also tacked on two wins over Power Five opponents, including a victory over Oregon State in the Jimmy Kimmel LA Bowl, and finished the season ranked No. 24 in both the Associated Press and Coaches Poll. The school's athletic department dubbed it the "best season in school history."
And if it hasn't been emphasized enough, it came on the heels of a 1-5 2020 season, where Gary Andersen was fired as head coach and the team faced a handful of off-the-field challenges.
The catalyst to the success is Anderson, a man who has made an effort to not just endure but prosper amidst heartbreaking circumstances he faced in his life. It's a mentality he's shared with his staff and players, and it galvanized them during the 2021 season.
"I think one of the biggest reasons he was successful here, in his first season and why he is successful, is because he's open with the players," six-year senior Nick Heninger said. "There's a quote that goes: 'There's not a person you wouldn't love if you knew their story.' And coach Anderson has done a great job at showing his story because he's gone through a lot of adversity in the last few years."
Anderson's struggles have been well publicized. While at Arkansas State, his wife, Wendy, died on Aug. 19, 2019, after battling breast cancer. In May 2020, his father died. The two people who Anderson said were his "first two calls" whenever something important happened in his life were gone. And the grief became unbearable.
"I went through a stretch where going to work every day wasn't much fun, and honestly just getting out of bed wasn't much fun," Anderson shared during a December press conference. "I hit some really dark places in my life."
Crediting God, Anderson met Brittany King at the end of 2019. Brittany, who lost her mother just weeks after Wendy's passing, understood what Anderson was going through and they became close friends. Eventually, the friendship turned to love.
At the end of 2020, Anderson had the opportunity to leave Arkansas State and take the head coaching job at Utah State. Looking to move forward from such a trying time, he went for it. Brittany and her two daughters, Collins and Ellison, followed him to Utah, and Blake and Brittany were married in March 2021. Blake also adopted her two daughters.
His arrival may not have been initially welcomed by some as players were upset with how the hiring process by the university occurred. But he soon gained their trust. And rather than coming in and dictating how things would be, he empowered the players; he recognized the existing talent on the roster and helped instill a winning mentality.
The coaching staff Anderson brought in wasn't just experienced, but also personable and diverse. They were able to connect with the student-athletes.
Deven Thompkins, who had entered the transfer portal, returned and became an All-American. Thirteen seniors from the 2020 season took advantage of an extra year of eligibility due to COVID-19, including Heninger. Anderson also brought in a handful of transfers, including quarterback Logan Bonner, receiver Brandon Bowling and linebacker Justin Rice from Arkansas State.
"He was also able to capitalize on our strengths, as far as culture goes, and bring along his own," said senior offensive lineman Demytrick Ali'fua. "Everybody was able to buy in."
Perhaps the most effective thing Anderson did to change the team culture was something uncommon: He connected with his team on a deeper, emotional level.
"He was open with us and genuine, and I think the guys could feel that genuineness and the vulnerability. It made it easier for us to trust him and for us to love him," Heninger said. "He gave us everything he had and we gave him everything we had, and when you have that it's a pretty special relationship with the coach."
The result was a special 2021 season — for the players and Anderson.
"It's the guys in the locker room, that's what's unique," Anderson said. "Their willingness to buy in and be just a really unique, special, hard-working, unselfish, group of dudes."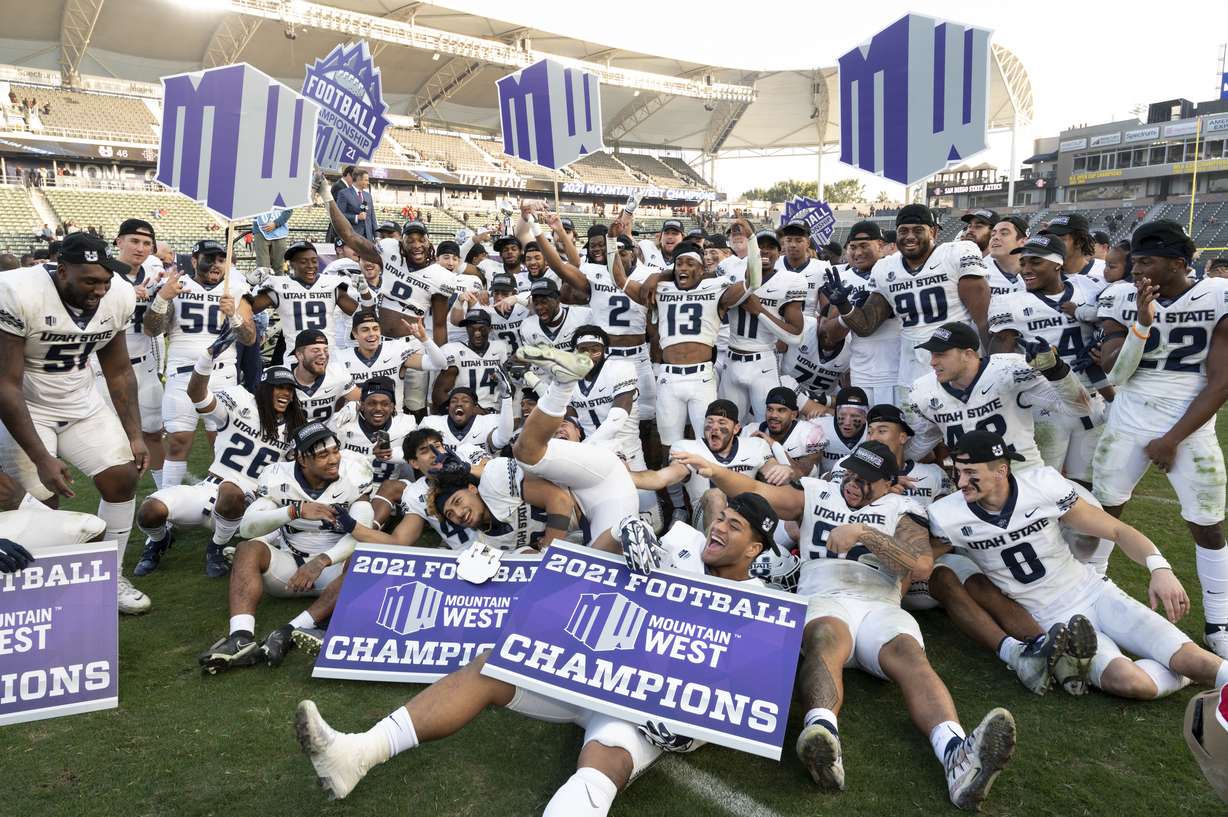 All the most memorable moments for the head coach revolved around his players. Playing ping pong or pool in the player's lounge, or chatting with guys in his office.
After a fall camp of "borderline torture," Anderson remembers seeing the light in the eyes of his players after they defeated Washington State — a moment where hard work paid off and the team realized they could be great.
He'll remember the transformation of the team throughout the season and how they played their best football in the final two games.
Or heavier moments. Several players faced personal tragedy during the season — including losing loved ones — and Anderson was there to hug them, cry with them or pray with them.
"Those are the things that really stick with me," Anderson said. "The wins and the losses come. The rings and the trophies, they fade. I don't wear a championship ring. I've been fortunate to win several and they stay in a case probably on a shelf somewhere and collect dust. But those moments with those guys after the good and bad during the season, those are the things that last. And those are the reasons I coach and those are the reasons I love what I do."
The players also helped Anderson in his personal healing process.
"They really gave me the joy of football back. I had lost that to some degree, just with the weight I had carried for the last few years," he said.
For the team as a whole, their head coach's actions have not gone unnoticed.
Following Utah State's program-defining win over San Diego State in the Mountain West Conference championship in Carson, California, on Dec. 4, defensive end Byron Vaughns, Bowling and Bonner took turns giving their coach some praise.
"My parents jokingly called coach Anderson a God himself," Vaughns said. "They said he's Jesus' homeboy; they walked on water together. ... When he says he's going to do something for you, just know this man will walk on water for you."
"We're unbelievably proud of this man," Bonner said. "... We followed him here because we believed in him, and it ended up working out so we're unbelievably proud of him and we wouldn't want anybody else to be our coach."
"I've known that dude for frickin way too long," Bowling added. "But I'm so proud to be a player of yours. I don't know where I'd be without you bringing me here and so thank you."
Much of Anderson's actions that have made him so adored by his players he attributes to his personal effort to live like Christ.
When Wendy was diagnosed with cancer, the Andersons made a conscious decision they were going to "praise the Lord" throughout the process, no matter how difficult it got. He acknowledged his imperfections and is willing to be open about his struggles.
"There's a lot of people that are out there that are going through similar or even worse that struggle on a daily basis," Anderson said.
"This is my journey. This is how (God) is using me. I've got a platform that I'm very grateful for and I hope people can see a person that still loves others, that still loves Christ through some of the worst times in his life," he added. "So I think it's my job, it's my duty, it's my responsibility to ensure and be open so that the players, fans or just people in general can take a peek and see Christ's steps and actions."
For Anderson, it's an ongoing journey. A journey that's brought him to the Rocky Mountains and to new heights in his coaching career. And with the direction of the Utah State football program and his personal endeavors, he doesn't plan on slowing down.
He'll keep driving forward.
×
Most recent Utah State Aggies stories