Estimated read time: 5-6 minutes
SALT LAKE CITY — Utah State finished its improbable season the way it started, with a win against a Pac-12 North division opponent.
While one win set up the Aggies for a 10-3 season and a Mountain West Conference championship ahead of the Jimmy Kimmel LA Bowl, the last win capped off an incredible run in Blake Anderson's first year at Utah State, a year removed from a season where the Aggies had only one win.
The Aggies used pressure and a physical front seven to limit a Beavers team that lead the Pac-12 in rushing to only 152 yards to claim a 24-13 win over Oregon State (7-6). It's the first bowl win for the Aggies since 2018 when Utah State (11-3) won the New Mexico Bowl with quarterback Jordan Love.
"Start with a Power Five win, finished with the Power Five win, conference title, 11-3, the best season in Utah State history, and I could not be more proud of the guys that get to leave that legacy behind," Utah State head coach Blake Anderson said of the season.
Utah State was led on defense by Nick Heninger, who was everywhere in the backfield for the Aggies. The Utah transfer finished with seven tackles, three sacks and five tackles for loss. The Beavers allowed only 10 sacks all season before Heninger had himself a night on the big stage.
"Yeah, usually when the defensive line is getting sacks that means the back end, the linebackers are doing a great job getting the quarterback off his first look," Heninger said. "And we've got a relentless, aggressive defensive front. And we as the defense, we're able to capitalize on those opportunities, and it was 100% a team effort. I'm just super proud of the defense."
Linebacker Justin Rice also provided a key forced fumble in the fourth quarter as Oregon State attempted a comeback. The Beavers had just pulled down a toe-tapping interception and drove with ease before Rice hit the ball away and AJ Vongphachanh recovered the ball. Rice finished with a team-high nine tackles.
Utah State's Hunter Reynolds put a cap on the defense's effort with an interception with two minutes left in the game to seal the win for the Aggies.
And while the defense shined against Oregon State, it was backup quarterback Cooper Legas that put on a show on offense.
The former Orem High standout entered the game in the second quarter after starting quarterback Logan Bonner left with an undisclosed injury and immediately delivered a 62-yard strike to Deven Thompkins for a touchdown on his first-ever collegiate pass.
The strike equalized an Oregon State opening score and set the tone for the Aggies for the remainder of the night at SoFi Stadium.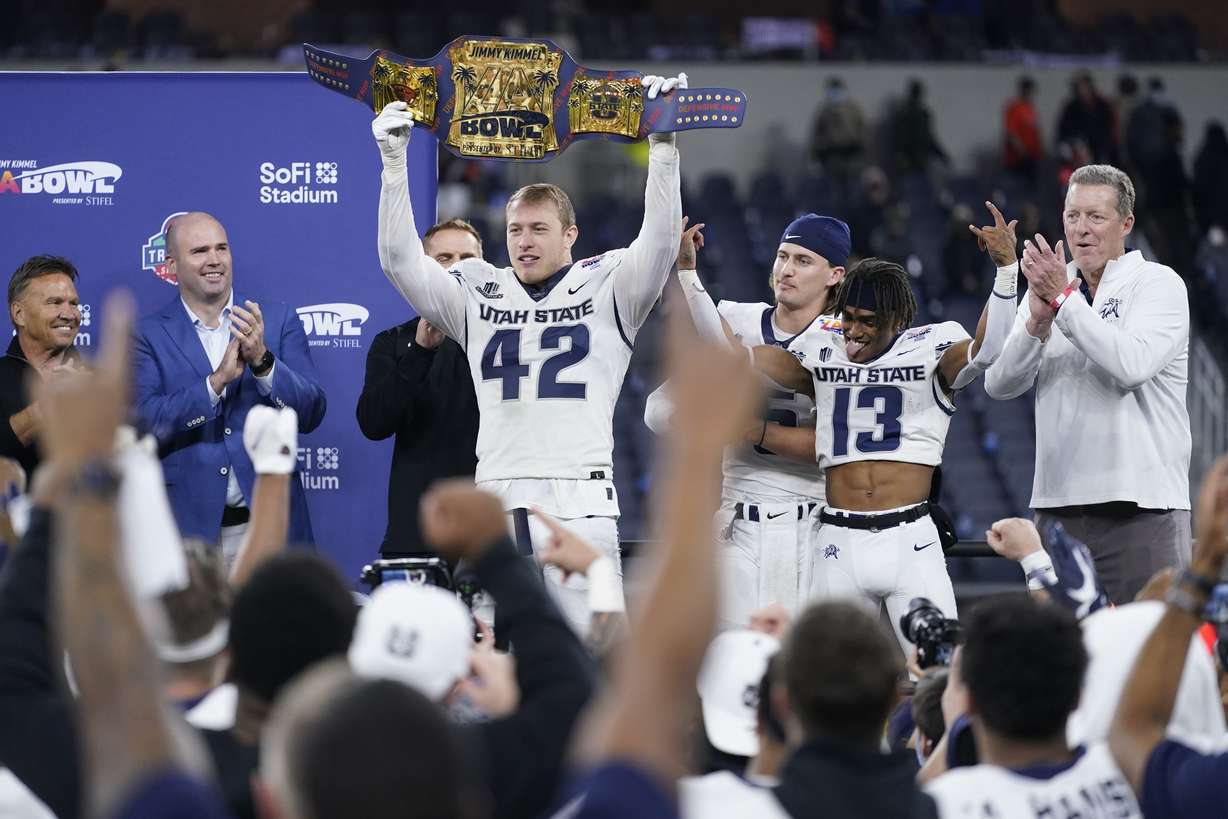 "That is probably the first time he's ever checked, physically checked to that particular play, and it came at the most critical time for us," Anderson said. "We don't really have the luxury of digging ourselves a whole. So I think it kind of tells you everything about his character and how his preparations looked and made the most of his opportunity.
"He exceeded every expectation I had of what he could do. He moved the chains with his feet, made tough throws, had poise."
Legas showed off his ... legs on a trick play later in the third quarter that set up a 5-yard touchdown strike to Brandon Bowling on a nine-play, 74-yard drive to give the Aggies a 24-10 lead late in the third quarter. The redshirt sophomore finished throwing for 171 and two scores and interception on 11-of-20 passing in the win.
"It does not surprise me that Cooper played as well as he did," Heninger said. "I've seen the work he puts in on and off the field and there are a lot of guys on our team that are just waiting for their opportunity. And it doesn't surprise me a bit that he was able to go out there and ball out. Super happy for him."
Bonner had 68 yards and an interception on 6-of-10 passing before he left the game for the night. Bonner was on the sideline in the second half but without pads on.
Utah State had -1 rushing yards midway through the second quarter before former Oregon State running back Tyler Calvin Jr., who spent four seasons with the Beavers, broke free and gave the Aggies some big gains on the ground. He capped off a drive with a 15-yard rushing touchdown for Utah State's second score of the night.
Tyler finished the night with 92 yards on 16 attempts before suffering cramping issues in the third quarter. He came back in the fourth quarter and had 10 more carries for 28 yards to add to the night's effort for a total of 120 rushing yards.
"There was a little chip on his shoulder this week," Anderson said of Tyler. "If he hadn't cramped up about half the game he'd have more than that. I think he was so juiced and the anxiety level was so high that he started cramping up. I thought he ran the ball physically. I really felt like he ran the ball extremely well in the championship game, though, two weeks ago. He's gotten better and better and better.
"But it's impossible, I think, to go out there and play against that team without there being a little bit added bonus. And I thought he handled it really well. ... I was proud of what he's been able to accomplish because I do think that he saw this as an opportunity to really prove to those guys, 'I could have done this for you guys.' I was proud that he got that kind of game today."
We broke the dam!

2021 @LABowlGame Champions!!#AggiesAllTheWaypic.twitter.com/qk91LP9fvH

— USU Football (@USUFootball) December 19, 2021
Oregon State wasted little time to score to open the game Saturday and needed only three plays and 52 seconds to find the end zone. Running back BJ Baylor rushed for 12 yards, quarterback Chance Nolan hit Zeriah Beason for a 39-yard toss and Jesiah Irish escaped for 20 yards to find pay dirt to give the Beavers an easy 7-0 lead.
It appeared to be a long night for the Aggies, but the legend of Legas and Utah State's defense was stronger.
"This whole season has been a dream for me, honestly, just the way that everything has unfolded," Thompkins said. "Just looking back to where we were a year ago."
×
Photos