Estimated read time: 7-8 minutes
This archived news story is available only for your personal, non-commercial use. Information in the story may be outdated or superseded by additional information. Reading or replaying the story in its archived form does not constitute a republication of the story.
PROVO — Less than 48 hours after BYU basketball suffered the most lopsided loss of the Mark Pope era, a 110-84 road defeat to then-No. 2 Gonzaga in Spokane, the Cougars were staring up a deficit that swelled as high as 10 points in the second half against San Francisco.
This time, they knew what to do.
Behind the incredible shooting of Alex Barcello and shrewd playmaking of Te'Jon Lucas — including a foul in the final 10 seconds while nursing a 3-point lead — BYU improved to 15-4 on the season by handing the Dons their first loss of the season on the Hilltop 71-69 late Saturday night on CBS Sports Network.
A lot of teams are going to be throttled by the Zags, even if Mark Few's team is hardly unbeatable with two losses as it surged back to No. 1 in this week's Associated Press Top 25. So rather than focus on how a team fares when it goes into the Kennel, it may be time to examine how a team responds after coming out.
To date, BYU has responded as well as anyone in the country to heartbreak. In three seasons under Pope, the Cougars have yet to suffer back-to-back defeats in the regular season.
But Saturday was their biggest test, and the Cougars passed it in the most NCAA Tournament-like way possible: survive and advance.
"I think it was a great test to our physicality, to our fight, to our willingness to stay together. That's huge," said Barcello, who ranks 26th nationally in total 3-point field goals made and 10th in 3-point percentage (47.6%) despite finishing outside the top 50 in 3s taken. "When you're battling adversity and we won three out of four of these games with just one loss and being able to regroup in a 48-hour turnaround — everybody comes out of that game (with Gonzaga) frustrated. But the way that we were able to regroup after that was a huge test to it. It's going to be a huge test going forward.
"We're trying to win out the rest of the league, but there might come another loss. So I think it was a huge test the last four-game stretch for us."
The Cougars channeled their frustration into fight in what may be the toughest turnaround they see all year.
Between Jamaree Bouyea and Khalil Shabazz, not to mention the enigmatic rising coaching star of 36-year-old Todd Golden, the Dons (15-3, 2-1 WCC) gave the Cougars everything they could handle. They struck from the outside, from the inside, and poured it on with a backcourt that has been together for more than three years — an entire career, in the terms of most college basketball careers.
San Francisco was one of the brightest riser of a historically deep West Coast Conference, one seeking four NCAA Tournament bids for the first time in its modern history.
The Dons had wins over Davidson, Nevada, UNLV, Fresno State and Arizona State before Saturday night's bout with BYU, and a pair of postponed contests against Saint Mary's and Gonzaga that led to a neutral-site game in Salt Lake City against fellow NCAA contender Loyola Chicago — what became a 5-point loss that damaged neither team's tournament hopes.
"It's super important," BYU coach Mark Pope said following the 71-69 win on the Hilltop. "This is a Quad 1 win for us against a great San Francisco team. That back court is really special with Bouyea and Shabazz; they've been together for three years now, and it's always been a challenge to play here. It's a huge win, and we're super excited for it."
What USF needed, too, was a win over the Cougars. The two teams will face each other against Feb. 3 in Provo, so Saturday's home date with a fellow top-four WCC opponent was, in many ways, must-win for the Dons.
Now the loss will be the first of two-straight against Top 25-caliber opponents: the Cougars earned 50 votes to sit two spots outside the AP poll Monday.
The Cougars received 50 votes, six behind Iowa for the first spot outside of the Top 25 and 23 fewer than No. 25 UConn. That means plenty of voters had the Cougars on their ballots — and a few explained why.
"BYU might have gotten its way onto my ballot by virtue of its win at San Francisco alone, but I was especially impressed that the Cougars pulled that off just 48 hours after getting throttled by Gonzaga," wrote Seth Davis in his weekly column at The Athletic. "Like I said, I weigh good wins more heavily than bad losses. (Not that losing at Gonzaga should ever be considered a bad loss, regardless of the margin.)"
The Cougars have a 91% chance of winning both this week's home matchups against San Diego and Portland, per KenPom. That means focus turns to San Francisco as it tries to rebound in a big way — by welcoming a rescheduled bout with Gonzaga on Thursday night that pushed BYU-USD from CBS Sports Network to BYUtv.
Welcome to the jungle, Dons.
Pope knows a thing or two about the gauntlet that became the WCC, almost overnight, in the 2021-22 season. He just faced it with his team, dating back to last Saturday's home game with Saint Mary's. Taking two of three off the Gaels, Dons and Zags — with two of them on the road — is far from an easy task.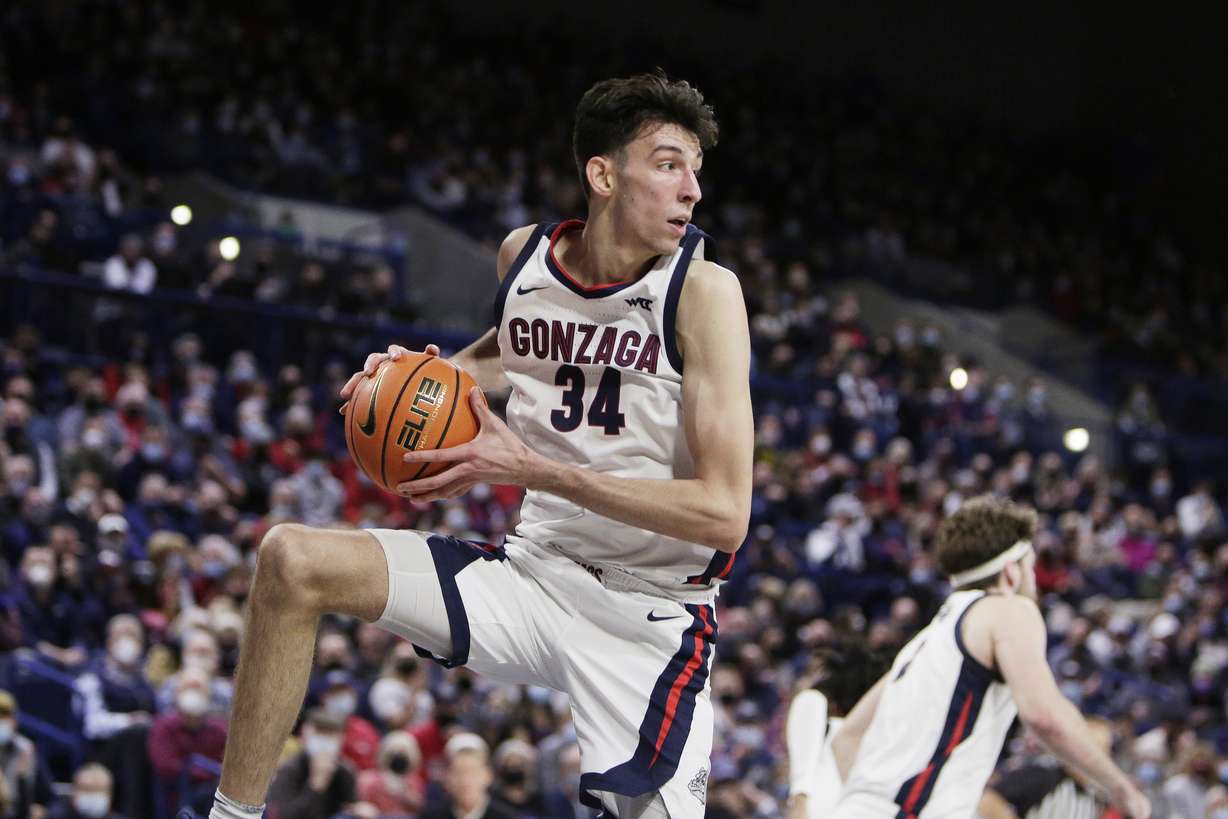 There are fewer weeks that simulate the NCAA Tournament before March, at least outside the Power Six conferences.
"They're good teams; this league is really good," Pope said. "We say the same things over and over again, but this is why we logged all those hours — so that we could survive the biggest challenge we face. The hardest game we're going to have all season is the next Thursday. So far this season, this has been the hardest stretch we've faced all season."
The game bumped BYU up to No. 26 in the NCAA's official NET rankings, while dropping the Dons just one spot to No. 37 in the same metric. In KenPom's predictive metrics, the Cougars rose to No. 21 while San Francisco dipped slightly to No. 36.
Both teams are still in strong contention for an at-large tournament bid, though BYU's case remains significantly stronger. The Dons have work to do — but time to put in that work, as well.
In rallying to stop USF, though, the Cougars also learned something about themselves. Sure, Barcello remains his phenomenal self — the "best shooter in the country," if you believe ESPN's Jay Bilas' bold assertion uttered on College GameDay — and Lucas has been a perfect complement in the back court.
But the Cougars got contributions from all around during its trip to the Pacific time zone last week, from Caleb Lohner's breakout game against the Zags to Fousseyni Traore's continued upward trajectory in the post. Spencer Johnson, Seneca Knight and Gideon George have offered moments, too, and give BYU length on the court that gave Randy Bennett fits in Saint Mary's most recent loss in Provo.
While prior BYU teams may have won with pure offense, a killer 3-point shot, or an aptitude from the field, this year's team has shown it can win in very different ways: with defense. The Cougars rank 18th in KenPom's adjusted defense, and put in as reasonable of an offensive performance Thursday against Gonzaga is anyone not named Alabama has all year.
"We need every win, and I think we learned a lot having these games back-to-back," Barcello said. "Gonzaga, the way they play in transition, they're really talented. This team also pushes the ball well in transition, and I think it helped us learn to play them in transition.
"When they got that 10-point lead, we were just chipping away. Stop. Rebound. Stop. Rebound … I think it could've ended another way, but I'm really proud of my team."
×
Related stories
Most recent BYU Cougars stories