Estimated read time: 4-5 minutes
This archived news story is available only for your personal, non-commercial use. Information in the story may be outdated or superseded by additional information. Reading or replaying the story in its archived form does not constitute a republication of the story.
WOODS CROSS — Identical letters sent to parents of students at Woods Cross and Layton high schools said students who tested positive for COVID-19 would be allowed to return to school as normal on Friday.
The letter, signed by the principals, also said any students who had refused to get tested for the coronavirus as part of the state's Test to Stay program could also return to in-person classes.
Then later Thursday night, parents received another email from Davis School District Superintendent Reid Newey, walking back on the guidelines laid out in the previous letters, saying that students who tested positive or declined to test should instead remain in isolation for five days.
The mixed messages have created anger and confusion for some parents in the district.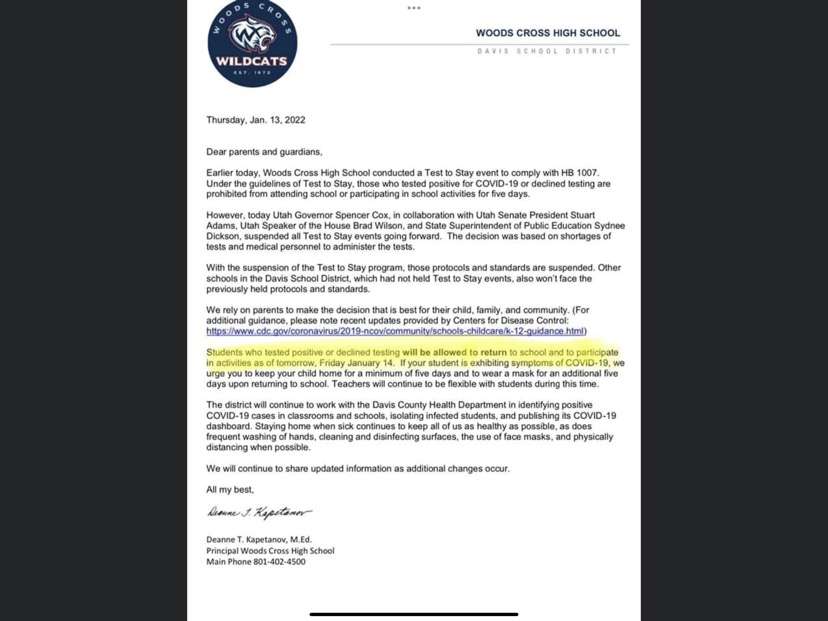 Jordan Rosser, a parent of students at South Davis Junior High and Woods Cross High, said he was "flabbergasted" after reading the initial email from Woods Cross High School.
"I was shocked and immediately angry. I had to refrain myself from using bad words in front of my children," Rosser said.
The anger was compounded after one of his children told him that almost 200 students had tested positive for COVID-19 during a Test to Stay event earlier that day.
"When I got the email that said that anybody that tested positive or elected not to take it could come back, I was just furious because we're trying to control this pandemic and that is not how you control it. It's so frustrating," he said.
Utah Gov. Spencer Cox, Utah Senate President Stuart Adams, House Speaker Brad Wilson and State Superintendent of Public Instruction Sydnee Dickson on Thursday issued a letter that gives schools flexibility on in-person attendance for the next two weeks and also announced the suspension of the Test to Stay programs, noting that the Utah Department of Health needs to "devote its testing resources to congregate care facilities, long-term care facilities, and community testing sites."
The decision to allow COVID-positive students to return to school was a "mistake," Davis School District communication specialist Hailey Higgins told KSL.com Friday.
Newey on Friday issued the following statement: "As Davis School District leaders pivoted to adhere to the new state guidelines, an email was sent to parents of Woods Cross and Layton High students that evening. Stating COVID-positive students had the option to return to class Friday was a mistake. It was quickly corrected by a follow-up message Thursday night.
"Again, students with COVID-19 symptoms or test positive should not return to school or participate in school activities for five days. If symptoms persist, students should stay home until they have not experienced a fever for at least 24 hours. District leaders sincerely apologize as we navigate the rapidly changing landscape caused by the omicron variant."
The initial letters sent to the parents at the two high schools "came from the district office to be shared by the principals," Higgins said.
Even after the second email from the district on Thursday night saying that students who tested positive or elected not to be tested wouldn't be allowed to return to school, Rosser was still frustrated by the inconsistent messaging.
"It's a little too little, too late. If you sent out that first one, they may not see the second one. It just wasn't enough," Rosser added. "Going from, 'you have to quarantine for five days' to 'come back tomorrow' was just confusing and frustrating as ever."
Rosser added that he believes the district could be doing more to prioritize the safety of their students.
"I would like to see mask mandates in the school. The Test to Stay thing was totally fine with me because that meant that they were getting real-time information and sending kids home who shouldn't have been there," Rosser said, adding that he understands why Test to Stay needed to be put on hold with dwindling testing supplies and a lack of health care workers.
State health officials on Thursday announced a record 12,990 new cases of COVID-19, with 3,007 of them among school-aged children.
Friday afternoon, Newey sent an email to parents saying that the Davis School District is preparing for the possibility of moving its schools to remote learning during the next two weeks.
"At this time, the district is continuing to track the daily numbers as reported by the Davis County Health Department of those students who contract the COVID-19 virus," Newey wrote. "If our school gets to a point where it exceeds the threshold established for the size of the student population, you will receive a letter informing you that the school will move to remote learning."
After the district is informed by the health department that the threshold has been met, classes will be held as normal on that day while the school will alert parents that remote learning will start the following day, giving parents and teachers time to prepare for remote learning to "start and continue for the next three to four school days," Newey said.
The district said it was informing families of its plans for the next two weeks as it waits for "additional guidance" from the Utah Legislature, which will be in session beginning on Jan. 18.
×
Related stories
Most recent Education stories