Estimated read time: 4-5 minutes
This archived news story is available only for your personal, non-commercial use. Information in the story may be outdated or superseded by additional information. Reading or replaying the story in its archived form does not constitute a republication of the story.
Your lack of motivation could be a warning sign of depression.
It's easy to tell when you have a broken bone or other physical injuries, but how do you know if you have a "broken brain?" A brain in distress gives off many signals that can easily be mistaken for a mere bad mood, but when the symptoms are pervasive and persistent, they may be a sign of depression or other mental illness.
According to the Mayo Clinic, episodes of depression come with symptoms that may occur most of the day or nearly every day. These symptoms include lack of motivation, isolation, hopelessness, lower productivity, sleep issues, energy loss, suicidal ideation, irritability, weight changes, and eating issues.
Maybe this sounds like you or someone you love. Perhaps you've already tried multiple methods of treatment, but nothing seems to be working. If so, don't lose heart. Here's a new solution that might provide the relief you've desperately been looking for.
TMS: A breakthrough treatment for depression
While depression has many causes, most treatments involve medications (antidepressants) that fix chemical imbalances in the brain. Unfortunately, medication works differently for everyone. What could be the perfect solution for one person could have no benefit (or even terrible side effects) for someone else.
Over the past decade, modern researchers and engineers have been working to remedy the shortcomings of a medication-only approach. This led to a new breakthrough treatment called Transcranial Magnetic Stimulation (TMS), which has a different approach to treating — and sometimes even curing — depression.
For the past 80 years, the go-to surgical procedure for extreme depression has been electroconvulsive therapy (ECT). Patients under anesthesia received shock treatments to stimulate their brain's emotional center. Though this surgery effectively "reboots" your brain, it comes with severe side effects, such as potential memory loss.
TMS has become a more advanced, non-invasive alternative to ECT. Innovative TMS devices use magnetic fields (rather than electric currents) to stimulate the brain — a safer option that is just as effective.
TMS became FDA-approved in 2008 and is covered by most insurances for treatment-resistant depression.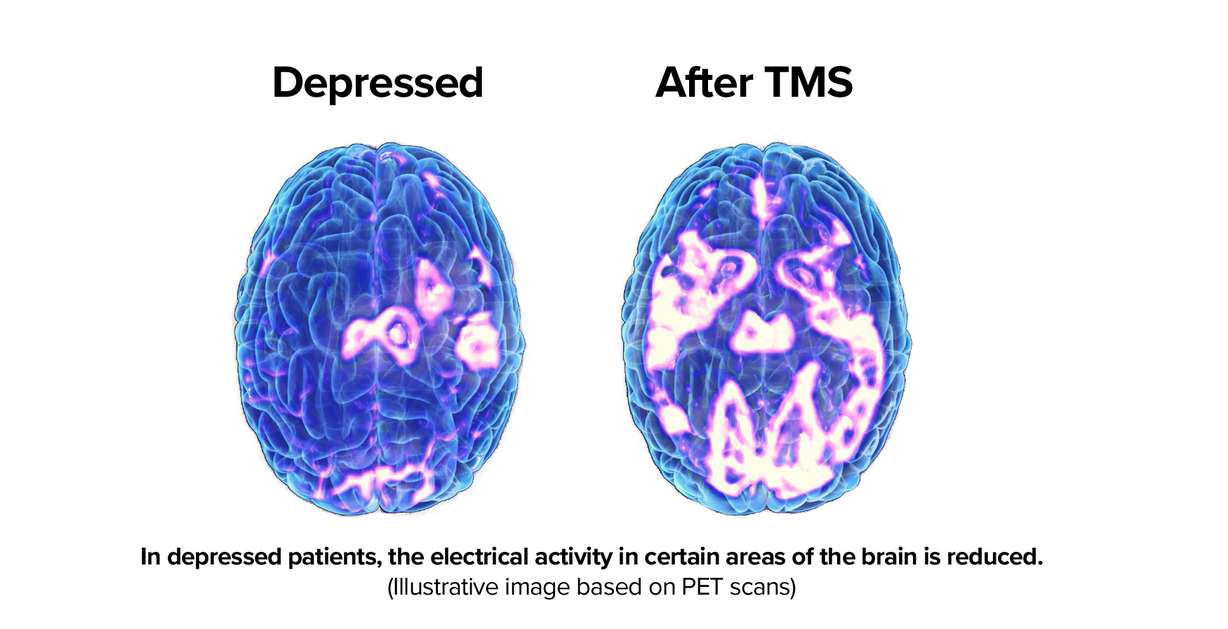 How does TMS work?
"We use TMS to help the electrical flow of the brain. Think about a snow field — a beautiful snowy field that has never been walked on before. What happens when you walk on it? You create a path. When people have depression they are creating a pathway in their brain that they keep returning to, like when you walk through the snow and then it's easier to take that same pathway again. With TMS it's like we're coming through with an industrial-sized snow-blower and helping the brain create new pathways, so that your brain doesn't have to keep returning to that well-worn path of depression" explains Dr. Jennifer French, a psychiatrist at Serenity Mental Health Centers where the treatment is performed.
To create these new pathways, TMS stimulates the brain with magnetic pulses, changing it on an electrical level. The TMS device sends pulses to the regions of the brain that have decreased activity in people with depression.
TMS works similarly to treat anxiety, OCD, PTSD, and other disorders, each with its own unique protocol. For anxiety, the TMS protocol has a calming effect that helps reduce over-activity in a different region of the brain.
How long does the treatment take?
Doctors generally prescribe 36 sessions conducted daily over 6 to 8 weeks. Patients usually start recognizing improvements around their fourth week of treatment.
Proven results
When you look at the stats, TMS is arguably the best available medical method for achieving long-term positive results for anxiety and depression.
The National Institutes of Health reports that 60–70% of patients with depression respond to antidepressant therapy but only about a third achieve remission with their first medication prescribed. Meanwhile, TMS has a 66–82% response rate and a 50 to 58% remission rate from the first TMS treatment. Response rates tend to be even higher in a clinical setting that treats all levels of depression and anxiety. (Response is defined as a 50% or better score reduction on a standard depression assessment tool, such as the Patient Health Questionnaire. Remission means the patient no longer meets the clinical definition of depression.)
Even more impressive is that patients who do more than one series of TMS treatments continue to see improvement. Contrast that with medication, where response rates drop with each new treatment. The Mayo Clinic reports that antidepressants "simply stop working over time" for some people, often for no known reason. Sometimes the side effects of the medications — such as agitation, nausea, sexual dysfunction and headaches — can feel more debilitating than the illness it's meant to treat.
Take back control
Don't let anxiety and depression rob you of one more minute of your life. When medication hasn't helped, a modern, technological approach may be more effective and help you get on the road to recovery sooner.
For more information on how to start the journey to "Take Back Your Life" through the interventional psychiatry treatments offered by Serenity Mental Health Centers, visit their website or call 844-692-4100 today.
×