Estimated read time: 3-4 minutes
This archived news story is available only for your personal, non-commercial use. Information in the story may be outdated or superseded by additional information. Reading or replaying the story in its archived form does not constitute a republication of the story.
SALT LAKE CITY — Utah Sen. Mike Lee complained Tuesday that the Department of Justice has failed to answer questions about whether the agency treats rioters who stormed the U.S. Capitol last January harsher than those who took part in violent protests across the country in 2020.
In a letter to the DOJ last June, Lee and four other Republican senators demanded responses to a long list of questions comparing and contrasting the two investigations.
"DOJ's apparent unwillingness to punish these individuals who allegedly committed crimes during the spring and summer 2020 protests stands in stark contrast to the harsher treatment of the individuals charged in connection with the January 6, 2021, breach of the U.S. Capitol Building in Washington, D.C.," the letter says.
Lee said his office didn't receive a response until 4 ½ months, and it didn't address any of the questions.
"It was a statement of platitudes and cited publicly available resources about general policies. There was not one answer to a single one of our questions," he said.
Lee had the chance to ask some of those questions Tuesday in a Senate Judiciary Hearing on domestic terrorism. But Matthew Olsen, the assistant attorney general over the DOJ's National Security Division, and Jill Sanborn, executive assistant director of the FBI's National Security Branch, didn't have any answers for him.
Lee's questions included whether federal law enforcement used cellphone data to track protesters in 2020 as well as how many were arrested in pre-dawn raids with SWAT teams or were served with search warrants. He also asked how many "witnesses" to the events of Jan. 6 were arrested in those ways.
Sanborn didn't have any numbers but the mechanics of an arrest are specific to each individual case and what threat that person may or may not pose.
Lee suggested in a Senate hearing last March that the FBI might be inappropriately interviewing people who were in Washington on Jan. 6 but didn't enter the Capitol or participate in the violence. He said he had heard a number of accounts of people who were in the city that day but didn't go near the Capitol who were "inexplicably" contacted by FBI agents who apparently were aware of their presence.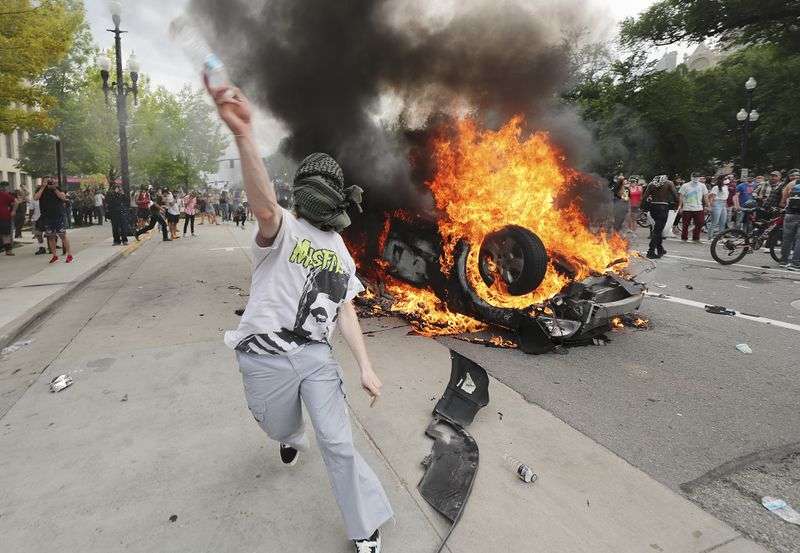 To date, the DOJ has charged more than 725 people, including eight Utahns, stemming from the attack on the Capitol.
In the hearing, Lee asked if any of them were charged with "insurrection."
"I'm not aware that anyone's been charged with that particular offense, even if it is an offense. I'm just not aware of that," Olsen.
The senators noted in the June letter that the FBI maintains and updates a website that lists the names of people charged in the Capitol riot but doesn't do the same for those arrested in the protests.
"Violence, property damage and vandalism of any kind should not be tolerated and individuals that break the law should be prosecuted," the letter says. "However, the potential unequal administration of justice with respect to certain protesters is particularly concerning."
Lee also asked in the hearing how many people arrested in the 2020 riots were placed in solitary confinement, but was unable to get an answer. He said he would pose his questions in writing for Olson and Sanborn to submit as part of the hearing's record.
"I understand that you've got big jobs to do," Lee said. "But I don't want 4 ½ months to elapse again, and certainly don't want a response that is nonresponsive."
Also in the hearing, Olsen said in his opening remarks that the DOJ is creating a new unit to counter domestic terrorism following the Capitol attack.
"This group of dedicated attorneys will focus on the domestic terrorism threat, helping to ensure that these cases are handled properly and effectively coordinated across the Department of Justice and across the country," he said.
"We face an elevated threat from domestic violent extremists,'' Olsen said. "That is, individuals in the United States who seek to commit violent criminal acts in furtherance of domestic social or political goals."
×
Related stories
Most recent Politics stories