Estimated read time: 6-7 minutes
This archived news story is available only for your personal, non-commercial use. Information in the story may be outdated or superseded by additional information. Reading or replaying the story in its archived form does not constitute a republication of the story.
SALT LAKE CITY — Both parties want to avoid a strike. But as the busiest time of the year for Utah's ski areas comes to a close, Vail-owned Park City Mountain Resort still hasn't successfully negotiated a contract with its ski patrol union, which recently launched a GoFundMe campaign to cover wages should negotiations sour.
On Monday, the Park City Professional Ski Patrol Association will enter its 47th bargaining session, the union's latest attempt to solidify a $17 an hour starting wage. The resort is currently offering patrollers a starting wage of $15 an hour — the starting wage for 14 Vail resorts.
But unlike past sessions, the union is now touting a GoFundMe that in four days raised over $33,000. Patrick Murphy, the union's business manager and a ski patroller of five years, describes it as "a rainy day fund, in case there's any reason we're not receiving paychecks."
The negotiations started in August 2020. But the dozens of bargaining sessions that followed were unsuccessful, and patrollers entered the 2021-22 season with their old contract.
That means the starting wage for a patroller at Park City is currently $13.25 an hour, despite the $15 an hour minimum wage set for employees across all of Vail's resorts.
Under the old contract, patrollers get a wage bump to $14.50 an hour at the start of their second year, then $16 for the third.
Getting 'closer and closer to a deal
After 16 months, both parties say negotiations have dragged on longer than either would like.
When asked why the process has taken so long, Mike Goar, chief operating officer for Park City Mountain Resort, said he has the same question.
He pointed to the ski patrol unions at Colorado's Breckenridge and Washington's Stevens Pass, both of which recently reached what Goar says is an "almost identical" contract to the one turned down by Park City patrollers.
"Those were ratified relatively quickly, and nearly unanimously," Goar said.
Murphy's response?
"Just because they have locked themselves into that wage does not mean that's a wage that is fair, appropriate and reasonable for our patrol, or ski patrollers in Utah in general," he said.
So the union turned to GoFundMe should a worst-case scenario arise.
Murphy says they don't want to use the funds — the union would much rather donate the money to local charities, or even another ski patrol union, and reach an agreement with the resort. But the outpouring of financial support likely gives them leverage headed into Monday's negotiation.
"People are getting frustrated with the amount of bargaining sessions, but I think we're getting a groundswell of support from the community and the industry at large, and we feel like we're starting to get closer and closer to a deal," Murphy said.
Neither party had any interest in discussing the catastrophic impact of a stoppage, and both told the Deseret News they are optimistic about the upcoming bargaining session.
But if the negotiations continue to fall flat, and the union decides to strike, the mountain would shut down. "Without patrol, the mountain certainly wouldn't be able to operate," Murphy said.
Work stoppages are rare in both the Beehive State, and the U.S. ski industry. It's unclear how Vail and Park City Mountain Resort would handle the hotel reservations, ski lessons, equipment rentals, and unforeseen loss of revenue in the event of a strike.
"That's why we want to avoid that fate," Murphy said. "We really want this mountain to keep going. We love this community. We love the mountain and we're trying to do everything we can to keep it safe and open."
'A reasonable wage'
The union didn't settle on $17 an hour "out of thin air," Murphy says.
"We've looked into other resorts in the Wasatch, and just the greater Mountain West. And that is a reasonable wage and a fair wage for the skills that our patrol has and the hazards that we deal with on a daily basis," he told the Deseret News.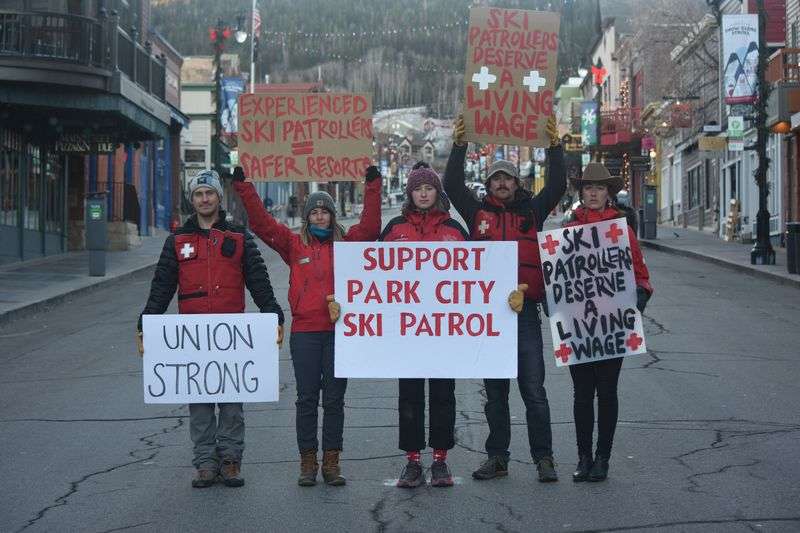 The union argues that with the medical certifications required, the responsibility that comes with the job, and the risks they face, ski patrol should have a higher base pay than other resort departments.
"We still believe that we deserve more than the company's minimum wage. We're not minimum wage employees. We don't possess minimum wage skills," Murphy said.
In addition to the pay bump, the ski patrol union wants the next contract to address wage compression and include "incentives for our longer-tenured employees to continue to accept and take on more leadership and education opportunities."
Goar told the Deseret News that a misconception floating around the public, often seen on social media, is that all patrollers will make $15 an hour under the contract currently being offered by the resort.
"Very few of them make that," he said.
Instead, that would be a starting wage for an "inexperienced patroller," he said, who will then have opportunities for "increased pay and training as they go forward." The potential growth as a ski patroller far exceeds what most departments within the resort offer, he said.
Still, Murphy says in his five years with Park City he's seen the resort lose experienced patrollers who are discouraged by the pay.
"Some move on to other opportunities in the ski patrol world, and some really good patrollers just aren't finding ski patrol to be a viable career path. So they're moving into other careers altogether," he said.
Goar is a former patroller himself, and started his career in Arizona before working for Solitude Resort in Utah's Big Cottonwood Canyon. He says that experience gives him a "good understanding of what it takes to be on patrol and the skills and the hard work that comes with ski patrolling."
"We have an exceptional ski patrol in Park City, and we're really proud of their expertise and the work they do," he said.
Unions, strikes and the Beehive State
Labor disputes are rare in Utah, where a right-to-work law passed in 1969 protects workers from being required to join a union to work any given job.
These laws, passed in numerous other states, are touted as a way to protect individual freedom. But they're also divisive, and some experts say they undermine unions and an employee's ability to organize, and can lead to worse workplace conditions.
A November analysis by Marketplace documented over 300 strikes across the U.S. in 2021 — just one of those was in Utah.
That was a non-union strike in the fall that involved eight employees at Redstone 8 Cinemas in Park City. The strike lasted two weeks, and concluded with the workers receiving a $2 raise, bumping pay up to $12.50 an hour, shy of their $15 an hour goal.
Correction: A previous version incorrectly stated that all Vail employees make a starting wage of $15 an hour. Vail has a $15 an hour minimum wage for 14 of its resorts.
×
Related stories
Most recent Business stories